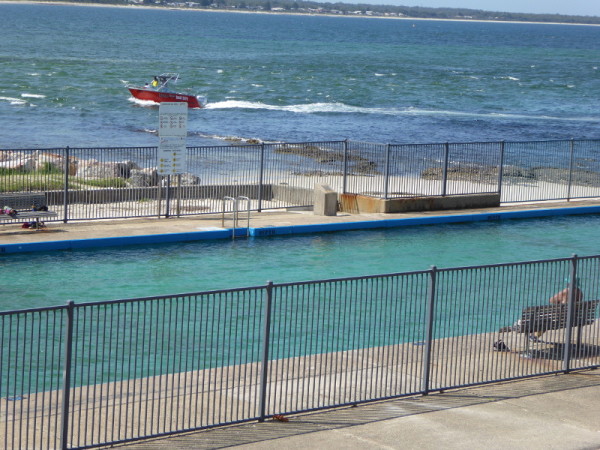 Named after the British MP who was the first ever victim of a fatal rail crash (knocked down by Stephenson's Rocket), though probably named here for his role as Colonial Secretary in the 1820s.
My experience in the rock pool
It's a slightly strange experience to swim in a pool closely guarded by high metal fences on all sides, though this is apparently the result of the insurance industry (or local authority fears of such). I'm not sure why Huskisson has been victim of this rather than any other pool visited so far, but maybe others can enlighten me in comments below.
Once you're through the gate into the pool area, it's really quite a pleasant place. The 48m pool stretches out along the headland towards the ocean at Jervis Bay, and from the pool edge you can also see into the harbour at Huskisson where lots of yachts (and whale-watching cruises) are at anchor.
We were there on a hot summer's day so it was a real pleasure to dip into the cooling water. It was quite busy, though, so not very good for serious lap swimming when it's full of kids at the shallow end. It's also a bit narrower than many other Olympic size pools.
But with my body still used to the usual 25m pools in the UK, this pool did give me a good workout, even on a summery weekend.
Getting there, getting in, getting changed
Although this pool is right by the centre of Huskisson, it is not visible from the main street, so we needed to ask directions from people on the cliff top path, only to see that the pool appeared directly below us once we'd walked about 50 metres from the car park.
You need to be quite tall to work the gate opening mechanism to enter the pool area (I assume to prevent kids coming here unaccompanied!). Once inside the pool area, there are vertical steps at either end to get in.
There are changing rooms – with showers outside – about 100m from the pool. One of the showers was broken, and another swimmer I met there joked that we were lucky one of them was working…
Tidal differences
Waves lap gently over the edge at high tide.
Other practical points
This pool is only open in summer and autumn. Reopens only in November 2015!
There is also a kiddies' paddling pool, with roof cover, in a separate section of the parkland from the main pool. This pool is right next to the changing area.
History and stories of the pool
Built in the mid 1960s, though apparently the fencing was only put up in 2002 after local Council concerns about insurance claims!
What's your story? Any memories of swimming here? Any stories to tell? Or did you just have swimming lessons in the cold of winter in the 1960s?
Whatever you have to say, however brief, I'd love to hear from you and will add any stories to this section of the site as and when I receive them.  Add your comment or story under 'Leave a Reply' below.
Links to other articles on this pool
I found no other articles written about this pool. If you know of any, I'd love to receive the links.
Coffee, tea or milkshake after the swim?
5 Little Pigs – 64/66 Owen Street, Huskisson
Open daily 7am – 4pm
5 Little Pigs reviewed by Fancy a Cuppa website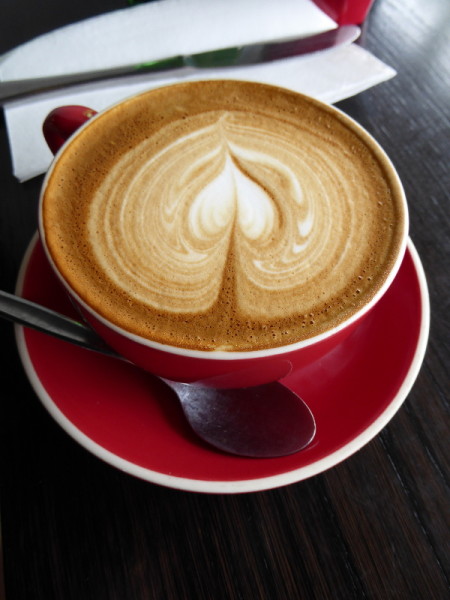 There are a lot of cafés in Huskisson, but this seems to be the best by far, serving up real quality coffee from the lovely Swell Coffee in Wollongong, and teas from Chamellia Teas. The cakes are pretty good too, and there's lots of space, though it still gets busy in holiday periods. Service a bit mixed (a strange unwillingness to look me in the eye – was it something I said?).