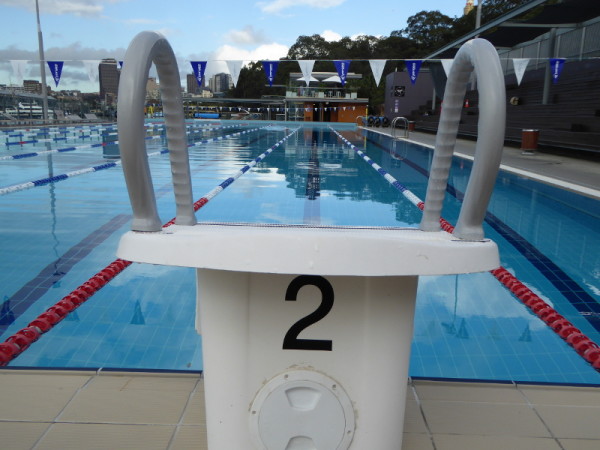 Named after Australia's 1924 Paris Olympics gold medal winner, who famously beat a world record-holding Swede as a teenage in pools at this site
My experience in the pool
I visited here with swimming buddy and fellow writer Therese on the pool's penultimate day of opening before they closed for the 2015 winter.
What makes this pool so special is its setting and its history. You're right on Woolloomooloo Bay, with naval dockyards opposite and the old Navy shipping sheds in sight across the bay. It's also a wonderful place to get to, being right next to Sydney's beautiful Botanical Gardens.
We got lucky with arriving after the early morning rush so had a whole lane to ourselves (a real luxury judging by others' photographs of the pool on sunnier summer days).
This is a salt water, 50m Olympic pool with eight lanes. There are speed advice plaques on the end of each lane, but with so few people in the pool, it didn't seem to matter and with two to a lane in any case, you rarely get in anyone's way.
I'm not sure whether this pool is in the exact spot where Boy Charlton beat Mr Berg from Sweden, but it's quite exhilarating swimming the laps and imagining the crowd's excitement seeing their home-grown talent beating a world record holder.
I found it a relaxing place to swim. Even the swimming instructor in the next-door training pool was trying to urge his pupil to relax more in the water. It felt less boisterous and squad-like than the North Sydney pool (though I have to say I do still prefer the views from that one).
Again, judging from others' photos, it looks as if the loungers that line the pool side are in big demand during the summer months. They were all empty at the end of April. But I am told this is one of THE places to be seen in Sydney in summer…
Getting there, getting in, getting changed
A beautiful ten minute walk through the Botanical Gardens from Circular Quay, head for Mrs Macquarie's Point and the pool is slightly back into the shelter of the bay.
Lots of spots to enter the pool at both ends.
Changing rooms have warm showers, and hair dryers in the men's as well as the women's! Actually very luxurious changing rooms, a cut above most pools I've visited on this tour so far.
Other practical points
$6.20 entrance, though there are concession rates, too.
The pool is closed for winter from start of May to September.
There is a one metre deep training pool under shelter from sun or rain next to the main pool.
Lots of viewing benches, as well as those reclining loungers…
History and stories of the pool
Australia's first tidal baths were built in the mid 19th century in Woolloomooloo Bay, not far from this pool. When they were first built in the 1920s, these were known as the Domain Baths, but in 1968 were renamed in recognition of the 1920s swimmer who became Australia's swimming hero of the period.
People I met here include:
Therese, whose uncle had been a gardener in the nearby Botanical Gardens and whose father had swum in this pool regularly. I could write more, but you'd be better off reading her own swimming blog and wait for her book to come out to get the whole story.
…
What's your story? Any memories of swimming here? Any stories to tell? Or did you just have swimming lessons in the cold of winter in the 1960s?
Whatever you have to say, however brief, I'd love to hear from you and will add any stories to this section of the site as and when I receive them.  Add your comment or story under 'Leave a Reply' below.
Links to other articles on this pool
Swimming blogger Sally came here in 2006 and shows those sun loungers in full use!
The Mrs G Spot swimming blog came here in 2012
Coffee, tea or milkshake after the swim?
Go no further than the Poolside Café, which is exactly where its name suggests (though it was closed for a function on the day of our visit so we were forced to have takeaways up on the hill overlooking the pool – no great hardship, to be honest).
Poolside Café
Open daily 7.30am – 4.00pm – when the pool is open (ie not May – September)
Poolside Café reviewed on Fancy a Cuppa website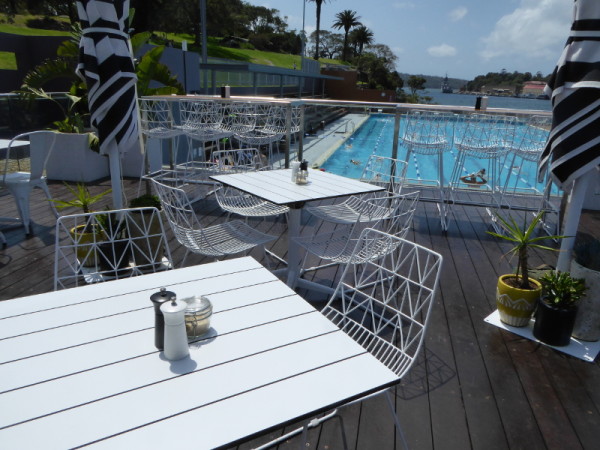 The Café was closed for a function the day we turned up for a swim, but they did take-aways so we sat and looked down on the swimmers from a perch above the pool. They do a good Campos coffee here and if tea is your tipple, there are the excellent brews from Rabbit Hole Teas, one of my favourites round NSW.