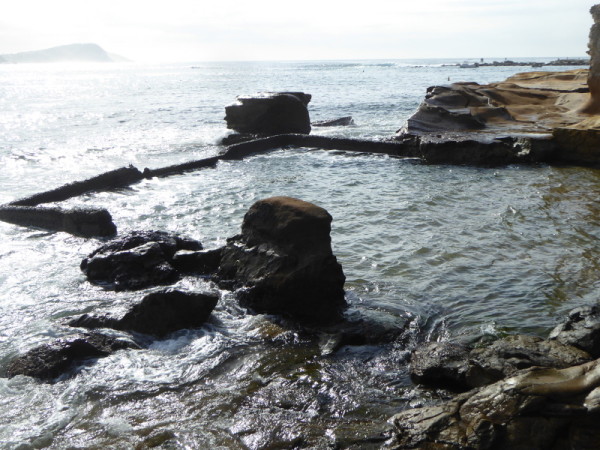 Named for an Aboriginal word meaning 'place of little birds'
My experience in the pool
I'd read somewhere that the best time to come to Terrigal rock pool was around high tide, so we checked our tide times and the weather forecasts before heading up the coast from Kiama for a day trip to the Central Coast.
When we got to Terrigal it was mid-morning on a warm Saturday at the end of May, with some sort of surf carnival going on to add a bit of colour on the beach itself.
The rock pool down at the southern end of Terrigal Beach was deserted, but at least it had some water in it and actually the waves were crashing over the sea wall into the pool, making it look quite entertaining, even though it didn't look very deep.
So, yes, at high tide, I can confirm that the water reaches about up to my knees only, so this really is a pool for kids and those who like to float or wade rather than do laps.
I had a bit of a splash around, getting swirled about a bit by incoming waves, enjoying the little schools of fish there were even in these shallow waters, and just relishing being back in the salt water after too long a gap out of the water.
Terrigal is a nice enough spot, but feels a bit too like a smaller version of our home town of Kiama to make a return visit likely any time soon, especially as the pool really isn't meant for proper swimming.
It was fun to have the various races going on in the background, but I didn't stay long in the pool, as we had a busy day planned and we were in need of our coffee…
Getting there, getting in, getting changed
There are regular buses from Gosford to Terrigal if you are needing public transport to get to this rock pool. If coming by car, easiest parking is five minutes' walk away in the big public car park behind the main shopping area. Terrigal rock pool is at the southern end of the beach.
There are steps into the water from the promenade. The thing is, if the water is going to be deep enough to actually have a swim rather than paddle, you might find the waves coming right up onto those steps so take care if they are slippery.
There are no changing rooms here by the rock pool. There is a shower on the promenade a short stroll from the pool, but if you then need a private area to change, you'll have to go back up the beach towards the surf rescue building to find the public toilets, where there are also showers.
Tidal differences
Big differences. The water was barely up to my knees at high tide so I think there's no point in coming at low tide unless you are with a non-swimming toddler and want them to get their toes wet. In fact, looking at the other blogger, who took her baby along, the pool at low tide looks as if it has only half its floor covered in water at all.
History and stories of the pool
Terrigal rock pool was built in the early 1950s and opened in 1954. A little press clipping from the local Gosford newspaper at the time says the swimming spot has been 'popular with children and elderly people who appreciated its safety and comfort.' – I'd never thought of a pool as being comfortable before, but I guess compared to the rips in the ocean, it is…
The same article states that the pool cost £415 to build, and that the money was found by local fundraising. In fact, locals were so enthusiastic about the pool being built that they raised £445 and the organisers could formally hand over responsibility for the pool to the Council in December 1954, along with a cheque for £30 'for maintenance'…
People I met here included…
There was nobody else in the water on the morning I was there. One lady we chatted with said she goes in most days for a dip, but during summer only.
What's your story? Any memories of swimming here? Any stories to tell? Or did you just have swimming lessons in days gone by?
Whatever you have to say, however brief, I'd love to hear from you and will add any stories to this section of the site as and when I receive them.  Add your comment or story under 'Leave a Reply' below.
Links to other articles on this pool
The only other blog post I could find about Terrigal rock pool date back to 2009 when this Mum brought along her little one at low tide. The pictures here show just how low the water can get in this rock pool.
Coffee, tea or milkshake after the swim?
There's lots of choice for coffee in Terrigal, but a lot of it is fairly average. We chose a coffee shop that was a bit of a walk round the bay but worth the few hundred metres extra.
Island Time Espresso Bar  – 104 Terrigal Esplanade, Terrigal, NSW 2260
Open Daily: 7.30am -4pm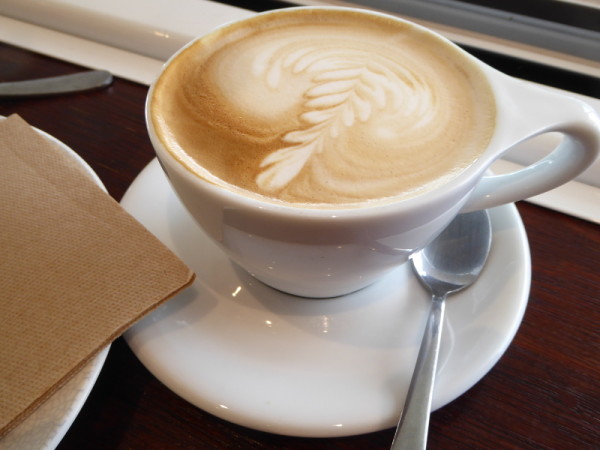 This is one of the coffee shops that sits on the Promenade right across the road from the beach at Terrigal. We chose this coffee shop because they do the rather good coffee from the roasters Pablo & Rusty's in Sydney. It was busy on a warm Saturday morning with a surf carnival going on on the beach, but we picked a stool where we could perch and people watch with our coffee and banana bread. A good spot for your post swim coffee in Terrigal.