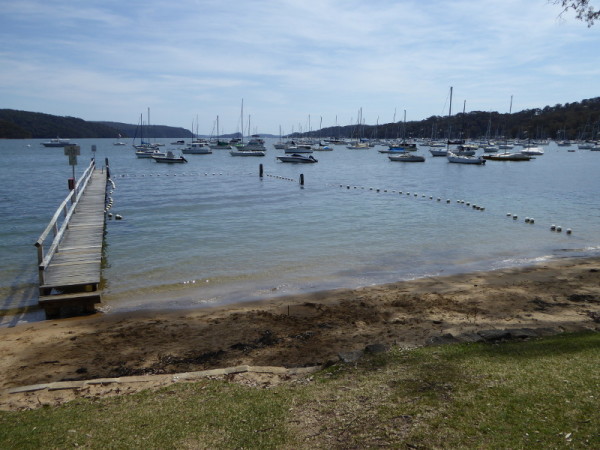 Taylor was an early settler at a time when only access to the area was by boat.
My experience in the pool
OK let's get the confession out of the way, first: I didn't actually swim in Taylors Point Baths near Clareville on Pittwater. I did get into the water – upto my knees – and waded for a while, so it does count in my book for an exercise which is more to do with mapping the pools and checking they exist still rather than me trying to do any number of laps or even get my head wet in the water.
To be honest, the clincher in my decision not to swim was the shark net, which I saw lazily drifting loose, still floating around more than three quarters of this swimming enclosure, but even there it left a nice shark-sized gap above the net in the deeper waters around high tide. And at high tide the distance between the shoreline and the start of this drifting rope end was amply large enough for some clever shark to dip around and bite my leg.
Why then, you might ask, did I go in up to my knees since sharks have been known to grab people on very rare occasions at that depth?
Well, that was because the free-riding shark net was the last straw, after a tricky week. I've been nursing my first cold since arriving in Australia nearly two years ago and had been struck the day before in Dawn Fraser Baths how little breath I had to do many laps there. And my energy levels were low this morning at Taylors Point.
There was also the fact that I had forgotten to bring a change of underwear.  I left the house so early that it was all I could manage to actually leave with my speedos on at all under my jeans. I have done this before and gone commando for the rest of the day. It's not my usual way of doing things for this blog but it can be done.
The trouble then was that at Taylors Point Baths, there is nowhere to change. There are a couple of benches to sit in the shade of the gum trees and watch the Baths and the yachts anchored on Pittwater beyond the shark net, but behind those benches are a couple of those multi-million dollar northern beaches residences we look at occasionally and wish we could afford. And with my head cold, I didn't fancy being some multi-millionaire's morning entertainment as I tried to change after my swim with no underwear to change into. Something for sure would have gone wrong.
And if it hadn't been the idle rich watching me, it might have been the Royal Australian Navy crew, who were just loading up a boat moored at the wharf right by the Baths. Actually, if you are going to Taylors Point Baths, make sure you don't miss the little grass alleyway down to the public swimming point because go too far and you'll end up marooned at the wharf itself or behind the lines of the ADF property next to it.
So shark net, underwear, no changing rooms and a head cold. I know the more reasons you give the less plausible is an excuse, but it was the shark net that finally made my decision for me.
Funnily enough on this first really warm day of the 2016-17 summer, and having just walked for half an hour from Avalon Beach to get here, I was just glad to cool my feet off in the fresh waters, and the last thing I was thinking of was a shark.
This is by far the most isolated swimming enclosure I've been to yet. Not isolated in a desert or wilderness sense – not with those affluent neighbours who probably go for a morning dip every day – but just because it is so hard to get to by public transport (an hourly bus on a loop in one direction only – so I got a bus ride back to Avalon), there are absolutely no shops or cafés anywhere near so no post swim coffee or even milkshake here. Hell, there wasn't even a signpost on the road indicating that there were baths to swim in (which is why I ended up at the wharf and having to detour around the Navy warehouse and boatyard again).
And unusual for Australian swimming spots I've been to on this tour: there were no showers even. Just those benches, with some nice memorial plaques for those who used to love sitting there in years gone by.
The views are spectacular, with the thick bush of the Ku-ring-gai Chase National Park rising splendidly behind the sparkling waters of Pittwater. There are yachts sailing past, kayakers, people on paddle boards wending their way through the boats at anchor. Really I could have sat here all day, but that hourly bus was about to go past and I didn't fancy the half hour walk back to Avalon, especially without that post swim coffee…
Getting there, getting in, getting changed
Hourly bus from Avalon in one direction only. But if you fancy an hour at the pool, this could be the way to get to Taylors Point Baths if you time your arrival in Avalon Beach right. Otherwise, it's a half hour walk from Avalon. Lots of street parking if you have your own vehicle.
There are metal steps at the end of the little wharf where you can climb in or out at the 'deep end', but otherwise getting in is just wading in off the beach, as I did.
No facilities. No showers, no toilets. Just a couple of benches to put your things while you swim at Taylors Point Baths.
Other practical points
There is a shark net in theory around 20m or so of water and about 5-10m wide. But the net was drifting off its mooring and not providing full protection on the day I was there.
History and stories of the pool
I've not managed to find any history of Taylors Point Baths. Taylor, it seems, was an early settler in the area. But back in those days there were no multi-million mansions and access was by strictly by water.
I haven't even managed to find out when the shark net was put in, or those handy metal steps into the water.
People I met in the pool
I met nobody at Taylors Point Baths, not even the neighbours looking out over the pool as I waded.
What's your story? Any memories of swimming here? Any stories to tell? Or did you just have swimming lessons in days gone by?
Whatever you have to say, however brief, I'd love to hear from you and will add any stories to this section of the site as and when I receive them.  Add your comment or story under 'Leave a Reply' below.
Links to other articles on this pool
Only one other blogger I found who had been to Taylors Point Baths, and it seems they almost forgot to go there too!
So here is the Lazy Swimmer blogger's entry from 2011.
Coffee, tea or milkshake after the swim?
There is nowhere nearby for coffee, milkshake or anything. Even the Clareville Kiosk – about 10 minutes walk away on Clareville Beach, looks as if it has become a weekend only restaurant now. Certainly it was closed the morning I dropped by.
So it was back to Avalon for an excellent coffee at the Sneaky Grind. Now, they are worth the wait if you want an excellent coffee near Taylors Point Baths. So go back into Reviews and check out the entry from Avalon Beach for my thoughts on that coffee shop.