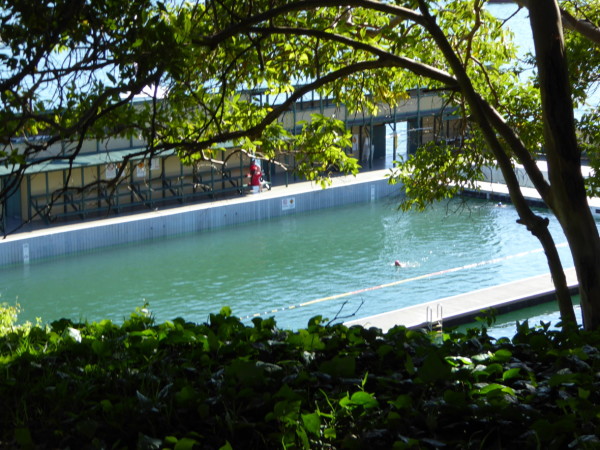 Dawn Fraser was apparently 'discovered' in these baths at the age of 13
My experience in the pool
I finally made it to the iconic Dawn Fraser Baths in Balmain for my first swim back in the salt water of the harbour since June. They reckoned the water temperature was 20C but I think they need to check their gauge because I could feel that zingy icy feeling on my baldness – a sure sign that the water is a good bit less than 20C and a cue for me to get out of the water much sooner than I would normally want.
Still, it was great to visit Sydney's oldest swimming pool. They've been swimming here since the 1880's, so well before Dawn Fraser was even a twinkling in her parents' eyes. I guess they were called Balmain Baths until a 13 year old Dawn was spotted doing lap times that were to propel her to Olympic fame in the 1950s (and subsequent infamy over some flag-stealing prank at the Tokyo Olympics).
The changing sheds looked a similar vintage to the beauties I found over at Nielsen Park earlier this year, though once in the water, the pontoons that form the 50m pool section looked to be somewhat more modern.
The water may have been a bit cold to swim without cap or wet suit (nobody else was trying it by the way), but the lifeguards reckoned the water quality was much better than at the same time last year when storms had made a mess of the baths. They actually even close the pool after a storm if there is too much debris washed into the water after heavy rain.
I was there not long after high tide when the depth markers have the ends of the 50m pool section at around 3m or 4m deep. This is definitely a tidal pool though, so depths will vary with the tides, though I think the 50m section is always deep enough for good swimming. Most people were entering the water the gradual way, via the 'beach', which was just starting to appear as the tide drifted out.
For back stroke lovers, there's only one direction to swim comfortably. Swim towards the sheds and all you will get is blinding sunlight – at least in the morning, when I was there – but swim away from the sheds and you get views back to those beautiful wooden structures backed by the lovely trees in Elkington Park.
Don't miss the old turnstiles that sit now unused by the edge of the boardwalk. They reminded me of the entrance at Stonehaven Outdoor Pool in Scotland, only there they have painted them bright red and they are still in use.
I was at Dawn Fraser Baths just four days after their annual reopening and I got the impression that quite a few of the others in the water with me were regulars returning after their winter break, though as I say, they were all better dressed than me for the cold water so stayed in much longer than me.
Getting there, getting in, getting changed
I caught the bus from Sydney CBD and walked down to the baths from Darling Street in Balmain. Parking looked pretty limited nearby.
Enter the water via the sandy beach (or shallow water at high tide), or clamber down the vertical metal steps into the 50m section, though you could probably also dive in given the depth.
Lovely old changing sheds that date from many decades ago. Warm showers too, which were very welcome after that icy blast on my visit in early October.
Other practical points
$5.20 entrance fee in 2016-17
There is a small kiosk where they could have sold me a swim cap if I'd known how cold it would be before I got in!
Water polo played here
Baths open from 1 October to end of March
History and stories of the pool
Sydney's oldest swimming pool – the local swimming club here dates from the 1880s.
I haven't picked up many stories from these baths, but I did find more people had written about them than any other ocean pool I have visited yet on this quest, so have a look at some of the links below for more stories on people's thoughts and experiences there.
People I met in the pool
Just one visitor I chatted to, who was another Pom from Manchester originally, but now living in Melbourne and just in the Baths as a one-off on a trip to Sydney.
What's your story? Any memories of swimming here? Any stories to tell? Or did you just have swimming lessons in days gone by?
Whatever you have to say, however brief, I'd love to hear from you and will add any stories to this section of the site as and when I receive them.  Add your comment or story under 'Leave a Reply' below.
Links to other articles on this pool
Swimming blogger Therese came to Dawn Fraser Baths for an art exhibition in March 2016.
The Lets Go Swimming blogger came to Dawn Fraser Baths in February 2016.
What's amazing about the Catch Up with a Mate blogger piece from December 2015 is that they once lived near Dawn Fraser Baths but never swam here till 2015.
Seana of Hello Sydney Kids blog came here and had a great time.
Even this columnist from The Guardian newspaper website has Dawn Fraser Baths as one of their favourite places to swim. They came in 2014.
The I'd Swim That blogger came in 2013 and was struck by the rules around Dawn Fraser Baths…
The Mrs G Spot swimming blogger came to Dawn Fraser Baths in 2013 too.
This 2009 blog entry is more about Dawn Fraser herself than the Baths, but it's a good read.
The Lazy Swimmer blogger came to Dawn Fraser Baths in 2009, too.
Last but not least, I love the photos in this 2008 blog post from the Swim Sally Swim blogger.
Coffee, tea or milkshake after the swim?
It's about a 10 minute walk directly up the hill from Dawn Fraser Baths back to the main (Darling) street in Balmain, where there are lots of coffee shops, but you surely won't find a better coffee or cosier coffee shop than…
Hungry Bull Co – 411 Darling Street, Balmain, NSW 2041
Open Daily 6am – 6pm
Hungry Bull Co reviewed by the Fancy a Cuppa website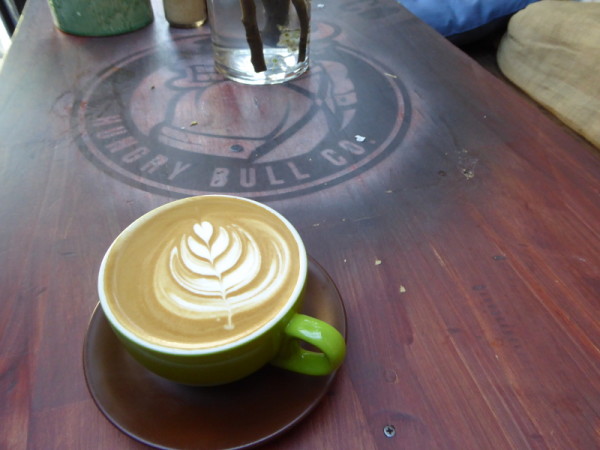 I love this coffee shop in Balmain, which is perfectly placed for a post swim coffee after a dip in Dawn Fraser Baths. It's got a great decor with lots of coffee paraphernalia all over the walls, it's a cosy atmosphere, and somehow or other they even managed to find space for an outside area out the back, with is a tight squeeze but also a lovely spot.
They roast their own coffee on-site in a small roaster in the front of the shop; it's great quality: smooth and rich, just how I love it. With the owner being from Turkey, he'd even do you a Turkish coffee if you wanted, though he hasn't got the hot coals to prepare it properly in the Turkish way.
Not to be missed if you want coffee after Dawn Fraser Baths.