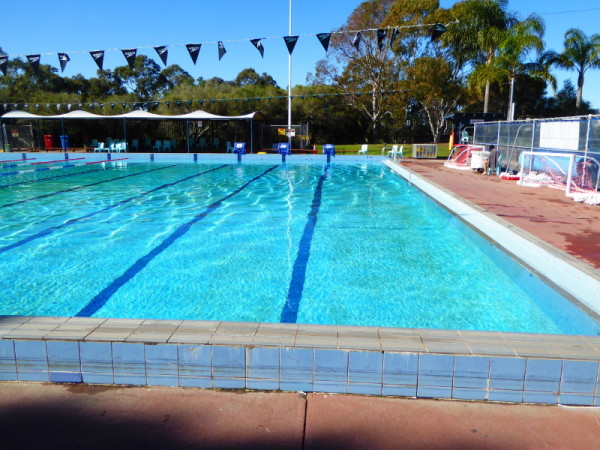 The biggest swimming centre in the southern hemisphere, they say.
My experience in the pool
It was a bright winter's morning for my swim here. Air temperature quite cool but water a comfortable 25C.
There were three lanes free when I arrived at about 10.30am, though by the time I left there were at least two swimmers in each lane.
There's a nice combination of graded lanes (fast, medium, slow) and lanes where you just go the pace you please.
I opted for one of the empty lanes and had time for half a dozen laps before someone joined me, and even then my fellow swimmer had chosen well, as we passed at about the same point in the pool for the remainder of my swim. I wonder if I judge others' speed as well as that gent.
There's nothing spectacular about this pool. A few palm trees line one side and some imposing gum trees look over from the other side (though the car park is bathed in that wonderful scent of eucalyptus, so the gum trees make sure you know who's in charge round here when you leave). But it is a lovely place to swim on a fine day.
There's a 25m pool as well as the 50m one. By the time I left the 25m pool was being used by a few lane swimmers, but when I got there there was some sort of aquafit class going on. Nice to have two big pools, as well as the enormous space indoors where there are other pools (hence its claim to be the biggest south of the equator).
Getting there, getting in, getting changed
The centre is directly south of Sutherland Railway Centre, so very easy to get to either by car (look to your right shortly after you take the Sutherland turning if you come from the south) or by train (less than 10 minute walk to the station).
There is a wheelchair ramp down from the changing rooms to the poolside and although I couldn't see a disabled lift into the pool, I am assuming there must therefore be disabled access.
Lots of options for getting in, though with the outer lanes busy, I chose to jump straight into my middle lane from the shallow end.
There are warm showers in the changing rooms, though only four of them so I guess it may get busy, since there's room for a lot more than that to change here.
Other practical points
Entry fee $6.40 (with other concessionary rates) in 2015.
Opens at a staggeringly early 5am, presumably to cater for those Sydney CBD early morning commuters.
Open all year round
History and stories of the pool
Kirsten Thomson, an Olympic medallist at the Sydney Games in 2000, is a member of the Aquadots swimming club here.
People I met here included:
Apart from a couple of cheery hellos, nobody looked ready for much of a chat about this place – it was cold and they probably wanted to keep swimming to stay warm!
What's your story? Any memories of swimming here? Any stories to tell? Or did you just have swimming lessons in the cold of winter in the 1970s?
Whatever you have to say, however brief, I'd love to hear from you and will add any stories to this section of the site as and when I receive them.  Add your comment or story under 'Leave a Reply' below.
Links to other articles on this pool
The local newspaper reported on the centre's upgrade in February 2015, though most of this affects the indoor pools.
Coffee, tea or milkshake after the swim?
There is a kiosk by the pool called Aquabites, but there's really good coffee to be had if you go the extra half mile back towards Sutherland train station
White Horse Coffee  – Flora Street, Sutherland
Open Monday – Saturday from 5.30am. Closes at 5pm Mon – Fri and 1pm Saturday – Closed Sundays
White Horse reviewed by Fancy a Cuppa website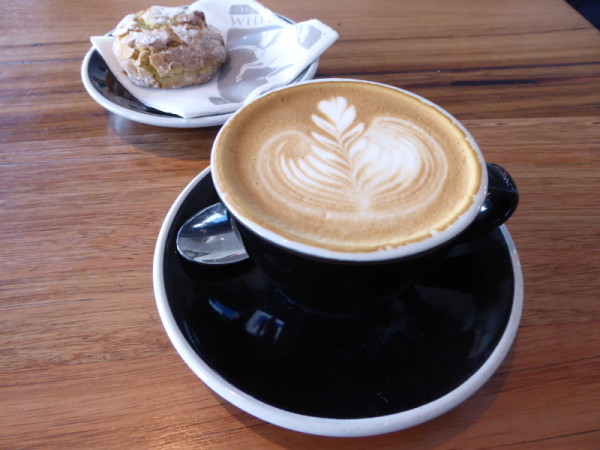 Even if you've been for a swim at 5am opening time in the pool, you can get to White Horse as soon as they open for 5.30am. And it's worth it. They roast their own coffee at White Horse – it's really good quality. Don't miss the pistachio 'biscuits'. I was warned they are addictive and it was true that my first was so good I had to go back for a second. Soft-centred green inside, these will help your blood sugar back up again after your strenuous swimming workout. The baristas may all be your classic black t-shirted 20 or 30 somethings (mostly with beards), but the clientele is very mixed here, with all sorts from local Fire & Rescue types to more black t shirts…