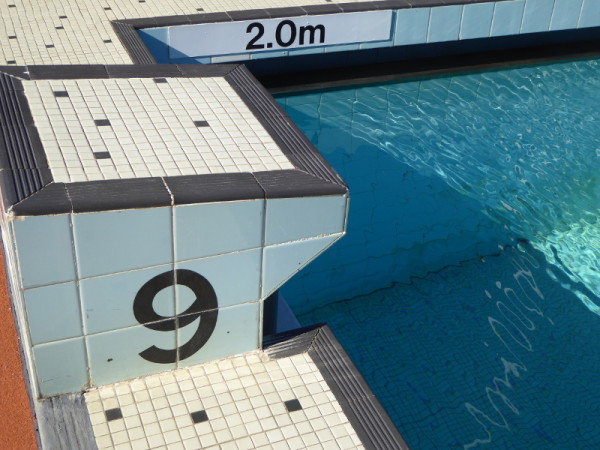 Named after a valley in the Swiss Alps…for some reason!
My experience in the pool
Only three lanes out of nine were in use when I arrived at about 11am on a bright, sunny morning in July for my swim. So there was lots of room for relaxing laps, and even though a few others had come along by the time I was out, we were still few enough to have a lane each, and that always feels like a real privilege.
It was a cold morning, though. As I swam my freestyle, I could feel an icy touch on my shoulders from the southerly wind; for some reason this felt stronger as I swam into the wind, though I've no idea why since I'd have thought my back would be more exposed as I swam away from the blasts.
The guy in the next lane to me was cursing the bright, but low sunshine, meaning he had to wear his sun glasses to do backstroke! I found this an extraordinary idea…until I began to try backstroke with the sun glaring down at me. I guess for this to work for me, I'm going to have to find bigger goggles or smaller sunglasses, but it seemed to work for him.
I really enjoyed this pool. It's not pretentious, has no claims to grandeur or great history. But serves its community tucked between the Royal National Park and the Heathcote National Park fantastically well, with its long opening hours all through the year.
There's a nice combination of palm trees, conifers and a few gums surrounding the pool. A classic Australian swimming site!
There's a shorter pool – maybe 20m – which is probably used for lessons and for less confident swimmers. And a paddling pool, though that was drained when I was there in July – I guess there isn't too much demand for paddling in mid-winter.
Getting there, getting in, getting changed
The leisure centre is at the northern end of Engadine Park. There's lots of parking. But it's also possible to catch a train, with a 20 minute walk from the station, though.
Lots of access points up both sides of this pool. I chose the gentle staircase at the shallow end, as was a bit wary of how cold the water might be on this cold morning (water was fine by the way).
Nice changing rooms with warm showers.
Other practical points
Entry fee $6.40 (with other concessionary rates) in 2015.
Opens at 5.30am during the week and not much later at the weekend, presumably to cater for those Sydney CBD early morning commuters.
1m deep at the shallow end; a lovely 2m at the deep end.
Open all year round
History and stories of the pool
Built in 1975. Not many new pools like this being built back in the UK by 1975, when it was all 3-day weeks and power cuts as the country dealt with the first oil crisis. No such troubles in Australia, then, clearly!
I haven't managed to find any history or stories of the pool anywhere, though. So I'd love to hear from any long-time regulars.
People I met here included:
It was very quiet so apart from the little exchange with my neighbour about his sun glasses, I didn't really connect with anyone on this occasion.
What's your story? Any memories of swimming here? Any stories to tell? Or did you just have swimming lessons in the cold of winter in the 1970s?
Whatever you have to say, however brief, I'd love to hear from you and will add any stories to this section of the site as and when I receive them.  Add your comment or story under 'Leave a Reply' below.
Links to other articles on this pool
I found no other articles about Engadine Pool – if you know of any, send me a link…
Coffee, tea or milkshake after the swim?
There is a café at the pool. They do nice looking milkshakes and make their coffee on a decent Simonelli machine, but I wanted to try something else in the area. So I walked about 15 minutes (would be 2 mins max in the car) to…
Urban on Lantana  – Lantana Road, Engadine
Open Monday – Friday from 6.30am. Open Saturday – Sunday from 7.30am.
Closes at 4pm or 4.30pm during the week and 3pm at weekends
Urban on Lantana reviewed by Fancy a Cuppa website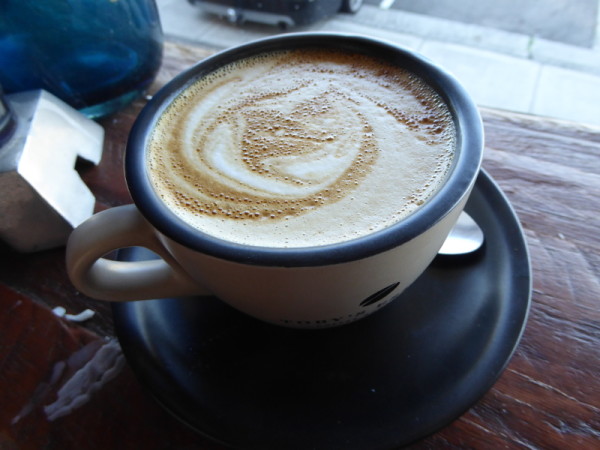 What a great find. It comes right out of the blue as you have a mile or so of residential suburbia between the pool and the coffee shop, but then there's Urban, which had a lively buzz on the morning I was there. Really nice Toby's Estate, and I was asked if I wanted the single origin of the week – an excellent Brazilian I was really pleased to try. Some nice gluten free cakes options and big muffins that must have come straight from the oven. Great spot for post swim coffee.