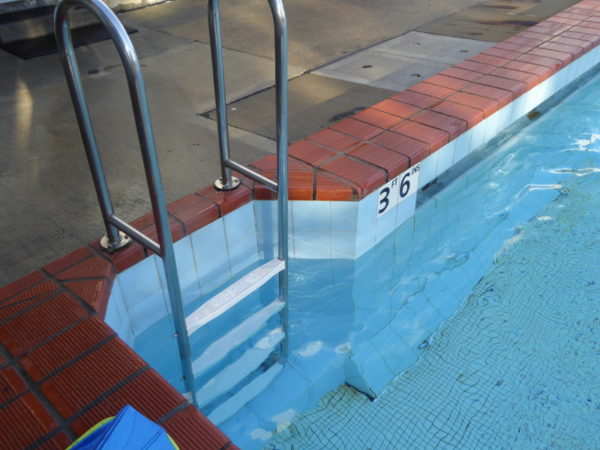 Named after Frederick the Great's palace in Postdam in Germany.
My experience in the pool
I wonder how any French expats living in Sans Souci pronounce the place. 'Sannz Suzie', said the lifeguard at the Leisure Centre entrance when I asked. So now you know, and don't make my mistake of chucking in a French accent when talking about this suburb tucked between Botany Bay and the George's River.
I must have driven past Sans Souci Leisure Centre 100 times without ever knowing it was there. And yet, as you do your laps in the lovely Olympic pool here, you can watch all the cars speeding past up above as they head towards Sydney and the airport. No, and I never knew the pool was here till I did a search online for outdoor pools I had yet to swim in within the Sydney city area.
It was busy down at Sans Souci on the Friday morning I showed up. The first hint of sun for about four weeks clearly added a few newbies like me to the regulars, and I could hear some of them exclaiming at the numbers in the pool at 7.30am, half an hour after the local squads had finished.
It was at least two to a lane when I swam, so no chance of me doing my wayward backstroke this time. But it was a pleasure just to put in a proper 20+ laps of a 50m pool for the first time in over a month.
Best thing about Sans Souci Olympic pool has to be its setting, right on the water, with the maritime police moored just by the pool and the river water lapping up against the wall, visible at the deep end.
The pool is about to close for major refurbishment (starting May 2017), but I just hope they leave the wonderful old depth marker at the shallow end, where it tells you the water is 3ft 6in. You don't often see that these days.
Deep end is 1.8m, though might even be a touch more as I was on tip toes to reach the bottom at one point.
There's clearly quite a community of regulars who come here for that post squad but pre work swim (even though most may well have been retirees, I reckon); 90% men, but a smattering of women doing the early morning laps too, and I had to ask one lady to move so I could get my shot of those 3'6″ tiles!
Many of the regulars go for coffee by the pool at the pretty decent kiosk at Sans Souci pool. I wanted this time to try the coffee shop just beyond the deep end, though, and noticed the pool nearly empty when I walked past again at about 9am. I clearly hit Sans Souci Leisure Centre at rush hour…
No chance to check the views during backstroke, but I'm guessing you can gaze at the cars rushing past on one side, and just the indoor pool building on the other, hiding any chance of lovely river views from the pool itself. There are a couple of nice tall trees, too, though, so it's not all bricks and cement.
Sans Souci is a lovely pool, though, and I quite envy the people who are lucky enough to live nearby and call it their local. Where will they be going during the 6 months renovation work, I asked one gent. Probably Bexley, he said, where there is a new aquatic centre just opened. A new aquatic centre, huh? Hmmm, better check that out once the ocean water has got too cold for me…
Getting there, getting in, getting changed
Sans Souci pool is about as close as you can get to the Taren Point Bridge over the Georges River. Driving from the south, you need to have your wits about you not to miss the sharp left turn to find the car park. Drive past the pool from the south and you have gone too far. There are lots of buses to Sans Souci, though I'm not sure how many get near the pool…
There is an easier set of steps into the water at the shallow end, but other than that it is a vertical haul up the usual metal steps at deep and shallow ends.
Showers used to be in two sets of three divided by a wall. But somebody at some point clearly decided three men standing together was getting a bit too intimate., so the middle shower on both sides has been removed…Not that half-blind me could see that as I tried to join the two other gents already soaping themselves on one of the sides…You walk past the coffee kiosk to get to the pool.
Other practicalities
2017 price to have a swim is $6.20
50m Olympic pool outside – usually open through the year but in 2017 closed from May for major renovations. There is a 25m indoor pool, too, which will stay open through the outdoor pool works.
3'6″ (yes, really) to 1.8m depth – maybe even a tad deeper as I had to be on tiptoes to keep my head above water.
History and stories of the pool
It has proved hard to find any stories about Sans Souci pool. The plaque by the entrance door dates from a relatively recent refurbishment, so speaks of the pool being 'opened' in 2008.
My search of press clippings did reveal that some pretty decent swimmers trained here in the late 70s and 80s, some going on the compete worldwide. But the wonderful Trove website didn't really give me any good stories this time, so as usual, if anyone has memories to share, please comment below…
And since the pool at Sans Souci is so close to the Georges River, I am wondering if the original swimming baths here were actually built into the river itself. Does anyone know? Maybe somebody at the wonderfully named Sans Souci Sea Devils Swim Club?
What's your story? Any memories of swimming here? Any stories to tell? Or did you just have swimming lessons in days gone by?
Whatever you have to say, however brief, I'd love to hear from you and will add any stories to this section of the site as and when I receive them.  Add your comment or story under 'Leave a Reply' below.
Links to other articles on this pool
Swim blogger Sally wrote this entry on Sans Souci Pool back in 2010. She manages to find the old pool entrance, too, probably because she swam here as a schoolgirl, and there is a comment about the original tidal baths…
This is a more recent entry from swimming blogger Sally, who returned to Sans Souci Pool in 2014.
In 2015, local newspaper The Leader wrote about former Olympian Craig Stevens who coaches the next generation of swimming stars at Sans Souci.
Sans Souci pool was included in Natasha's web post about 20 public places in Sydney for a good swim.
Coffee, tea or milkshake after the swim?
You can join the regulars after their lap swim in the morning for a post swim coffee by the pool at the Leisure Centre kiosk. It's a decent brew, better than most pool kiosks can manage.
But I was keen to try the coffee shop that looks down on the deep end of the pool at Sans Souci, as I had noticed this place on drives by before I even knew the pool was here.
Live Easy – 507-513 Rocky Point Road, Sans Souci, NSW 2219
Open: Mon-Fri 6am – 2.30pm; Sat-Sun 7.30am-3pm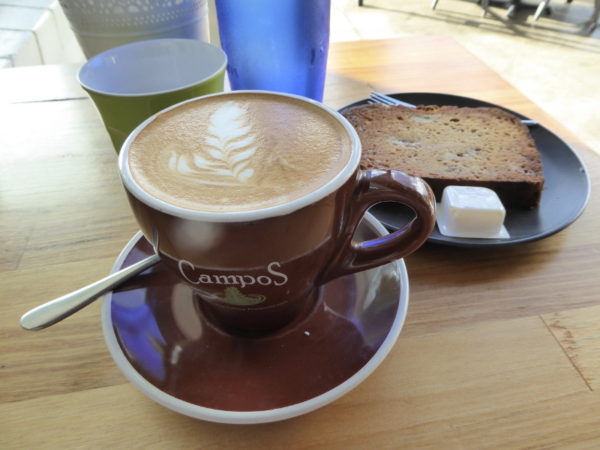 This is a nice local neighbourhood coffee in Sans Souci, literally a stone's throw from the pool, and you can just see the lap swimmers if you sit out on the terrace at the front. The coffee is a decent Campos brew, and the service friendly, with great pride in their home-baked muffins and banana bread (I did quite like the little chunks of banana left in the bread – not sure how they manage that).