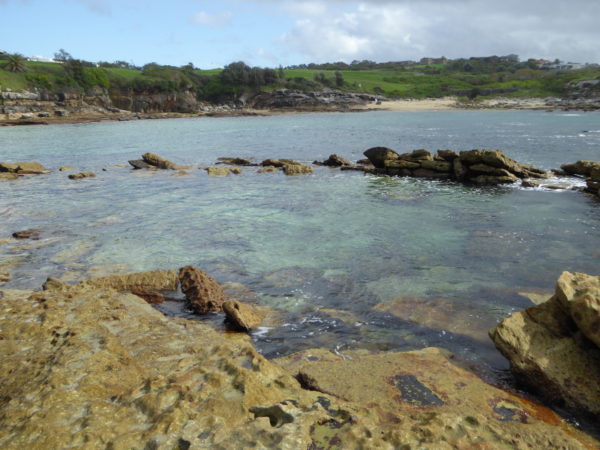 Former home of Sydney's Smallpox Hospital
My experience in the pool
I got to know a few of Little Bay's secrets when I got chatting to Kevin and John last Friday when I popped down after my Sans Souci swim to take a look at the old rock pool here. I knew this was the ring of stones rock pool put in place for the nurses at the local hospital when sharks were first seen in the bay itself, to give the nurses a safe place to freshen up on hot, unhealthy days.
What I didn't know until I met these two regulars down at Little Bay beach (and yes, there they were again when I pitched up for my swim in the pool just three days later on a beautiful warm March morning), was that this hospital was the fever hospital, built as far from civilisation as possible, so pity the poor patients and hats off to those nurses working here at the time.
Kevin and John also pointed out the wall up against the cliff on the north side of the bay, which they said was a leper wall, to mark the boundary of safety for those poor souls too. And then they spoke of the place called Doc's Rock, just around the headland to the south, where apparently doctors used to chuck diseased bones out into the sea, again for safety reasons presumably. Wow, it's amazing anyone survived around here, but I guess people built up good immune systems.
My local historians also warned me about the sea urchins and blue ringed octopus that lurk in and around the old nurses' pool. By Monday, thankfully, they were laughing this off as a scare tactic for a gullible Pom, and although it may be true that there can be such deadly creatures here, they had never personally seen any.
So, much relieved, I made my way round to the southern end of the beach and scrambled across the rocks to the rock pool.
The irony, given that the Nurses Pool was built because of shark sightings in the bay, is that there was nobody in the rock pool but at least half a dozen people swimming or snorkelling around the waters of Little Bay itself.
I was here about two hours after high tide, having been told by Kevin & John that the main ring of stones would be covered at high tide itself making it hard to see the border of the pool.
It turned out to be a perfect time for a swim in Little Bay Rock Pool. The water was clear and the waves were gently rolling into the pool area, leaving the water in the pool at a comfortable depth around my chest height, so probably 1m40 or so.
Little Bay Rock Pool is certainly not a place for lap swimming. I'm sure any nineteenth century nurses bathing here were not even trying to do laps, after all. But what a delightful spot on a warm day to mess about in the waves and imagine what a pleasure this must have been after a gruelling day on the fever wards.
With others in the open waters of the bay, I did also brave the area beyond the rock pool in Little Bay itself. After all, there is a bank of rocks across the breadth of the bay which stops the surf rolling in, so surely it might also put a shark or two off?
Little Bay is full of new housing these days, with the hospital now closed and converted I think to flats and other living accommodation. The beach is reached via the eighteenth tee of the local golf course, and the beach was fairly busy for a weekday during school term. So it has certainly lost its 'hidden secret' status now, and as I walked back up the slope to where I parked the car, there were a dozen workmen building what looks as if it might one day soon be toilets and shower facilities just above the beach. Well, that can only be a good thing, and it may even bring more people down here. Maybe it will even one day lead to the formal redigging out of that Nurses Pool on the southern end of Little Bay Beach.
Getting there, getting in, getting changed
There are buses to Little Bay, but they would drop you off on Anzac Parade and you'd then have a ten minute walk to the path down to the beach at Little Bay. Walk past the eighteenth tee of the golf course, and past the Chapel to get to the path down to the beach. There are a few parking spots on the crescent street just above the beach.
Clamber over the rocks to get into the pool and pick your entry point carefully. Look out for the line of rocks that mark the northern end of the rock pool if you are unsure of its location and it is high tide. Probably pretty shallow at low tide.
No facilities until they finish that block on the cliff path. Please let me know if you see these are complete and open to the public.
Tidal differences
Since Little Bay Rock Pool isn't a lap pool, as such, it probably doesn't matter really what tide you go here on. But at high tide it may be hard to see the ring of stones outline; and at low tide you probably won't get more than a bathe, rather than a swim. So try in between tides for best swimming experience.
History and stories of the pool
The best history of the area is to be found on the All Into Ocean Pools website, as they have clearly done their research.
Kevin and John gave me anecdotal history and that's all in my blog post above.
People I met at the pool
John and Kevin seem to regulars down at Little Bay. They seem to stick to swimming in the water in Little Bay itself rather than going into the Nurses Pool, but their stories were great.
What's your story? Any memories of swimming here? Any stories to tell? Or did you just have swimming lessons in days gone by?
Whatever you have to say, however brief, I'd love to hear from you and will add any stories to this section of the site as and when I receive them.  Add your comment or story under 'Leave a Reply' below.
Links to other articles on this pool
Swimming blogger Sally has been a regular at Little Bay over the years. This post comes from 2016, but in it she links to her pervious blog posts from swims and other activities in and around Little Bay.
For something a little different, I rather liked this artist's blog, which includes a painting of Little Bay Rock Pool
Coffee, tea or milkshake after the swim?
Little Bay's local community is growing fast so the coffee possibilities may change just as quickly, but for now, the best coffee in Little Bay looks to be at…
Green Olive Café – 1 Pine Avenue, Little Bay, NSW 2036
Open Daily 7am – 2pm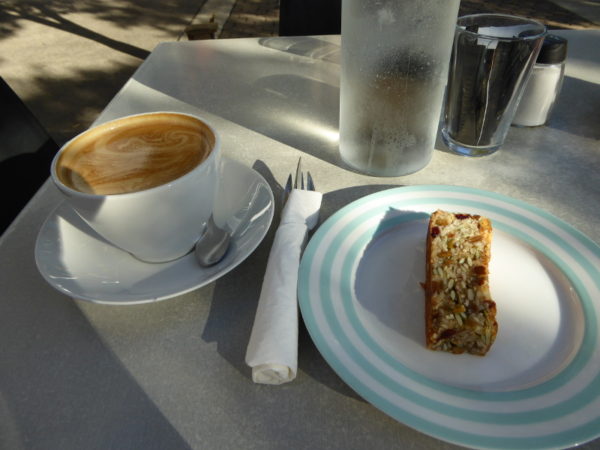 They do a decent Campos coffee at Green Olive, and there is a nice seating area in front of the café to have your coffee and cake. It is probably a 10 minute walk to the Little Bay beach and rock pool, but it's the nearest you'll get for a post swim coffee.