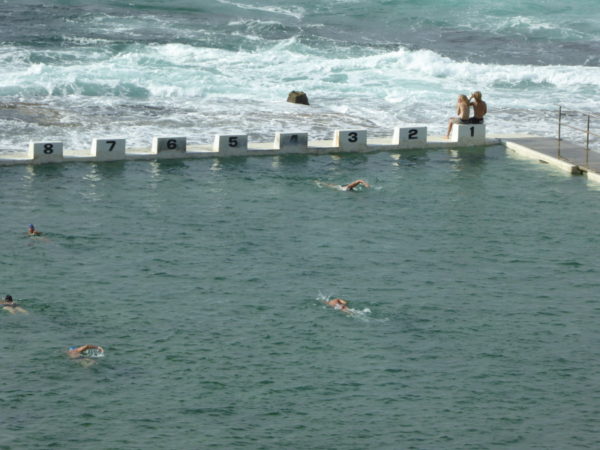 Named after the 19th century gent who once owned the land here.
My experience in the pool
Merewether Ocean Baths has to get my vote as the best ocean pool in NSW. With only a few left to visit, it will take something special going north in the state to beat Merewether for sheer joy, great setting, and a wonderful mix of space for laps with ample room for messing about in the water.
We even got lucky with the weather on this end-of-summer Saturday, as clouds rolled in on the horizon and the whole area was a wash-out a few hours after our swim.
There was also a surf fest on Merewether Beach so parking was potentially an issue, but we got lucky with one final spot up on the cliff looking right down on the ocean baths. And as the final moments of sunshine fell on the pools, we even got the joy of seeing them busy with revellers and looking tempting in turquoise (unlike the dark grey when we'd driven past in winter to take a look on a previous Newcastle visit).
I don't think I've ever been in such a happy pool. That might sound a strange thing to say, but everybody seemed to come out of the water beaming, kids were jumping in squealing, and we must have spoken with at least a dozen people about how wonderful the place was.
So, what about the baths themselves? They claim these are the largest ocean baths in the southern hemisphere and I can well believe it: the 50m laned section takes up just a small part of one end of the main pool, and the full width of the pool feels longer than the 100m they say it is. The pool floor has a nice smooth surface, with just a hint of seaweed growing there to keep it real- and oceany.
The depth is a level 1.8m I'd guess (maybe a tad less) so it feels fine for lap swimming whichever bit of the pool you're in. And if you have kids who are nervous in deep water or can't swim yet, there is another pool, just about as big, next to the main ocean baths. The kiddies pool is a bit full of sand but that probably makes it more fun for non-swimmers to play around in, and certainly makes it shallow.
I had to give the laned area a go. There were a few serious lap swimmers ploughing up and down and not stopping for a breather, but here too there was room for all, with 10 lanes, though no lane markers, so it's a bit of a test of your straight swim stroke.
After I'd done my laps, and drifted from lane 10 to lane 9, I was told there is a line in the concrete I could have followed if I looked carefully, and the line of seaweed more or less follows that. So you see, that's how friendly the folk at Merewether are: no grumbling about me going off piste, but happy to give me local hints to make the swim even more enjoyable.
I just loved Merewether. I love the big proud declaration on the ocean side of the changing rooms reminding everyone in case they forgot that they are in 'Merewether Ocean Baths'.  Or maybe that is for the crew of passing ships (and there were a few of them on the horizon) to tempt them over for a quick dip if they can get away without the skipper noticing…
Several people told me that the pool had just undergone major refurbishment work, which installed new (and very useful ) benches to leave your things on while you swim, as well as building in a wide and shallow ramp for easy entry (and presumably even wheelchair access). That might cut by a few metres the full circuits of the baths I saw one man doing when we dropped by last winter, but surely well worth it for making the baths open to more people.
As the tide came in, waves were just starting to push up and over the wall on the ocean side, so I imagine Merewether Baths might be an interesting place to swim in a storm at high tide. But on this summer's day in perfect air temperature (24C) and lovely water temperature (20C), Merewether was THE place to be.
Getting there, getting in, getting changed
We drove from down the coast and must have got the last parking spot up on the cliff above the baths on a Saturday morning with a surf fest going on on Merewether Beach. There are lots of buses from nearby Newcastle, though of course no trains anymore to the centre of NSW's 2nd city – how silly is that? Forced to change to na shuttle service to get into town from the terminus.
Great disabled access via the gently sloping and wide ramp which takes you gradually into the water. With the pool a fairly even depth all round, though, there is no shallow end as such, so enter anywhere else and you are straight into 1m80 water.
Superb changing rooms up above the baths at Merewether. Enormous, with lots of room; warm and cold showers inside and out by the baths. And those handy benches by the baths to leave your things while you swim.
Tidal differences
Swimming possible on all tides, though I imagine on a king tide in a storm you'd be in a washing machine. We were there an hour or so off high tide and the waves were lapping over the pool wall on the ocean side.
Other practicalities
Free entry – of course!
100m stretch of water, with a laned area at one end for 50m laps, though no lane ropes so a bit hard to swim straight.
Another pool, with almost the same dimensions, but much shallower, so for kids and non-swimmers, right next to the main ocean baths.
History and stories of the pool
Thanks to Merewether.com for this snippet: the first ocean baths at Merewether were built in 1926, partly in reaction to the sewerage coming from the gulf. In 1928 construction work on the existing baths was begun. You can still the walls of the original ocean baths at Merewether just by the surfing club building to the north.
Looking at the press coverage of the new baths being built at Merewether in 1934-5, there was great joy at both the 'super-human' machinery being used to break up and remove the concrete and stone to form the baths base, and the fact that the broken concrete could then be re-used as the basis for new roads being built around Newcastle. Ah, those were the days of real 'public works' when things could dove-tail and resources from one project could be used on another because they were all run by public bodies. This even predates the term 'joined-up thinking', I'm sure.
A 1937 article found on the Trove website from the Newcastle Morning Herald & Miners' Advocate (what a great name) talked of upcoming work on putting down a concrete floor in the children's pool. There were also floodlights over both pools at Merewether, not to mention 'novelties' (two pontoons, a revolving drum and a floating hobby horse!), but best of all: "The council intends eventually to make it one of the most attractive beaches on the coast." – Mission accomplished, Merewether. That's all I can say.
By 1939, there was great rivalry with the 'city' baths (presumably Newcastle Ocean Baths), with angry correspondence over claims and counter claims of which pool was cleaner. In 1946, things were not looking so rosy, however. There were complaints of slime and mud, grit and sand in the pool, which had become a 'menace to the health of bathers'. Not any more, thankfully, and even by 1954 the Newcastle Morning Herald reported a visitor from Melbourne saying the water was "so clean you could almost drink it".
People I met at the pool
We got talking to so many people at Merewether, and I did take down names, but somewhere along the way I lost them. Thanks for sharing your joy of living near to Merewether Baths everyone, and thanks for the wonderful stories about the pool's past, including the wonderful tale of the 'marble' slide that sounded great fun for a splash into the pool, but was apparently washed away in one big storm (yes, that's how powerful the surf can be around here).
The best thing about swimming at Merewether is that even with 50 or so people in the water, there is lots of room for everyone, and nobody took the 'don't tell anyone about our secret' attitude!
What's your story? Any memories of swimming here? Any stories to tell? Or did you just have swimming lessons in days gone by?
Whatever you have to say, however brief, I'd love to hear from you and will add any stories to this section of the site as and when I receive them.  Add your comment or story under 'Leave a Reply' below.
Links to other articles on this pool
I like this 2015 video from a German-speaking visitor to Merewether. He clearly liked the place, too.
Technically it's only 'ocean water in a pool', according to this blogger Rachel King, who went to Merewether before the recent makeover. Love her pics.
Another completely new blog for this website, but they picked up also on Merewether being a 'happy place'!
A lot of artists and photographers go to Merewether Baths regularly. This artist Leonie Andrews published some nice sketches of the baths on her website.
And blogger Sophie Munn also had a slightly different approach to writing about ocean pools. Personally I preferred her artwork, but still, nice to see her site too.
Travel blog My Rig Adventures added this post recently (2020) on Merewether Baths
Coffee, tea or milkshake after the swim?
You can get a decent coffee in the kiosk in the Merewether SLSC building just north of the ocean baths.
But sometimes,it really is worth going the extra mile for a fantastic cup of coffee…
Esther C – 140 Glebe Road, Merewether, NSW 2291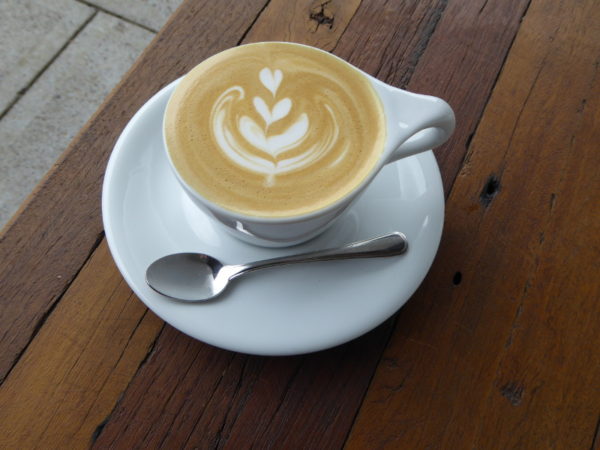 Open Daily 7am – 2pm
Esther C reviewed by the FancyaCuppa website.
I think they may have rebranded to Frothers Espresso, but seem to be same coffee crew running it.
This surely has to be the best coffee in Merewether. Esther C manage that rare combination of super friendliness and great knowledge about coffee. There were three different roaster's coffee on offer, with Reuben Hills in their espresso machine, some from Seven Seeds in Melbourne and a local roaster called Unison, though this was only available in filter coffee.
I loved the neighbourly feel to this coffee shop, with kids getting their induction into the coffee scene with babycinnos, and a nice combination of people sitting out on the benches in front of the coffee shop and others inside by the bar. Great spot for a post swim coffee in Merewether.