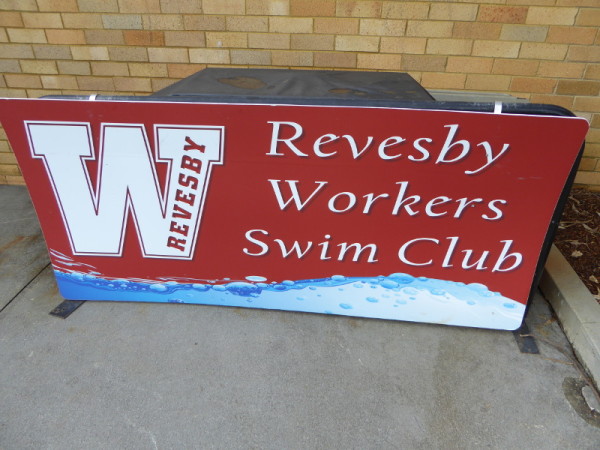 Named after a Lincolnshire village where the first European settler here came from.
My experience in the pool
My swim at Revesby Aquatic Centre was a classic Aussie experience on so many levels.
Actually I should just say the venue is officially called the Max Parker Leisure and Aquatic Centre. I forgot to ask who Max Parker is of course, so I hoped for help from a quick Google search after my swim, only to find that Nicole Kidman's new son-in-law happens to have the same name, and he lives in London, so somehow I doubt it is the same person as the guy who gave his name to Revesby's swimming pool.
This pool has everything I love about Australia and its swimming culture: an outdoor pool open all year round, 50m Olympic pool, with wonderful 3.5m deep end (but sadly no diving board anymore), and above all surrounded by gum trees so you not only look up to these magnificent beauties while doing your backstroke, but you can also smell the eucalyptus hanging in the air all around this place.
And such a friendly pool. The staff clearly got fired up by my request for names of any celebs who have swum here, and the by the time I was leaving, there were quick fire conversations via walkie-talkie between the lifeguards and the receptionist to feed through more names before I could escape.
It was quiet in the outdoor pool, with only two others in the water at the same time as me. To be fair, it is mid-winter and it was that kind of time in between the moment when commuters do their workmanlike laps before the office and that leisurely hour after 10am when the folk who have time on their hands turn up to swim.
It was much busier in the (smaller) indoor pool, though mostly that seemed to be parents and little kids, so the indoor pool is probably less of a lap pool than the Olympic pool outside.
Interestingly, even in winter when there weren't too many customers, they keep all lanes uncovered. This is for safety reasons, one of the lifeguards told me, because it would require an eagle eye to make sure nobody got stuck underneath any covered lanes otherwise. Interesting because of course over at Canterbury Aquatic Centre they take the other view in this and cover half the lanes to keep the water warmer in winter.
The air temperature was supposed to rise to an unseasonal 25C though at 9am it was probably nearer 18C. And the water was supposed to be 23C, but actually felt a bit cool on first entry, though once I got onto my stroke it felt comfortable for doing laps.
I also made a new friend in the Chinese guy in the next lane, who made admiring noises about my stroke technique (at least that's what I think he was saying from his miming and thumbs up signs). And he seemed thrilled when I lent him my pullbuoy after I finished so he could give this device a go.
According to lifeguard Scott this gent is over visiting his daughter who lives locally, and he has made the Revesby Aquatic Centre his second home while he's here. Good on him, I say. Better than sticking with his compatriots in mad thrusting groups around Circular Quay taking thousands of selfie shots.
Getting there, getting in, getting changed
It's a ten minute walk to the Max Parker Aquatic Centre from Revesby train station. There is parking also at the pool site itself.
Nice gradual steps into the water at the shallow end of the Olympic pool.
Big changing rooms with those 20c machines if you want to get hot water for your shower. Easy to work out which shower is which. Those with only one tap are cold only and the three with two taps have both hot and cold (even if in some cases both taps are labelled cold!). The hot tap only lets water out of it once the 20c coin is in the machine.
Other practical points
$5.50 entry in 2016
20c extra into a slot machine for a warm shower. Probably not necessary in summer, but in winter very welcome and well worth it.
50m Olympic Pool plus a 25m indoor pool on the same site.
The outdoor pool is 1.1m at the shallow end, deepening to 1.8m at first and then to a wonderful 3.5m for the last 10 metres or so. Sadly the diving board that was once here for that kind of depth is no more.
Open all year round.
History and stories of the pool
Don't miss the 2 photos by the reception kiosk. One shows the spot they call Revesby Beach, which is actually on the Georges River a bit south of here. The other shows Revesby Pool many years ago when there was a paddling pool on site. So glad they kept these photos and such a shame there aren't more on display to connect to the Revesby community over the years.
Ian Thorpe has been known to swim in Revesby Aquatic Centre and his Mum is a regular here. In fact lifeguard Sarah said Ian Thorpe's Mum taught her at primary school here which I thought was a nice community touch.
There are also some Rugby League stars who are known to train and wind down here. the local (Canterbury-Bankstown) Bulldogs team are regulars and a guy called Cooper Cronk, who plays actually for Melbourne Storm, has been seen here too.
This pool was built in the 1960s with the backing of the local Revesby Workers Club and their swim club logo is still to be seen by the pool perimeter so they still come here regularly too, and that Club is a focal point for the Revesby community even today.
People I met in the pool
Scott the lifeguard whose family comes from Yorkshire originally. He's the one who has been here longest and had memories of some of the sporting stars to come he over the years. Nice connection also between him and the Chinaman, even though there was absolutely no linguistic link between the two. Love how swimming can bring people together.
Sarah was the chatty lifeguard who loves the place for its views and it's clear water, and recommends I get myself to Birrong soon too, for another pool under the same management.
And my Chinese friend who made me aware how I have forgotten all those Mandarin words I learnt for our trip to China in 2014, but who borrowed my pullbuoy and managed to tell me he was from Shanghai. Hey, anyone who admires my swimming technique must need their eyes testing, but they're OK in my book.
What's your story? Any memories of swimming here? Any stories to tell? Or did you just have swimming lessons in days gone by?
Whatever you have to say, however brief, I'd love to hear from you and will add any stories to this section of the site as and when I receive them.  Add your comment or story under 'Leave a Reply' below.
Links to other articles on this pool
Apart from the Revesby Workers Swim Club link I put in above, I haven't managed to find anybody who has written about Revesby Aquatic Centre. That could be because of the official name change of the centre, and it now being called the Max Parker Leisure & Aquatic Centre so it's hard to know how others might have classified any article they wrote. If anybody knows of any other blogs or articles, let me know in the comments below.
Coffee, tea or milkshake after the swim?
You do need to cross the tracks at Revesby Railway Station to find what I think is the best coffee shop in Revesby.
Two Two One Two – -20 Blamey Street, Revesby, NSW 2212
Open Monday – Friday 7am – 5pm
Saturday – Sunday 8am – 4pm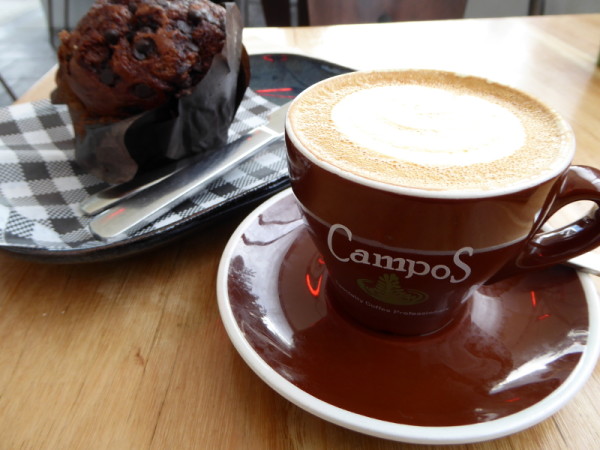 The only coffee shop in Revesby I could find that uses a halfway decent roaster. Campos Coffee is pretty reliable and the flat white came out pretty well for my palate. It's worth the slight extra effort of crossing the footbridge at Revesby station to get to Two Two One Two, and just in case you need a reminder of the local postcode while you're sipping on your post swim coffee, well just look at the name of the coffee shop. Some pretty large chocolate muffins on sale too which went down nicely after my 1km swim – my first proper lap swim in 50m pool for a while.