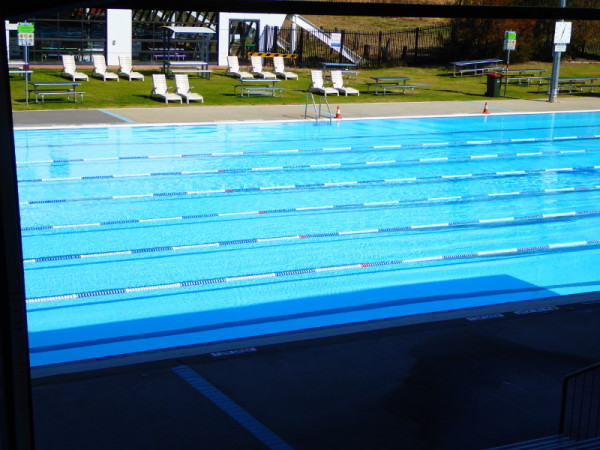 Prairiewood hosts Australia's oldest Eid Festival every year
My experience in the pool
It's almost a year since I swam in the Olympic pool at Prairiewood Leisure Centre in Sydney's west. But since I didn't find anywhere decent for a coffee after my swim, I was holding off posting until I had a chance to revisit the area.
A bit of a gap in my outdoor swims this year has pushed me into posting now, and let's see if any Prairiewood locals read this and have an idea where to go for a cuppa after the swim?
Prairiewood Leisure Centre is a real community pool, though in winter it is perhaps not used as much as it could be.
It was my destination on a sunny day in August as the days were just starting to warm up and I was desperate for a swim, but had already found out that the outdoor pools in both Campbelltown and Liverpool were still closed for the winter.
It's a really lovely eight lane pool, Olympic size 50m, with a big grandstand looking down over the pool on one side and the gym and entrance on the other.
There was lots of room on a weekday at the end of the morning to do my laps in my own lane – yes, meaning I could mix in lots of backstroke – and by the time I got out of the pool at about midday, there was absolutely nobody in it. It looked pristine and beautiful.
The lifeguard I spoke to knew of nobody famous who swims here, nor big sports teams that train here. And you can tell it is a community pool by the sign at one end that is only in Chinese and Vietnamese, even though Assyrian is the most common other language spoken round here, and it was indeed Assyrian that I overheard in the changing rooms (yes, I had to ask).
Getting there, getting in, getting changed
Quite easy to find the place if you're in or near Prairiewood. It's a few minutes' walk from the Stockland Shopping Centre, but then nobody seems to walk around here…
I didn't have a problem getting in, but read the blog below from Pool Lady and she clearly did!
Changing rooms with warm showers (3 minutes max, though a rather good system where you wave your hand over the 'tap' to stop it if you need less).
Other practical points
Entry fee $9.00 in 2015.
Pool depth goes from 1m in the shallow to a lovely 2.0m in the deep.
Open all year round.
History and stories of the pool
This pool only opened in 1994. I found one article of a tragedy in the pool when a young girl drowned, but other than that I have not found any history or stories talking of this pool, except for the links below from fellow swim bloggers…
The pool has been named after local MP John Newman who was murdered in front of his home in 1994.
People I met in the pool
I had a fascinating chat with a guy who declared himself to be Assyrian, part of the cultural mix of Prairiewood and its neighbourhood. We spoke more about football and current affairs in his former homeland than we did swimming, but still a nice encounter I would not otherwise have made if it were not for this swimming quest…
What's your story? Any memories of swimming here? Any stories to tell? Or did you just have swimming lessons in days gone by?
Whatever you have to say, however brief, I'd love to hear from you and will add any stories to this section of the site as and when I receive them.  Add your comment or story under 'Leave a Reply' below.
Links to other articles on this pool
The Pool Lady came here in 2011 and had some bad luck, it seems.
This blog has a nice little entry by someone who took part in the 2014 school swimming carnival at Prairiewood pool
Coffee, tea or milkshake after the swim?
I failed completely to find anywhere decent for a post swim coffee near Prairiewood Leisure Centre.
I have a total aversion for the coffee shops that tend to end up in big corporate shopping malls and all there was within ten minutes walk of the Prairiewood pool was a massive sprawling mall, with some bland looking places for an insipid coffee.
If anyone knows of a decent independent coffee shop within a mile or so of this pool, let me know which direction I need to go. PLEASE!