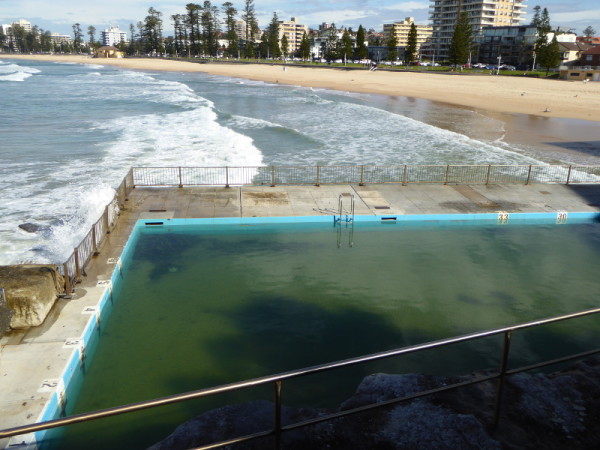 It is claimed that the first big wave surfing was at Queenscliff
My experience in the rock pool
Unlike the pool at the southern end of Manly Beach – Fairy Bower – Queenscliff rock pool is a 50m pool designed for serious lap swimmers.
That's not to say the fun-seekers can't come into the water here. In fact when I last swam here I had the pool to myself, though it was a June morning, so the air temperature was about on a par with the water at about 16C.
Some say they like this pool because it is sheltered from the winds, being tucked up against the cliff. The downside to the cliff-side position is that it quickly falls into shade so to me it felt quite a cold place to swim, especially in winter.
It's a good depth for swimming, though, even at the shallow end, so clearly must have been used – and may still be used – for competition swimming.
I quite like the markings along the side wall indicating distance, beginning at 15m then 25m, 30m, 33m. It's not much use if you're doing freestyle, unless you manage the head turn at alternate strokes of course. But for backstroke, it's a nice gauge of distance which is something I always struggle with in outdoor pools.
There's a thin layer of sand on the floor of the pool, which means it's quite pleasant also when you do put your feet down at any point.
Another thing to get used to in this pool is people walking past. There is a staircase up the headland that starts at the deep end of the pool and it seems to be a frequent shortcut route for locals heading home to walk along the length of the pool to get there. You just need to keep an eye on your things while you swim…
Getting there, getting in, getting changed
Queenscliff rock pool is right at the northern end of Manly Beach, tucked up against the cliff face there.
There are gentle steps into the pool at the shallow end and vertical metal stairs at the deep end.
For changing rooms – and even for showers – you need to walk 100m back to the Queenscliff SLSC building (which is not the building right by the pool – that's all locked up). If the SLSC is closed there are fresh water showers about 100m further down Manly Beach, which are available day and night. I resorted to the classic towel technique to change by the pool.
Tidal differences
No major differences, except in big swells or a storm. On a calm day, the waves do splash over the edge of the pool at the deep end, which can lead to build up of sea weed at that end. But this pool is raised quite high so a normal tide doesn't affect it greatly.
Other practical points
The pool is cleaned by the Council weekly in summer, and every fortnight in autumn. Not sure about winter clean ups, but when I went in June, it looked pretty clear to me.
History and stories of the pool
Built in 1937 in that wave (no pun intended) of post-Depression pool building.
Funnily enough my family lived directly above this pool in the 1960s for a short while, and although I couldn't swim at the time, this pool was apparently my favourite place to come. It's quite deep at the shallow end for a small 7 year old, but I guess I must have paddled around those steps while my big sisters swam laps.
It's funny to think that when we went there in 1967, the pool was only 30 years old, so a relative baby. It looks much the same today as it did in the 1960s though.
People I met here include:
Nobody swimming on either day of my visits!
What's your story? Any memories of swimming here? Any stories to tell? Or did you just have swimming lessons in the cold of winter in the 1960s?
Whatever you have to say, however brief, I'd love to hear from you and will add any stories to this section of the site as and when I receive them.  Add your comment or story under 'Leave a Reply' below.
Links to other articles on this pool
The local newspaper, Manly Daily, in a piece from October 2014, interviews a lady who has swum here for 50 years
Swimming blogger Seana Smith came here in 2013. Nice photos but she didn't find our café recommendation…
Swimming blogger Sally visited here in 2013 before major work was undertaken on the pool to fix some infrastructure issues
Coffee, tea or milkshake after the swim?
Don't head back down to Manly before you try this café, which involves going up the hill from the pool. Best reached by either going back to the bridge over the creek or taking the steps back 50m west of the pool and head up…Update 2018: trouble is, it looks as if Splat might have moved; there might be another cafe in its place so go take a look and let me know if you find something good…
Splat – 68A Queenscliff Road
Splat reviewed by the Fancy a Cuppa website
Open Daily 7.30am – 3.30pm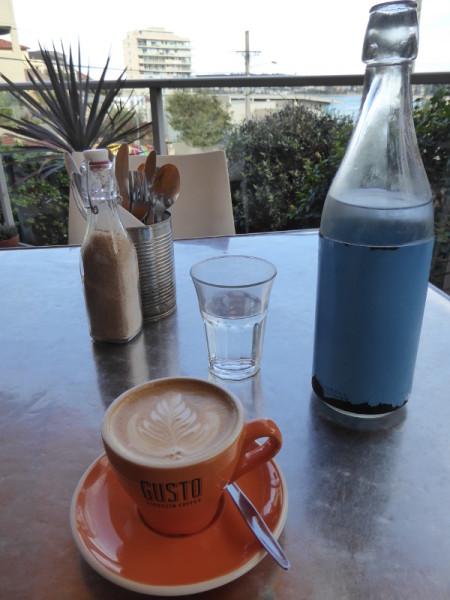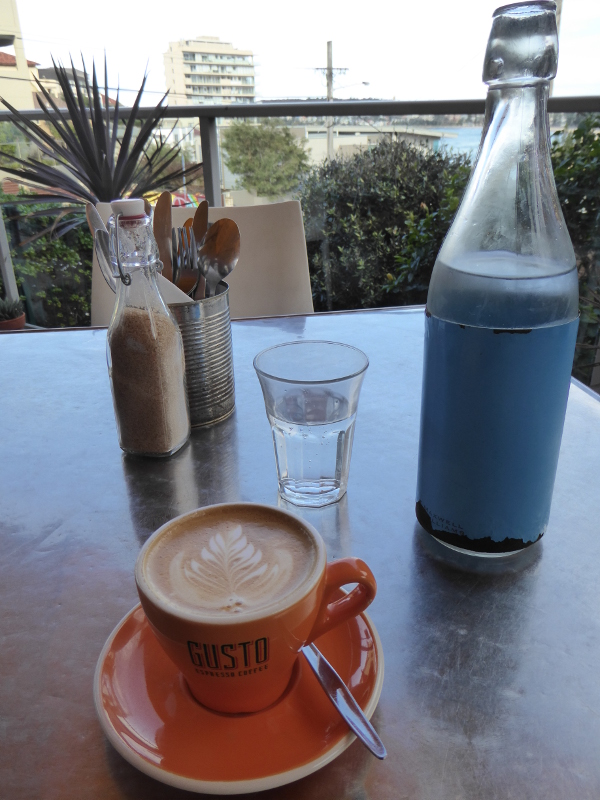 Great views back down over Manly Beach from the outside terrace of this lovely café in Queenscliff. Very nice coffee from Gusto coffee roasters, makes for a cuppa that's smooth on the palate. And great selection of cakes from gluten free slices to banana or raspberry breads. Really relaxing vibe to this place. Can't believe I found it by chance when wandering around the area on a visit when the pool was closed due to storm debris.