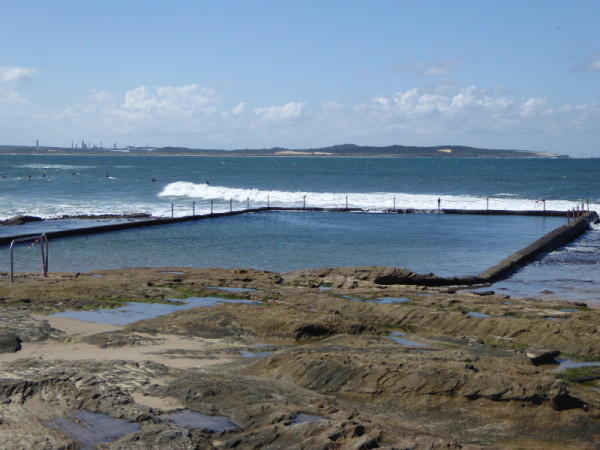 'Place of the pink sea shells'
My experience in the rock pool
This was another pool it took me three goes to get into. First time in Cronulla, there was a cold wind blowing on a grey day and I was still nursing a sore shoulder so just went for coffee instead; second time here, there was repair work on the promenade so no access to this pool.
On a warm winter's day in June, though, it was irresistible.
Even the paddle through the sand to reach a depth I could swim in was a pleasure, as first little fish swarmed around me, and then a couple of more exotic and larger black speckled fish came to take a look at who was coming into their waters.
With only the last 15 or so metres deep enough for proper swimming, it was a case of lounging around on my back or doing widths of the pool if I wanted to stretch out and swim.
There's a real rock pool feel to this place – very different from the Olympic pool next door on the rock platform. There may have been a lot more sand than normal in here, but with the fish and all the seaweed growing on the base of the pool tickling my feet as I swam, and the craggy green growth on the pool walls, this felt like a much more natural open swim than many more sheltered pools give you.
And as the tide began to come in, those waves began to roll over the far wall, making for an entertaining splash around (though I did heed the warnings of locals afterwards, who likened a swim in a storm here to being in a washing machine – so better then to watch rather than risk taking a dip…)
Getting there, getting in, getting changed
Both Cronulla's rock pools are on the same rock platform that sits between the North and South beaches. You can't actually see them until you walk along the promenade under the cliff of the headland there. When I went by train, it was a simple five minute walk directly eastwards from the station; by car, I found a spot in Elouera Road, some ten minutes' walk away.
There are some old stone steps that are worn and pock-marked from decades of tides washing over them. And with the amount of sand on the pool floor when I visited, it was a matter of paddling to half way up the pool before the water became deep enough to swim.
Towelling technique needed here. There is a tall shower point just on the rock platform about 20m to the south of the bigger pool. This is the only facility here. If you need changing rooms and a toilet, you'll have to go along to the Surf Life Saving Club on the south beach, some 500m away.
Tidal differences
Big differences in this pool (in contrast to its bigger neighbour along the rock platform).
At low tide this pool was only knee deep for half its length (though people I spoke to say the sand is much deeper here than it should be). But get to the deeper, ocean end and it's quite comfortable for swimming.
As the tide comes in, the waves quickly breach the wall, making it fun at first, but dangerous on a big swell (like being in a washing machine, said one local I spoke to, who said it was easy then also to be swept out as the waves flow back out at high tide on a storm swell)
History and stories of the pool
Nobody I spoke to knows of any historical reason for there being two pools so close to each other. The supposition is that it comes from sheer level of demand for safe swimming spaces among visitors to Cronulla. But if someone local knows any different, I'd love to hear from you…
People I met here include:
George from Jarrow, who moved here in 1969, but swims here most days, preferring this pool to the one next door because it gets more fully refreshed on each tide. George still sports his Sunderland FC cap so had kept his contacts in the football scene back home. But he's very much a local round here now and seemed to know everyone else who turned up to swim (also in this pool only) while I was around.
What's your story? Any memories of swimming here? Any stories to tell? Or did you just have swimming lessons in the cold of winter in the 1960s?
Whatever you have to say, however brief, I'd love to hear from you and will add any stories to this section of the site as and when I receive them.  Add your comment or story under 'Leave a Reply' below.
Links to other articles on this pool
The local newspaper, the St George & Sutherland Leader discussed the future of the Cronulla Rock Pools in December 2013
The Swimming Sydney blogger came here in 2013.
The Lazy Swimmer blogger is few on words, but did a similar journey to mine in 2009.
Coffee, tea or milkshake after the swim?
Depending on whether you are heading back round the headland to the north or south, I have different suggestions for your cuppa after the swim in Cronulla.
If you go back round to the north (ie back towards North Cronulla beach from this rockpool rather than heading towards the other rock pool), the best place to go has to be
Ham (short for Harry & Mario)
Ham reviewed by the Fancy a Cuppa website
Open Daily 7am – 6pm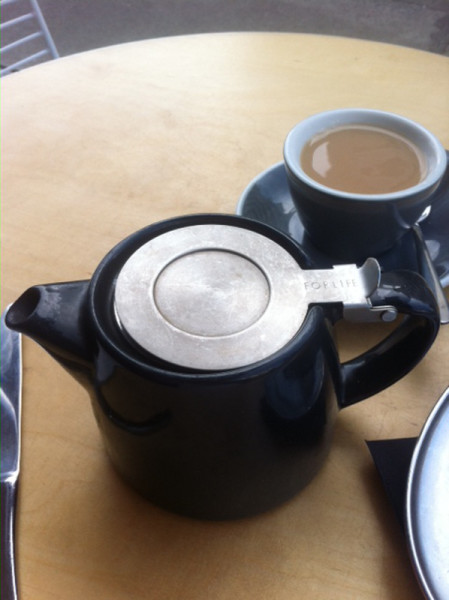 This is a very popular place, with a constant queue while I was here, but you can see why. One of the best coffees I've ever drunk in Australia – roasted by an ex World Barista Champion Paul Bassett, I went for the Single Origin from Guatemala and was blown off my chair with the pleasure it brought me. You can choose all sorts of ways to prepare the coffee, too, though I usually go for the regular flat white. They also do loose leaf teas from Larsen Thomson. And fantastic-looking cakes on the counter.
Go back around to the south (ie past the other rock pool) and our favourite coffee comes from
Bianchini's Espresso
Bianchini's Espresso reviewed by the Fancy a Cuppa website
Open daily 6am – 5pm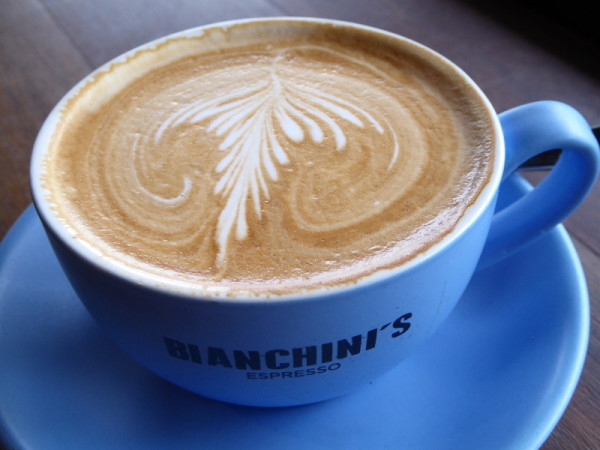 Sit on one of the stools looking out towards the coast and you can not only watch people going by but also take in the ocean views and the Norfolk pines than line the coast. This coffee shop had only been open a few months when I first dropped by, but it's a great addition to the thriving Cronulla coffee scene, and best-placed for the rock pool, in my view! The coffee is excellent, too, as are the various toasted banana breads (or mango and coconut bread, as I tried on my second visit). Friendly guys, too, and a nice story around the name of the coffee shop, which comes from the Italian for lifeguards (one of the owners being of Italian stock…)