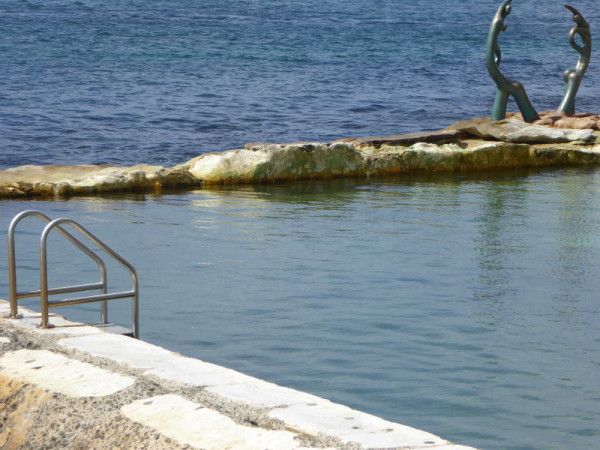 Two fishermen from Fairy Bower were the first lifesavers to patrol Sydney beaches in 1903
My experience in the rock pool
This was always my preferred pool on previous holiday visits to Manly. It's a great spot for practising your languages as well as your swimming strokes, since there always seem to be visitors from overseas in here. It's a safe and picturesque option if you don't fancy Manly's crashing surf.
This is not a pool where you can expect to do your 20 laps, though. It's a kind of triangular shape, barely 30m at its longest point, and that may be stretching it even if you swim diagonally across.
But it is a fantastic spot to cool off on a hot day. I love watching the people strolling by on the path between Manly and Shelly beaches, and if I peer over the pool wall out to sea, spot the hardy souls who regularly swim between the two beaches, something I must pluck up the courage to do one day!
Maybe because it's so small, this pool even seems to be comfortably warm in winter (or maybe that's just the northern British in me, used as I am to swimming in 12 degrees waters in Scotland).
Getting there, getting in, getting changed
The pool is half way along the path that snakes alongside the cliff between Manly's South Steyne surf life saving club and Shelly Beach.
You can take the shallow steps gently down to the water or get in at the deeper end via the vertical steps
There are two fresh water showers by the pool and changing rooms for two men and two women (including one loo each) in the shed just by the pool.
Tidal differences
Only slight on a normal tide.
History and stories of the pool
According to John MacRitchie on DictionaryofSydney.org website, the pool was built between the wars, when fishing boats would still land their catch at Shelly Beach, encouraging sharks to loiter around the bay here. The pool was obviously a safe haven then, and still is though judging by the number of swimmers who gently make their way across the bay between Manly and Shelly these days, there aren't too many sharks around at the moment…
The (now defunct) NSWOceanBaths website speaks of some local rumblings when the two sculptures were installed on the edge of the pool in the 1990s. They don't block any views, though, and are actually quite eye-catching and the same site reckons 'most pool patrons would miss the sculptures if they weren't there'.
People I met here include:
None on my most recent visit
What's your story? Any memories of swimming here? Any stories to tell? Or did you just have swimming lessons in the cold of winter in the 1960s?
Whatever you have to say, however brief, I'd love to hear from you and will add any stories to this section of the site as and when I receive them.  Add your comment or story under 'Leave a Reply' below.
Links to other articles on this pool
Swimming blogger Seana Smith came here in 2013.
Sydney swimming blogger MrsGSpot also came here.
As did another swimming blogger Sally.
Coffee, tea or milkshake after the swim?
The two cafés within sight of the pool have changed hands since my visit to Fairy Bower pool. So I don't know ho good they are now.
If you swim in the early morning, you're better off joining all the headland swimmers at
Manly Wine – the takeaway stand at the front of the Sebel Hotel.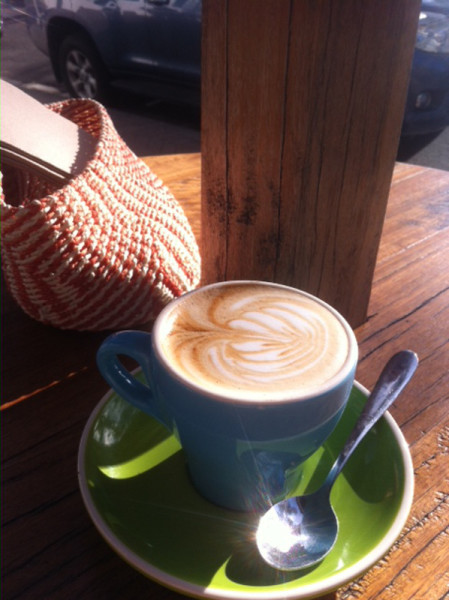 Open daily from 6.30am, there's a real buzz to this place (though you need patience later in the morning as they also serve the coffee for guests taking breakfast at the Sebel).
They do a rather good, and smooth, coffee from a roaster called Gabriel Coffee, and their teas also look excellent, coming from Ovvio organic teas.
For other ideas on what to do while you're in Manly, try the link below:
http://www.sydney.com/destinations/sydney/sydney-north/manly