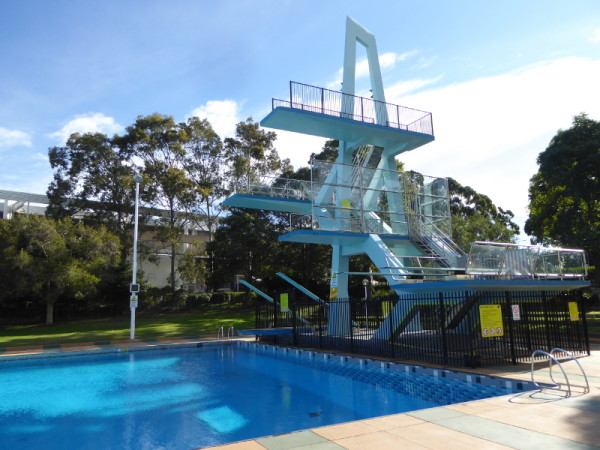 The second oldest city in Australia – See the comment posted March 2020 about a new pool open to the public nearby
My experience in the pool
I was horrified to learn that Parramatta Swimming Centre is under threat from the planned expansion of the stadium next door. Surely they won't rip up a beautiful spot like this with a great combination of social history and community use still today? There is a campaign on to keep this swimming centre open and build the stadium around it or expand in a different direction, but the way NSW is these days, with the total hegemony of rugby league over all other sports and recreational activities, I'm not too optimistic about the outcome of this campaign.
So I was glad that I had my Parramatta swimming experience before the corporate demons move in.
And what a beautiful place this is. It opened in 1959 and still has a vintage feel, in spite of some major refurbishments only a few years ago in 2008.
There was a cool breeze the morning I turned up for my laps in June 2016. In fact it was winter solstice day so this is the time of year you actually welcome the warming feel of the sun on your back as you do freestyle. But the sun was so low in the sky, it meant backstroke was only really feasible in one direction if I wasn't to be blinded as I swam.
I tend to breathe in alternating cycles of 3 or 5 strokes so I keep my neck muscles working evenly. In a pool like this, there are interesting landmarks to keep an eye on in both directions: on one side the stadium where Parramatta Eels play (and apparently are often to be seen in post match rehab sessions at the very pool their sport is threatening); on the other side is one of the gigantic skyscrapers which it is planned will one day fill the Parramatta skyline.
There's a separate diving pool at 5m depth with proper functioning dive boards, something of a rarity even in Australia these days. And I gather there are fantastic water slides open in summer, which take people down the hill side beside the pool to the shallow waters of a separate pool at the back of the complex. This is a superb resource and I can't believe they are even thinking of digging it up.
There was a steady trickle of swimmers even though it was mid-morning on a working day, but I had the luxury of a lane to myself the whole time, even though half the lanes were closed over. So on busy days this 50m pool has 10 lanes which again is a fantastic resource not to be lost!
If you like social history, don't miss the link below to the video showing events on the day this pool was first opened back in 1959. The first 60 seconds or so don't show much but from that point in the video it's great value for showing so many cultural pointers to the era: clothes, costumes, gender…and what on earth was the red spade for???
So top marks to Parramatta Swimming Centre, or to give it its proper name: Parramatta War Memorial Swimming Centre. If I lived in Parramatta, I'd be down here every week. I just hope Kevin Hession, after whom the spectator stand is named, is successful in campaigning for the pool to be kept open. He, by the way, has been swimming and training kids here for decades; surely his views count for something in all this?
Getting there, getting in, getting changed
It's a ten minute walk to the Parramatta Swimming Centre from the train station. The pool site is is right next to the Pirtek Stadium, home of the Parramatta Eels, and very close to the first home of the original Governor (Phillip).
Lots of options for getting into this pool. Many actually like to use the real racing entry boards at the deep end. I preferred the more sedate way in via the steps at the shallow end and then duck under the lane dividers.
Massive changing rooms with warm showers and enough clothes hooks for over 100 in the men's changing rooms alone.
Other practical points
$5.70 entry in 2016
50m Olympic Pool plus a deep diving pool with high dive boards. Also other smaller pools but these are only open in summer season. Don't miss the water slides that run down the slope behind the swimming centre and end up in a separate pool again. Supposed to be best slides in Sydney.
Main pool is 1.2m at shallow end, deepening to 1.8m at the end with the entry boards. Also has the water level up to the edge of the pool along the sides to reduce backwash.
Open all year round. See the photo gallery for winter 2016 opening times.
History and stories of the pool
This pool has great history from the year it opened in 1959. See the links below for press clippings and even a video taken on the opening day of the Parramatta pool.
It is now the subject of a campaign to keep it open as there are plans to expand the sports stadium next door, and those plans currently see the pool being buried in the development. The issue has even become political, with the NSW Labor leader coming out in favour of preserving the pool, while the NSW Government is insisting it is an either/or scenario with the options being a larger stadium or preservation of the pool. As usual, with 'big' ideas such as this, no compromise solutions have been sought, which see a larger stadium AND the Parramatta pool remaining. Shame on NSW developers and shame on the NSW Government!
People I met in the pool
Nobody to talk to though the lifeguards were friendly enough. I guess I didn't time my visit right for meeting those regulars who have been swimming here for decades.
What's your story? Any memories of swimming here? Any stories to tell? Or did you just have swimming lessons in days gone by?
Whatever you have to say, however brief, I'd love to hear from you and will add any stories to this section of the site as and when I receive them.  Add your comment or story under 'Leave a Reply' below.
Links to other articles on this pool
Parramatta pool's architectural heritage is recognised in this Monuments website, recording the year the pool opened in 1959.
This wonderful YouTube video captures the day the Parramatta Swimming Centre was formally opened in 1959. Bit boring till 1′ into the video, but after that, there's a pipe band, fashion show and a man with a spade…
This architecture website notes how rare it is for the company which originally designs a building to be involved also in its renovation almost 50 years later.
The Pool Lady has been to Parramatta pool and written about it – in 2011.
Swimming with kids blogger Seana loves those water slides at Parramatta Swimming Centre – she was here in 2013.
The campaign to preserve the pool has even made the main newspapers. This from the Sydney Morning Herald in April 2016.
Parramatta Memorial Swimming Club even has its own Facebook page.
Coffee, tea or milkshake after the swim?
Lots of options for coffee in Parramatta. My visit actually coincided with one of my favourite roasters being in the area too checking on coffee shops where he supplies, so if you like The Little Marionette coffee, try Pink Flamingo or Paper Lane, but my favourite place was a little gem, the like of which you won't find in many cities.
Double Mac Coffee – 186-194 Church Street, Parramatta, NSW 2150
Open Monday – Friday 5.10am – 3pm
Saturday – Sunday 7am – 12noon
Double Mac coffee reviewed by the Fancy a Cuppa website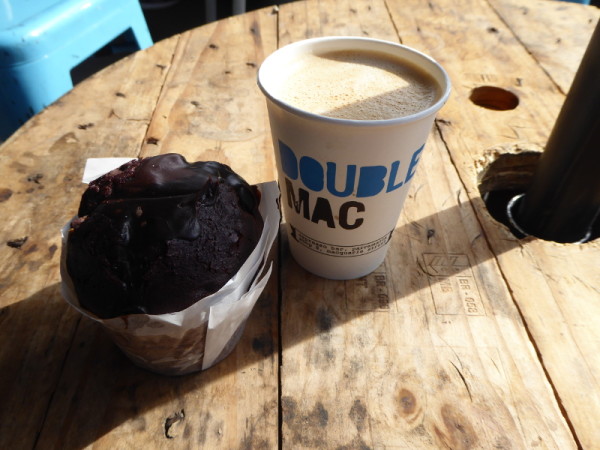 This must be the smallest coffee shop I have ever seen, basically tucked into the space that used to be just an entrance hall for an office building. Chris, the owner/barista opened this place 3 years ago and clearly loves his new career. He gets his coffee specially roasted and blended for him by the excellent Double Roasters in Marrickville, and what I like about him is that for him it is all about the coffee, not the food or anything else bigger coffee shops often try to promote. He gets his cakes from the bakers next door so keeps things really local. This is just one of those feel-good coffee places, and again the steady flow of customers, who all stopped for a chat, showed what a great niche he has created for himself. Top place for that post swim coffee