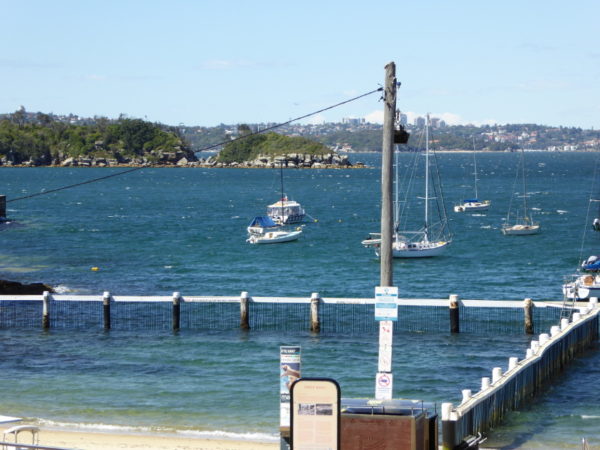 Holiday excursion steamers used to dock at Little Manly from 1861
My experience in the pool
They don't make shark-protected swimming enclosures like the baths at Little Manly any more. There's no shark net here. Rather, they keep the big fish out with a row of snugly fitting vertical wooden sticks in this bathing area not far from Manly that was first built as long ago as 1879!
I wasn't at Little Manly at the best of times, though. The tide was out, so the swimmable area was much reduced and there was a brisk breeze blowing, making it actually pretty chilly out in the air and a good deal warmer in the water itself on this early December morning.
There may not be any sharks in Little Manly Baths, but as I swam about I could see some pretty good sized fish that would have graced many a dinner plate in the restaurant I worked in 40 years ago.
The interesting historical sign board on the walkway above the beach at Little Manly explains that this beach has a history of catching a fair bit of flotsam and jetsam from wrecked ships and others that lost their cargoes over the years. No jetsam for my swim, fortunately, but enough bits flowing past me with fallen leaves and branches to make me see how easily such things could happen here in a storm.
It has also had a bit of a chequered past after it first opened in the 1880s. Back in those days, it was gentlemen only in these waters, and they had a habit of swimming naked apparently, much to the consternation of locals, who could see them from the road.
No need to turn your eyes away these days. I was alone for the whole of my time in this pool, though by the time I got out, four guys (in what they call boardies round here) were jumping in, and headed straight for the vertical steps on the harbour corner of the baths. The water was too shallow at low tide to risk diving in, but they paraded up and down the wooden fence top, beyond the triangular board above those steps.
Considering the number of times I've been to Manly over the years – and that dating back to 1967! – I'm amazed I never swam in Little Manly Baths before, especially with their great story. If you come here, don't miss the old marking in the cliff face next to the pool, where the word BATHS just stands out still after years of weathering and tree growth. I wonder when they painted that on?
Getting there, getting in, getting changed
It's a ten minute walk from a Manly Wharf to get round to Little Manly. Just stay as close as you can to the water for most of the way and you can't miss it.
Only one way in: via the beach at Little Manly. You can get out at that far corner via the vertical steps, but I don't think you'd manage to enter the water from that point.
There are toilets and a changing area with single shower just behind the kiosk above the baths at Little Manly.
Tidal differences
Yes but possible to swim even in the lowest tide. More scope for a good workout at high tide, though. The rock platform is exposed at low tide and you can see countless oyster shells on it, so beware setting your feet down on the rocks when they are submerged at high tide.
History and stories of the pool
According to the interesting information board at the top of the beach at Little Manly, the first pile in what was to become Little Manly 'men's baths' was sunk in 1879. The baths at first were called Crystal Baths and you had to pay to use them. This was the era before speedoes, and men used to baths here naked, apparently, causing complaints from locals who could see the men from the road. Women were allowed to bathe at Little Manly from 10am – 3pm, I guess while the men would traditionally have been at work.
The pool has been affected by storms over the years, with flotsam often being washed onto the Little Manly beach from cargoes that washed overboard or from ships that sank nearby. The last such incident was in 1974, though from the bits of leaves and other stuff my hands were picking up as I swam in the choppy waters, I can see how the swell brings in such debris to Little Manly.
A fascinating press clipping from the Evening News Sydney of 21 March 1892 (thanks to Trove again for this one). It gave a report on a Manly Council meeting the previous week in which the baths at Little Manly were described as 'little better than a mantrap in view of numbers of sharks recently hooked in the vicinity'. The same report prohibited the lessee of a cottage near the baths to continue taking money for bathing in the water there. They also had a proposal to 'open' the baths for bathing on Sunday, but one councillor opposed the idea because it 'would bring larrikins down from Sydney, and that the Sunday would be desecrated'. He lost the vote, though, and Sunday – afternoons only, began here in 1892, therefore! No later reports on whether larrikins turned up at Little Manly, though…
People I met here
I was alone in the water at Little Manly, and in the kiosk above the baths, there were just a group of lycra-clad cyclists, some ladies-who-lunch types and a nanny with her two charges. None of them engaged with this Pool Guy so I left well alone and moved on after coffee…
What's your story? Any memories of swimming here? Any stories to tell? Or did you just have swimming lessons in days gone by?
Whatever you have to say, however brief, I'd love to hear from you and will add any stories to this section of the site as and when I receive them.  Add your comment or story under 'Leave a Reply' below.
Links to other articles on this pool
I didn't find any other blogger who had written about Little Manly Baths – if anybody sees something interesting, drop me a line and I'll add the link.
Coffee, tea or milkshake after the swim?
You can't get better views of Little Manly Baths than from the terrace at the kiosk overlooking the beach here.
The coffee is a decent brew (though if you want real speciality artisan coffee, go into Manly itself), and the banana bread was welcome.
Open Daily 9am – 3pm