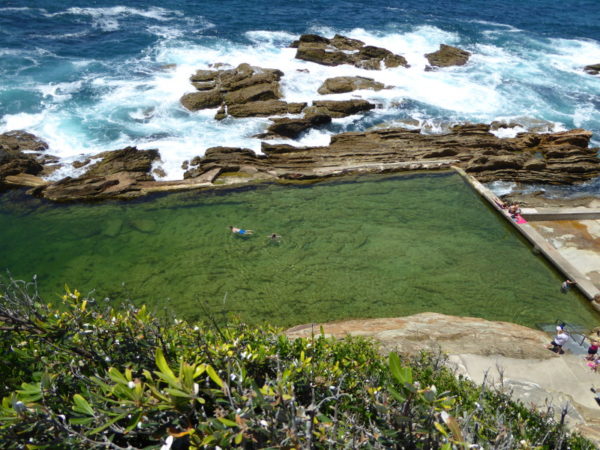 Some say 'Bermagui' comes from an Aboriginal word meaning canoe with paddles.
My experience in the pool
Bermagui's Blue Pool is every bit as special as everyone told me it would be. It sits out on the rock face, way further south than most of the other NSW ocean pools, and although it was more green than blue, it was a pure delight on a warm December morning.
I took a bit of a gamble on the weather because when I left my own home 3 hours and more north of Bermagui, it was grey and wet, not the sort of conditions I wanted either for my swim or for good photos. But the weather forecasters had said 'mostly clear' down this part of the NSW coast, and I trusted them!
There was still a pretty heavy cloud cover as I drove out of Batemans Bay half way along on my journey down the coast, but then suddenly, somewhere near Narooma, the skies cleared and I arrived in Bermagui in bright sunshine. And what a delightful little town it is: a nice heritage trail takes you round some of the town's highlights, and there are great quality coffee shops and bakeries, so it immediately went up in my estimations (though the best coffee shop in Bermagui closes at midday, so I had to switch to a pre-swim coffee in order not to miss my caffeine intake).
The pool was perfect, with high tide approaching (about an hour away), a few waves were just clearing the wall at the far end, so you could see how each tide clears the pool and makes it so refreshing.
They apparently used to hold competition swim carnivals here, though it isn't a full 50m pool from end to end, and at the deeper far end, it narrows down to being wide enough for perhaps two lanes only. I'm guessing they will have organised 25m races or whatever the old imperial equivalent used to be.
The floor of the pool is largely striated rock, though it goes at an angle so don't start following the rock line if you want to swim in a straight line (that must have been an added test when they held competition swims here).
There was a nice steady flow of swimmers during my time at the Blue Pool. Some were visitors from overseas, some were couples who looked as if they were on romantic holidays, and some were just locals, lucky enough to have Bermagui's gem of a pool as their regular swim spot, though the woman I spoke to confessed that she doesn't make it into the water through the winter…
For me, it was just great to get back into a proper rock pool. I love the harbour baths and swimming enclosures around Sydney harbour, but nothing can beat the classic NSW rock pool and Bermagui gave me my first real ocean pool swim for a while.
Just for the record, and giving me an excuse to return to Bermagui some time soon, there is also a calm shark-netted enclosure closer to the town centre in the bay by the harbour. There is a sign up at the moment (December 2016) announcing that there was storm damage to the shark net, and the council is working on that. So will obviously have to come back to try that pool in Bermagui.
Getting there, getting in, getting changed
It is possible to get to Bermagui by public transport. The regular buses from Sydney to Eden and back take a detour to Bermagui, so it can be done. It's a lot easier by car, though, and the Blue Pool is out on the Pacific Drive behind the town of Bermagui. You need to walk down 70 or so steps to get to the pool itself, though that must be easier than the muddy path that used to go down to the original baths here in the 1930s.
Changing rooms are way up at the top of those 70 steps by the car park, though there are picnic tables and benches just above the pool itself and a shower about 10 steps above that back on the way up to the car park.
Nice wide steps into the pool at the shallow end, or you could potentially jump in off the concrete wall around the pool or at the 'deep' end (though it isn't THAT deep).
Tidal differences
I think swimming is possible on all tides, though at high tide you will get waves coming over into the pool itself, and I guess in a storm, the pool may well be unsafe, though there is a fairly high rock face separating swimmers from the ocean itself.
History and stories of the pool
The original swimming spot here was known as the Blue Hole and was at the far end of the current pool, with no concrete wall to keep the waters in at low tide.
The Blue Pool in its current state was created in the 1930s, with some funding from the public budget but lots of cash raised locally and a fair dollop put in by one particular local gent, a Mr Dickinson. I'd make a lot more of WR Dickinson if I was organising the local heritage trail.
I found a press clipping from the Bombala Times in April 1938, when Bermagui's Blue Pool was just being used for the first time after its official opening in March that year. Mr Dickinson was apparently known as the Lord Nuffield of Bermagui (which also got me searching who Lord Nuffield was, and wow what a great guy: the name behind the Morris Minor car and then putting funding into lots of education projects which still run today). Anyway according to the papers of that period, this Mr Dickinson was responsible for the local tennis courts (didn't find them sadly) and the cricket pavilion (now gone, but the cricket pitch is still named after him) as well as the Blue Pool.
Then another clipping from the Cobargo Chronicle of 10 February 1939, which actually could serve as a description of the Blue Pool even today: "There is no doubt that the Blue Pool is a great attraction and after a full tide has swept the baths, the water is fresh and appears invigorating to swimmers."
Nice to see so little has changed in more than 75 years, in spite of all the changes round the world in those years!
People I met here
Nobody with stories to tell but it was nice to chat to the ladies who come regularly and live just up the coast. The Blue Pool is clearly a draw for visitors to Bermagui but also still a local community resource. Great to see.
What's your story? Any memories of swimming here? Any stories to tell? Or did you just have swimming lessons in days gone by?
Whatever you have to say, however brief, I'd love to hear from you and will add any stories to this section of the site as and when I receive them.  Add your comment or story under 'Leave a Reply' below.
Links to other articles on this pool
A winter swimming group known as the Blue Balls Winter Swimmers meet regularly throughout the winter months at Bermagui's Blue Pool. The local newspaper, the South Coast Register, reported on these hardy folk in August 2016.
This Guardian lifestyle reporter made Bermagui's Blue Pool her favourite in this Guardian article.
I wasn't previously aware of this Oz Swimming Holes website, who have a nice entry on Bermagui and its Blue Pool.
This is the All Into Ocean Pools entry on the Blue Pool in Bermagui.
The I'd Swim That website writer came to Bermagui in 2014.
Swimming Pool Stories writer Therese likened swimming at the Blue Pool to swimming in champagne on her 2012 visit.
And swimming blogger Sally came to Bermagui in 2009.
Coffee, tea or milkshake after the swim?
Thanks to Lis, who contacted me via the site, to recommend various places for a post swim coffee (and gelato!). For coffee in Bermagui, I liked this place the best by a long way…
Mister Jones – 4 Bunga Street, Bermagui, NSW 2546
Trouble was, it was sold in 2018, so I have no idea if the new owners are doing as good (and as creative) a job as the guys I met…
Open Daily 7am – Midday 12 noon only.  Closed afternoons
Mister Jones reviewed by the Fancy a Cuppa website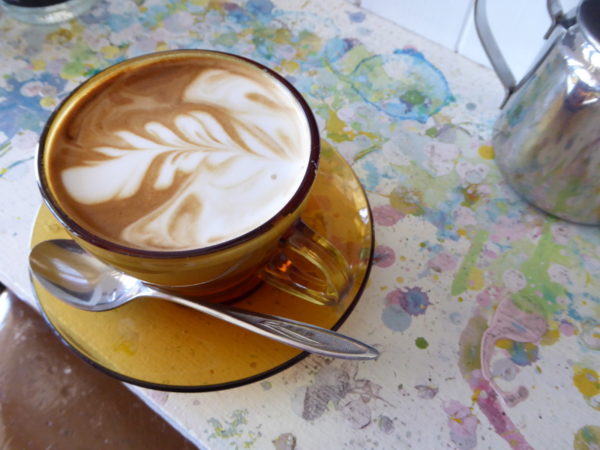 I really didn't expect to find such a good coffee shop in a small NSW town so far from the lights of the big city. Mister Jones coffee shop in Bermagui's centre is a great spot, with excellent coffee – roasted by the rather good Morgan's Coffee Roasters.
This coffee shop is run by artists who do their creative work next door in the space next to the coffee shop (and I'm told that's why they close at 12 noon every day, so they can get on with their art work).
By the time I got to Bermagui at about 11.45am, they had run out of food, so I made do with that flat white (and pre-swim for a change). And since they get a lot of their food from the fantastic Honor Bread bakery two doors up, you can always go there for a nibble direct from the bakery to go with that great coffee.