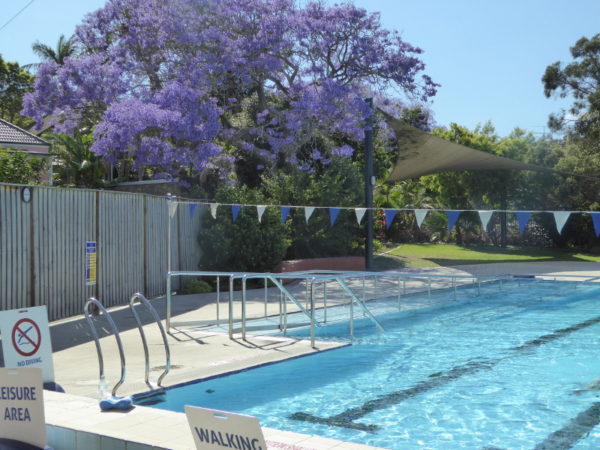 My experience in the pool
Petersham Pool, in Sydney's inner west, had its name changed a few years ago to Fanny Durack Aquatic Centre. Now, the great thing about the pool in Petersham is that, if you're like me and went, "Fanny who?", they provide a potted history of her swimming achievements on little information plaques that line the wall outside the aquatic centre.
I'm sure anyone who stops and reads these will be impressed by one of the first women in Australia to compete in swimming competitions for her country. Check out the ladies swimming team costumes for the team photo in 1911, too. No tracksuits or figure-hugging swimsuit in those days! But what an impressive woman Fanny Durack must have been, taking women's swimming to new heights.
The 25m pool is not the same place Fanny swam, though. Once upon a time, Petersham had a 33m pool (or more likely 30 yards if it was built in the 1960s), but the most recent refurbishment here shortened the pool to 25m, while widening it to give more lanes and allow for excellent disabled access via a wheelchair ramp.
And the place was busy when I rocked up on a warm November morning with fellow swim blogger Therese, who is a regular here and has written lots of blog posts on the pool (see links below).
Every lane was occupied but with no more than one person actually in any of the lanes, there was ample opportunity to try a few laps of backstroke. And at Petersham Pool, there is no contest on which direction is best for backstroke views: swim towards the entrance, and all you'll see is a fence and a couple of TV antennae; if you're really lucky, there might be a plane flying relatively low overhead.
But swim away from the entrance and you have great views of the greenery that makes up Petersham Park, and the very exotic sight of three or four palm trees tucked away under the curves of the shading canopy. For some strange reason it took me back to the hotel pool we swam in on our honeymoon on the Galapagos! Not that Petersham reminded me in any other way of the Galapagos…
What is charming about this place is the sense of community and camaraderie among the swimmers. Some clearly come most days and make cheery hellos to the lifeguard they all seem to know by his first name. And I guess the slow, relaxed feel means you don't get the North Sydney style hell-for-leather lane sprinters. In fact, I almost felt justified in taking the Fast Lane, even though I am normally a bit of a mid-speed plodder, and actually the fast lane was the only one left when I got in.
Final comment on Petersham Pool aka Fanny Durack Aquatic Centre – go in November for the magnificent Jacaranda tree blossoming by the pool, and the fragrances all round Petersham Park. It's a heady place so near the middle of Sydney.
Getting there, getting in, getting changed
I was amazed for an inner-west Sydney pool that I was able to park for free with unlimited hours. And that was just across Petersham Park from the pool. There are trains and buses to Petersham too.
Nothing remarkable about getting into or out of the water at Petersham pool. There is excellent disabled access with a good wheelchair ramp into the water along one side.
Nice, modern feel to the changing rooms.
Other practicalities
Pool closed for winter.
Entrance fee $5.40 in 2017-18.
25m pool only these days, so no 50m lap-seekers in Petersham.
History and stories about this pool
The pool opened for the first time in 1962, long after the high point in the career of the local swimmer who would later (from 1999) give the centre its official name. The Fanny Durack Aquatic Centre website has a lovely history of Fanny Durack, whose story as a pioneer woman swimmer in Australia was quite remarkable.
The ABC website also has a feature on Australian swimmers at those Stockholm Olympics in 1912.
For the best stories about the pool and the people who swim here, check out some of the links below from swimming blogger Therese, who joined me in Petersham for my own swim here.
What's your story? Any memories of swimming here? 
Any stories to tell? Or did you just have swimming lessons in days gone by?
Whatever you have to say, however brief, I'd love to hear from you and will add any stories to this section of the site as and when I receive them.  Add your comment or story under 'Leave a Reply' below.
Links to other articles on this pool
My friend and fellow swim blogger Therese has been to Petersham Pool countless times and written about people associated with the Fanny Durack Aquatic Centre in numerous blog posts. Here's one of my favourites from her website.
And another from Therese's Swimming Pool Stories website.
The Lazy Swimmer blogger came to Petersham in 2009.
Another old favourite, the Hello Sydney Kids website came to Fanny Durack pool, too.
And another website for keeping kids entertained also likes Petersham's pool.
Coffee, tea or milkshake after the swim?
Just across the road from Petersham Park is a nice place for good coffee in Petersham
The Pig & Pastry – 1 Station St, Petersham, NSW 2049
Closed Tuesdays. Open Mon-Weds + Fri; 7.30am-4pm Sat-Sun; 8am-4pm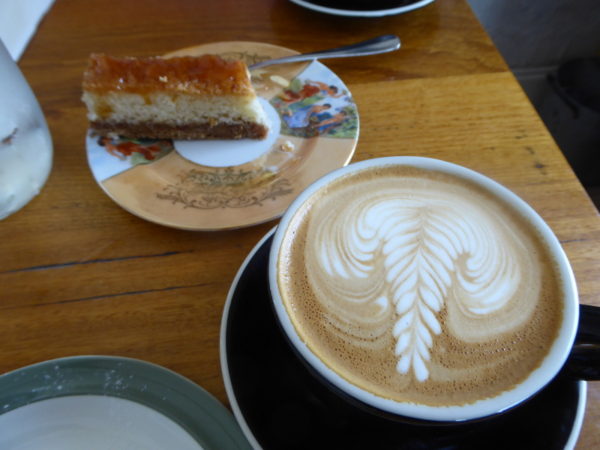 The Pig & Pastry use beans from the excellent Single O coffee roasters, so that's a plus, but I also noticed one of my favourite brands of loose leaf tea, if that's what you're after. Tippity Teas are among Australia's best.
Lovely coffee shop with fresh, slightly shabby chic, feel. Lots of tiling on the walls and air flowing through. This place gets busy, even mid-morning on a weekday.