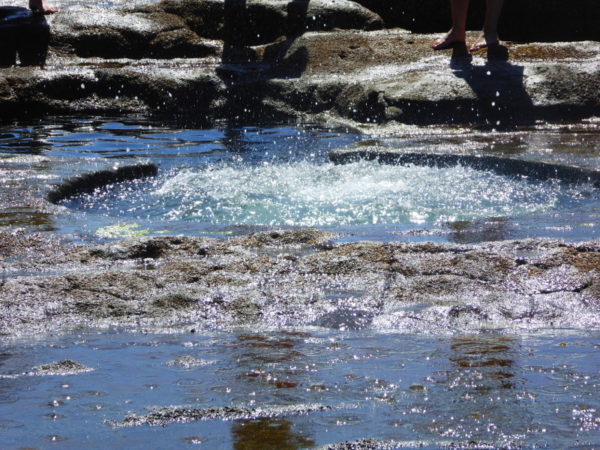 My experience in the pool
All the blogs I've read about getting to Figure of Eight Pool talk of how tough the route is to get to the spot, and many emphasise the need for energy to get back up the cliff afterwards. The estimate in the Garawarra Farm Car Park, which is the nearest place to leave your car, is that the round trip to Figure of Eight Pool takes 2.5 to 3 hours. With a pause for a dip, a quick remedial massage treatment on someone I came across with sore legs, and a rest in the shade at the bottom of the cliff on the way back, I'd say it took me a full 3 hours.
And I got back totally exhausted.
The other thing I'd say about the route to Figure of Eight Pools is that you need good strong ankle ligaments. This is not just me getting close to my remedial exam and thinking about injuries the whole time, but the rocks you have to clamber over for the last half hour or so to reach the pools will not all be solid. I picked loose rocks about a dozen times, so with weaker ligaments in those ankles, I'd have gone over for sure. I also stubbed my toes a few times misjudging a tree root or a step that wasn't visible at first, so anybody trying this in bare feet (and there were some) really need to think again.
But this blog is about the swimming. So was it worth the effort to reach Figure of Eight?
Well when I saw the cluster of 25 people looking over the tiny rock pool, and taking turns to get into the water because the actual Figure of Eight pool doesn't really take more than two bodies at a time, and that's standing, I did ask myself if it was worth it.
But hunt around a bit on the site and you will find several pools that are deep enough for a dip. One actually snakes around enough virtually to manage a 20m or so 'lap'. I only realised that on getting out but had enjoyed my three strokes length in the deepest bit of that particular pool.
It is a magical spot. The occasional wave crashed over the rock face, meaning some people's possessions were drenched ( so beware where you leave your bags or clothes), and the very fact that waves had begun to crash over the platform, even if only occasionally, meant that the tide had turned and it was time to start thinking of heading back.
Not everyone who goes to Figure of Eight actually gets in the water – amazingly – but it is so worth it even for a few minutes. And you may well need that cooling, refreshing moment before embarking on that walk back to Garawarra Farm Car Park.
There are videos that went viral of people being washed off the rock face by big waves at Figure of Eight, and another new story from October 2017 of a tourist being washed off another  rock as he tried a short cut back. So Figure of Eight pools need to be timed right, which means relatively calm seas and definitely go at low tide.
Hats off to the guys at Burning Palms beach SLSC, who were just setting up their stall on the next beach up from Figure of Eight as I wandered back past them. I'm sure they get called on pretty frequently when accidents happen down at Figure of Eight.
But this is worth visiting. The walk through the Royal National Park is stunning, those shack communities by the beaches here are fascinating, there were wallabies mooching about in the undergrowth by the paths, extraordinarily beautiful beaches, and then the Figure of Eight pools, which really actually are worth the effort. But only if you do get in the water in my view. But then I would say that, wouldn't I?
So, to get the best out of the Figure of Eight: take your suncream, take shoes that you can walk in, take rock pool shoes if you can (slippery rocks nearby), and make sure you go for low tide or an hour or so round it, even on a calm day.
Oh and you'll need $12 for the car park.
Getting there, getting in, getting changed
There are clearly organised tours to Figure of Eight now for the 'adventure seeker' and for the Chinese throng. But most people making their way to the pools parked in Garawarra Car Park (first dirt track off the road to Garie Beach – and it's about 2kms down that dusty road to reach the car park.
There are two machines to pay the car park fee: one takes coins, the other cards. Being an old fogie, I was the only one paying cash so avoided the snaking queue at the card machine.
First part of the walk to the pools is a trail downhill through the bush of the Royal National Park – easy going down, much tougher coming up, and that actually surprised me. Then you pass Burning Palms SLSC and cross the beach. For the last kilometre or so – and it takes about half an hour to do this bit – you are clambering over big boulders and rocks, which ia a lot harder in long trousers and very difficult in bare feet…
If it's a fine weekend, you may have to join a queue to get into the actual Figure of Eight pool. People seemed to plunge in but I didn't see how they get out. There are either pools deep enough to swim in which seemed to have slightly easier entry and exit points.
I didn't even bother getting changed as such. I opted for what locals call boardies rather than my usual speedoes since I wasn't doing laps, and they had dried out by the time I got back to Burning Palms. But basically there is nowhere to change or go to the toilet (not eve in the SLSC building) until back to Garawarra Car Park, where there is a line of toilets.
No shower till I got home.
Tidal differences
Only accessible at low tide on a calm day. High tide beware and watch for waves breaking over the rock platform.
History and stories about the pool
I actually don't know who 'found' these natural rock pools and gave them their name. If anyone does know, I'd love to hear.
People I met by the pool
A couple of French tourists joined me for most of the walk down to Figure of Eight. They had been walking in the Blue Mountains the previous week and one of them had very sore legs. Having passed the time of day on life in France, life in Australia and travelling round the world, I decided to offer the sore legs lady, Sophie, a quick remedial massage treatment on the flat rocks by Figure of Eight. Great training for my Tafe exam next week, and hopefully helped Sophie get back up the hill safely after her visit to Figure of Eight!
What's your story? Any memories of swimming here? Any stories to tell? Or did you just have swimming lessons in days gone by?
Whatever you have to say, however brief, I'd love to hear from you and will add any stories to this section of the site as and when I receive them.  Add your comment or story under 'Leave a Reply' below.
Links to other articles on this pool
Not the usual swim bloggers in this list of useful and/or attractive posts on Figure of Eight Pools. Some helpful tips on access and some great photos in some of them, though.
A useful blog on getting to Figure of Eight.
I really liked this post from The Well Travelled Man. He got lucky finding the pools on a quiet day, too.
This blogger approached from Otford to the south. Some great photos here. Makes me wonder if I too missed the 'main' Figure of Eight, though…
More practical tips on getting to Figure of Eight from Love Swah blogger.
At last a swimming website here. But Wild Swimming Australia are bigger on practicals than flavour.
Lots of photos of the pools and the track to them in this post by Anthony Clark, who was there only a few weeks before me in October 2017.
Coffee, tea or milkshake after the swim?
No chance! And bring a good supply of fresh water to rehydrate on the walk there and back.
So no coffee anywhere near this isolated spot. Try my recommendations for coffee in Otford (just down the coast to the south) or if heading back to Sydney, I'd even say wait for coffee in Sutherland…