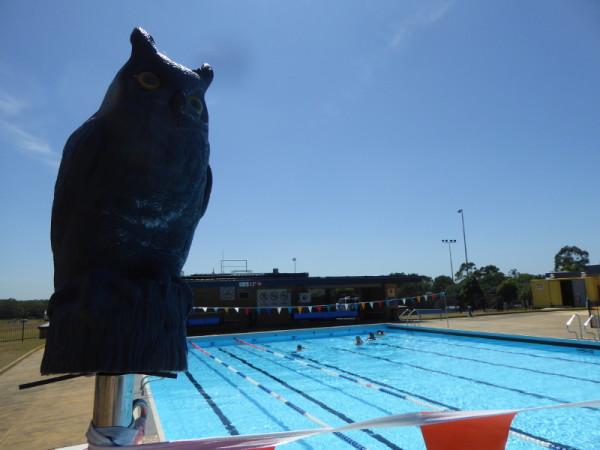 Probably named after the Scottish birthplace of the local coal mine's manager.
My experience in the pool
There's something uniquely Australian about local council-run outdoor pools like this that are completely free to enter. Helensburgh Memorial Pool may only be 25m long but who's complaining when it costs nothing to swim here?
On a fine, sunny morning in March, with the heatwave going into what must be its sixth successive week, it was no surprise to find a fair few people in the water when I turned up to do a few laps.
Actually, this felt more like a rehab spa pool than a lap swimming spot, with most people in the pool doing seriously fast wading, and a few doing some physio-driven stretches at the ends and sides.
I've said it before (probably the last time I was in an Aussie 25m pool) but after years of pacing happily up and down this size of pool in the UK, 25m feels so short these days after getting used to Australia's many 50m pools. I probably would have swum on longer if it hadn't have been for the strong midday sun powering into my back and shoulders, with little chance at first to turn over for an even grilling with backstroke.
The pool is in a lovely, tranquil park, with tall gum trees lining the shallow end (though none providing any shade, sadly). It's right by the main roundabout in the centre of Helensburgh, but borders onto one of those lovely grass athletics tracks which always get me wishing I was running again…
I also rather liked the model owl perched on the overhead bunting line, I guess to deter other birds that might like to take a dip. And the owl fooled me for a while, too (but then I am blind without my glasses). I think some of the waders in the pool were wondering why the owl was getting so much attention, though…
Getting there, getting in, getting changed
There is ample car parking by the pool entrance, and if that area fills up, you're so close to town that you could park anywhere and walk here in no time. Helensburgh train station is a bit of a hike away so I wouldn't try walking from there to the pool if you need to come on public transport. There are buses from Wollongong, though.
There are easy steps into the water at the shallow end, and the usual vertical metal steps at the deep end. No ramp access, though.
It costs 20c for hot water in the showers, so I made do with the cold showers, which were welcome anyway in the 30C heat outside.
Other practical points
Pool relatively shallow: goes from 1.1m at one end to 1.5m in the deep.
Toddlers pool with seating in the shade.
Free entry.
Closed for winter from ANZAC weekend to September.
History and stories of the pool
The pool was opened late in 1969 as a memorial to the people of Helensburgh who sacrificed their lives in World War 2.
The Helensburgh Historical Society published this fascinating article about the history of holiday-making and swimming around Helensburgh back in the 1930s, before the Memorial Pool was even thought about
People I met here included…
Nobody was up for chatting to strangers the morning I was there. The rehab guys were focused on their stretching and the wading ladies were talking among themselves, as well as declaring their surprise at my taking pictures of the owl. I'm not sure how many outsiders they get visiting Helensburgh Pool.
What's your story? Any memories of swimming here? Any stories to tell? Or did you just have swimming lessons in days gone by?
Whatever you have to say, however brief, I'd love to hear from you and will add any stories to this section of the site as and when I receive them.  Add your comment or story under 'Leave a Reply' below.
Links to other articles on this pool
The Catch Up With a Mate blogger visited Helensburgh pool on New Year's Day 2016 and wrote about the place.
A couple of years ago, the Helensburgh Hawks swimming club celebrated the 25th year of their annual swim carnival being named after a founding member, who had died in 1988. Read the story here.
Coffee, tea or milkshake after the swim?
There's no speciality, artisan coffee in Helensburgh but…
On the same roundabout as the pool but on the southern end is
Rusty Wall Cafe
Open: 7.30am – 2.30pm Tuesday to Sunday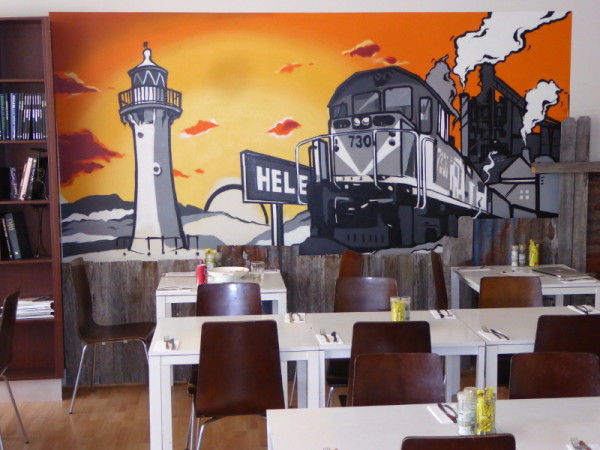 See how long it takes you to work out why they called this cafe Rusty Wall…There's a friendly bunch working here, and I like the artwork, especially the mural of Helensburgh station and a steam train, which apparently dates from the cafe's previous owners. I tried the chai latte here: they have a bag of the stuff on the counter by the coffee grinder and it is supplied by Fruitution in Ramsgate on Botany Bay. I was here for lunch (pretty tasty) so didn't get a chance to try the cake or the coffee in the end.