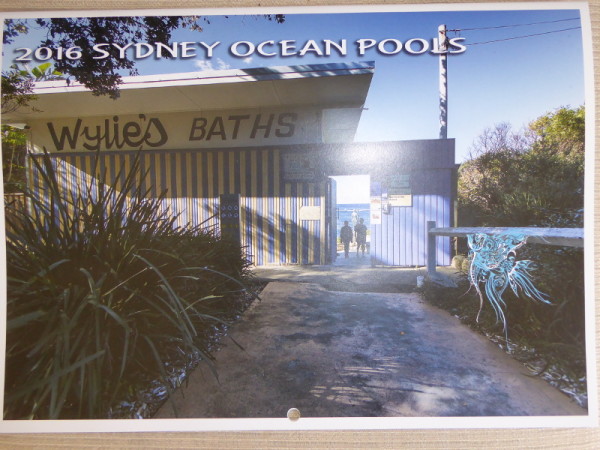 The best thing about the ABC Open story that ran on the ABC News website was actually not the spike in hits to this website, but the contact I gained from fellow swimming lovers along the way.
Best of all was to hear from Mary O'Connell, a writer and historian who also loves the ocean pools of Sydney, and has produced a fantastic calendar for 2016.
It's a great piece of work, not only for the photos but also the useful practical information and the background stories to the twelve Sydney rock pools she has chosen to include.
I'm not going to reveal which Sydney ocean pools are featured. You'll just have to buy a copy yourself (it's a very reasonable AUS$11.95) via the link below. All I will say is that I have swum in six of them, so still have the pleasure of discovering six more of her favourites.
The second connection was even more tangible than the first since Kenton got in touch to say he'd be down my way as part of his quest to swim 1000m in 1000 pools.
So I joined him at Warilla Pool (my own blog review to follow soon), Number 382 on Kenton's list.
Now, Kenton has a bit more of an endurance quest than me, since I place no distance target on my swims, and I don't have a minimum size for my pools. But that's fair enough – each to their own quest.
It was fun to snatch a few bits of conversation as we rested between laps at Warilla and actually good to cross paths with someone else as passionate about swimming as me. Kenton had no time for coffee afterwards, though (we all have our priorities!), as he was dashing down to Kiama for Pool Number 383.
I really like his blog, though, and I will certainly be following him, as well as comparing notes on some of the pools we both visit. So don't miss 1000pools.com.
I was also delighted to hear from Keith, who writes a rather philosophical blog with lots of musings on the world around us. He wrote a lovely post entitled "Storytelling: swimming with the tide", which included reference to this site, though I rather like the fact that he isn't afraid also to swim against the tide, even if it is metaphorically only.
Then there was Hugh, a seasoned swimmer if ever there was one. He and his mate David have a database of 1200 pools around NSW, but it's all on an Excel file rather than being online. These two passionate swimmers are lucky enough to have North Sydney Olympic Pool as their local.
I'm not sure whether the 1,200 pools are all outdoor swimming spots, but it certainly shows what a mammoth job I have ahead of me, if I am to end up mapping all the NSW outdoor swimming pools that are open to the public. Hey, if I get halfway there I'd be happy.
And then there were the emails received from swimmers who worried that I hadn't yet visited their favourite local rock pool. Of course, i only post reviews of pools I have swum in and I have barely started my quest with some 55 pools posted so far.
But it's great to have local contacts for a bunch of other pools from way up north in Sawtell down to Bermagui on the NSW south coast.
I'll try to check in again for further connections as the quest continues.