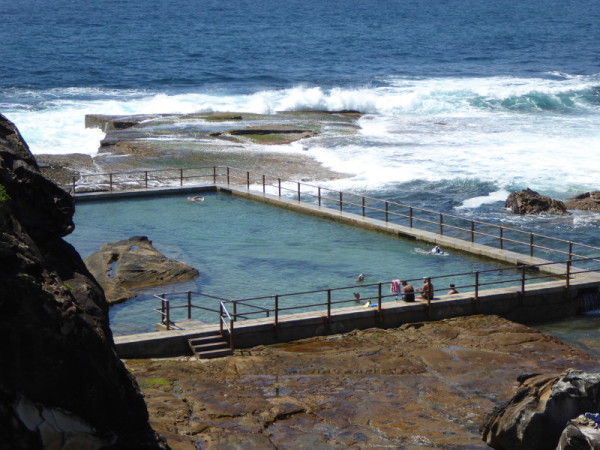 Is this the only NSW ocean pool with an 'island' in the middle of it?
My experience in the pool
Probably partly because it is a little less easily accessible than many other ocean pools, you don't seem to get many travelling tourists in North Curl Curl Rock Pool. It feels like quite a locals pool, and when I told one guy it was my first time here, he asked me not to tell everyone about it…
Actually I don't think it was my first ever time in this rock pool. I have a hunch (though no clear memory) that my family used to come down to this rock pool on a regular basis when we lived in Sydney in 1967-68. But since 7-year-old me couldn't swim, I wasn't into getting in at the deep end in those days, that's for sure.
It's a rather unique pool since it's so tucked into the cliff face that you have extraordinary face-shaped overhanging stones on one side, the two big 'islands' which are basically big rocks in one half of the pool, and then the real swimming area to the ocean side.
It's also relatively rare to have an ocean pool like this on the northern end of a bay (though there are a few: Freshwater, Queenscliff to name two nearby), and this makes it very vulnerable to heavy seas and swells off the south.
There is something Wild West about North Curl Curl Rock Pool. Is it the warning of the blue ringed octopus sighted here (though not for a long time, I was told)? Is it the waves crashing onto the rock platform nearby? Is it the clumps of seaweed, with little fish darting about among them?
It's also a strange size for a pool. Apparently 32m by 20m. And not very deep, at about 1.4m at both ends. But that makes for a decent bit of lap swimming and there was a constant presence of three or four of us pacing up and down while I was in there.
I enjoyed my swim here, but I wouldn't class it in my top 5, as some others have apparently. Still, I do envy those locals…
Getting there, getting in, getting changed
I took the rather slow bus from Manly to Chatswood (No 136) because it stops at the crossroads in North Curl Curl nearest to the pool. There is parking by the beach but it is ticketed.
See below under tides for access. If you take the cliff walk, there is a new(ish) staircase down to the pool area, though I reckon at high tide you may be paddling to the pool even from the bottom of these stairs. Nice gentle steps into the water once you are at the poolside, though you could jump in from any side from the pool wall.
No showers till you get back to the SLSC building, where there are showers in the changing rooms or a shower out on the platform in front of the building.
Tidal differences
Big tidal differences here. Access is the first issue: at high tide access is only possible via the Nature Walk along the cliff top from the car park at the SLSC. But even three hours after high tide, when I left the pool, the water between the pool and the beach was up to my knees at times and one wave almost bowled me over, camera and all, so beware of taking that sea level route to the pool if you're nearer than three hours off high tide.
The pool is regularly closed during storms too – even some way off high tide, there were spectacular waves crashing up onto the rock platform (though by this time they left the pool itself calm), so I imagine at high tide even on a calm day it could be interesting in North Curl Curl rock pool.
Other practical points
This pool is never cleaned by the Council, due to access difficulties. Some like that because it gets washed out regularly anyway by the tides, but others have campaigned for cleaning too (see the video in the links below).
History and stories of the pool
The first natural rock pool here was established as early as the 1900s, apparently. As with many other pools up the coast, it was the Unemployment Relief Fund that helped a real swimming pool to be constructed, though, in the 1930s. This was a big pool, almost Olympic size, but it was destroyed in a storm in 1947. The present, smaller pool was built in 1957 (thanks to the now defunct nswbaths website for this info).
The Curl Curl Cool Cats winter swimmers began to meet in 1962, and I believe they may be still going today
People I met here included
Graham, who gave me the history of the fence around the pool, which he was involved in designing or installing (I'm not sure which). It's unique in NSW rock pools for the way it was put together and I liked it not only for its sturdiness but also because unlike some health & safety conscious fences, it still allows you to walk around the perimeter wall of the pool. Graham has been round the block a few times in this pool and is well-connected enough to have met the current NSW Premier and former Premier Bob Carr, whom he credits with the decision to have pools like this one made heritage sites. Graham also pointed out the wall huggers: the regulars in the pool who like to swim right along the wall – not to be messed with, he reckons!
I met one of those gents who swims along the wall and clears out larger clumps of seaweed as he goes. He reckoned the blue ringed octopus they warn about on the poolside has not been seen for a while, though it may well lurk somewhere under the rocks in the middle of the pool. He was more concerned about not going into the surf since sharks had been sighted round here the day before. He also seemed concerned that I might publicise the pool more widely: it seems the locals like their little northern beaches secret!
What's your story? Any memories of swimming here? Any stories to tell? Or did you just have swimming lessons in days gone by?
Whatever you have to say, however brief, I'd love to hear from you and will add any stories to this section of the site as and when I receive them.  Add your comment or story under 'Leave a Reply' below.
Links to other articles on this pool
This swim blogger is a real fan of North Curl Curl Rock Pool
I like the work of this photographer who came in June 2015
This blog piece comes from the makers of the access stairs from the cliff path down the pool
This video was made by youngsters campaigning for the pool to be cleaned regularly
This newspaper report tells the tragic tale of a 23 year old swept to his death by waves at North Curl Curl a few years ago
Coffee, tea or milkshake after the swim?
There is a kiosk at the Surf Life Saving Club building but it was closed when I was here (they do Danes Coffee, which is not bad usually), so I walked less than ten minutes back to…
Cooh Coffee, 64 Pitt Road, North Curl Curl
Open 7am – 4pm Mon – Sat; 8am – 4pm Sunday
Cooh Coffee reviewed by the Fancy a Cuppa website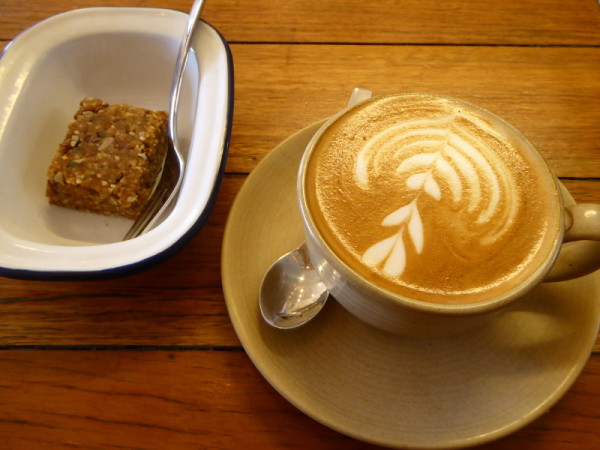 What a treat to find a coffee shop in North Curl Curl where they roast their own beans on-site. No single origin choice for the purists, but the house blend was as good as many a single origin I've tasted before. Really top quality coffee here and perfect for a post-swim coffee. If you like good quality loose leaf tea, too, they do the excellent range from Ovvio Teas, so you're also well catered for here. I sat right by the roaster and was in my element. All very healthy here; even the cakes feel like a health kick: I had what they called a paleo bar (never heard of it before, but was good, and one of those cakes you guess just might be doing your body some good, too). Top café in North Curl Curl.