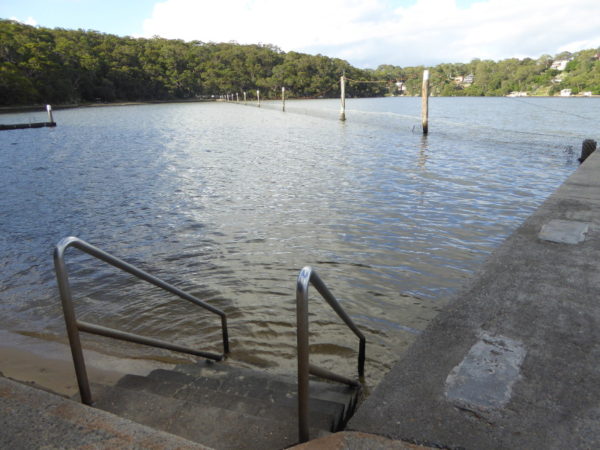 My experience in the pool
Oatley Park Baths in Jewfish Bay have so many unique qualities, it's hard to know where to begin.
For a start, the shark net here is 320m long so do 3 lengths of the netting and you've basically finished the 1km I normally do in my 20 laps of a 50m pool. And yes, the morning we popped down to Jewfish Bay, there were a couple of guys doing just that. One of them told us that on club days, if they want to run a 1km race, they get everyone to just do a circuit of the whole swimming enclosure and that just about does it.
It's such a tranquil place, too, nestled in to this lovely bay on the Georges River, with the bush of Oatley Park looking down on the swimming area, and views of Como Bridge and the trains trundling into Sydney in the distance.
The tranquillity is broken every few minutes by the other unique spectacle at Jewfish Bay: the leaping of fish (jewfish, presumably?), who do a dolphin-like leap into the air every now and then, though surely they are trying to catch flies or something rather than grabbing a gulp of air! It is quite a spectacle, though, and something I've only seen before from Scottish salmon as they head upriver to spawn.
There is a 50m section to the baths at Oatley Park. The wall at one end has numbers and hooks for the lane markers which only go in when the club swims here. And there is a turning board or pontoon 50m away, marooned in the middle of the bay, getting a bit rusty now, but still a useful landmark for someone like me who has only just got used to doing 50m, let alone 320m!
The water is a bit murky at Jewfish Bay, even at high tide, and the best swim is to be had on or around high tide. We got there an hour after peak and it was just about waist height on me by the starting wall, though beyond my depth by the time I reached the turning pontoon. I think any further than a couple of hours either side of high tide and you'll get a muddy swim, though it is probably deep enough right by the shark net all the way along the bay.
I had popped by the baths here before just to check out where they were and what they were like on a random tide, and I'd never seen anyone in the water. But get here by 8am on a public holiday, as we did, and there were another three or four swimmers in the water (always reassuring in my book, having read awful stories elsewhere of holes in shark nets etc). They're a friendly bunch, too, and we got chatting with a couple of the gents who swim here well into the autumn.
So Jewfish Bay Baths or Oatley Park Baths, whichever name you choose, they get a big tick in our book, and we'd certainly recommend them to Sydney visitors, as long as you come on the right tide.
Getting there, getting in, getting changed
Oatley Park is a bit of a hike from Oatley railway station if you are on public transport. There are buses that would drop you off a bit nearer, but you need to be looking for West Oatley for being nearer the park. Once in the parkland, this is more on a National Park scale than a little urban park. The roads wend their way through thick bush and down to the water's edge at Jewfish Bay. There is lots of parking available in different spots along the way.
There are lots of options for getting in the water. We went for the wide, shallow steps which took us straight to the 50m section. You can paddle in via the sandy beach area, though most of that is covered on a high tide. And you have the option of getting in anywhere along that 300m+ stretch of bayside. The turning pontoon at the end of the 50m stretch also has steps up so you can jump in off the deep end if you like, too, but just be wary if the tide has receded at all as the water may not be very deep.
Nice big changing sheds with toilets and showers right by the baths at Jewfish Bay. Thanks to local gent Ray, I found out the two warm showers in the men's sheds are the end showers – the ones in between are cold water only!
Tidal differences
Best at high tide or at most one hour either side of high. Muddy water otherwise.
History and stories of the pool
The best history of the Oatley Park Baths is probably off this Oatley website.  It has a history of the local swimming club to 2012 and includes pictures from 1927, with the 'current'  baths layout from 1934-5.
By 1937, according to my usual Trove website search, there was controversy over what swimmers wore and who should police that. There was no mention of what was the law around costumes but it appears men were often 'rolling down their costumes' and some councillors were saying if we let things go much more people will start bathing 'in the nude' … But there was also a row between the Town Clerk and the Council itself over who should police this!
The Oatley history site above also includes a 1957 Sydney Morning Herald clip talking of gaping holes in the shark net. "This part of the river is a playground for sharks," said the article, which was headlined "Bathers 'as  bait'" Hmmmm. I THINK they have some new nylon mesh now that surely shouldn't get holes in it, but who knows…
People I met at the pool
Great to chat with Ray, who swims here regularly until the water gets too cold in winter. He does the 320m laps along the shark net and loves this place. He explained to us also how the swimming club here works and how they rope the lanes of the 50m section or do the 1km circuit. He confirms that the swim is very muddy at low tide so told us we came at the right time (not knowing that this was my third attempt to swim at Jewfish Bay and I had learnt my lessons on the need for high water to get a decent swim here).
What's your story? Any memories of swimming here? Any stories to tell? Or did you just have swimming lessons in days gone by?
Whatever you have to say, however brief, I'd love to hear from you and will add any stories to this section of the site as and when I receive them.  Add your comment or story under 'Leave a Reply' below.
Links to other articles on this pool
Not many other bloggers or articles seem to talk about Oatley Park Baths or Jewfish Bay Baths. That may come down to the name people give these baths, but I found no other blog posts about these baths.
The only other reference I found was on this Dictionary of Sydney site.
Coffee, tea or milkshake after the swim?
We went for a wander round the headland after our swim to go in search of a place the little map above the pool said was called 'Dracula's Canteen'. We'll have a bite and a cuppa there, we thought…Go there if you like fascinating rock formations and we now guess maybe a load of bats hang out, but don't expect refreshments inside Oatley Park and nothing at that 'Canteen'…
Nearest place doing a decent coffee was back in Oatley West:
Edmonds & Greer – 97 Mulga Road, Oatley, NSW 2223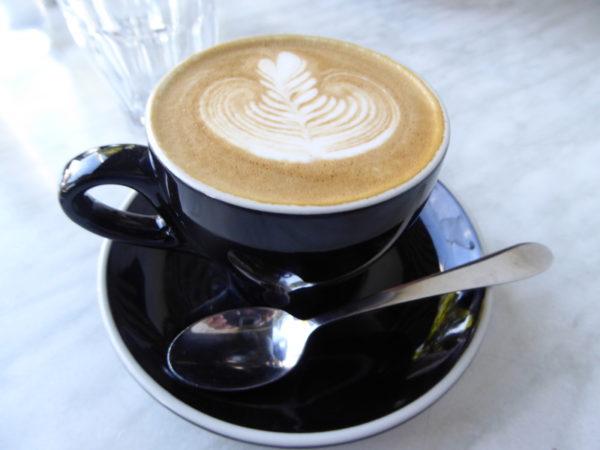 Open Daily 7am – 4pm
There are a few places for coffee in the cluster of shops in Oatley West. We tried two others before we found Edmonds & Greer. It's a bit more classic Aussie café, trying to be a bit too foodie for our taste, but it did give us the best coffee in Oatley West from our three samples. We were there on a weekend and it was busy, but we did find a table and sat out the front enjoying the atmosphere for our post swim coffee.