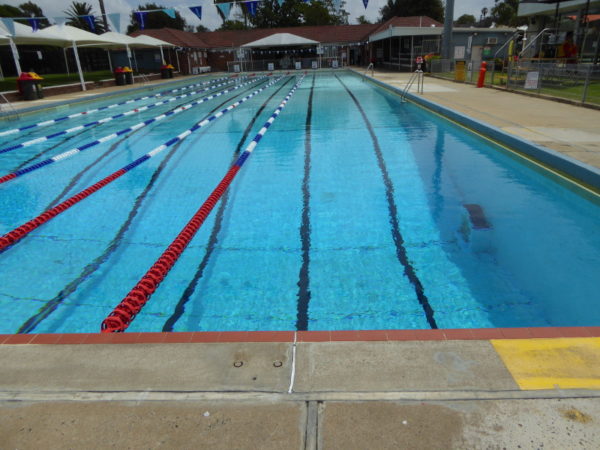 Sydney's first freshwater Olympic Pool.
My experience in the pool
My first lap of Enfield Aquatic Centre's Olympic pool was an absolute delight. It began simply enough, in fairly shallow water for maybe the first 30 metres or so, but then dips away dramatically to form the 5m deep diving area – or rather what was the diving area till they removed the diving board!
I love swimming in such deep pools and Enfield must have been a fantastic place when they hosted the national diving championships 50 years or so ago. But the biggest surprise on that first lap came right at the end, when my eyes suddenly focused on the wonderful tiled lane numbers from the original 1930s pool. I hadn't seen them from the shallow end as they are submerged these days, but they added a bit of arty history to this swim, which made me smile at the end of each lap.
I had the outdoor pool to myself for much of my swim. What a change that must be for a pool that must have been THE place to go in the 1930s, 40s and 50s. Enfield is such a sleepy suburb now, and the pool is quite complicated to get to on public transport, but in those early days it must have been quite a sight to see the high diving board from across the park next door. I even liked the way the street I walked down from my bus stop led straight to the front door of the pool and into the water. Feng shui experts would have something to say about that, I'm sure, though it may be that that architectural choice led to the escaping of Enfield pool's spirit ultimately.
There are nice views of palm trees when you turn over to do back stroke, though the lanes are quite narrow so you probably wouldn't even try if you were sharing a lane here.
I loved the way swallows live round the edges of the pool at Enfield and swoop down over swimmers as if inviting us to play – or maybe to warn us off their quiet patch these days?
When I came by Enfield Pool in August, hoping for a swim, I discovered this place only opens for the season in October, and the lifeguard that day (there for the indoor pool, by the way) told me to wait a few weeks after the beginning of October to swim because the water takes time to warm up. I wasn't sure whether that meant they don't heat the water here or whether the heat pumps just take time to warm things up. But by the day of my visit towards the end of November, the notice board declared that the water in the Olympic Pool was 26.5C, so I'm guessing they do heat it.
Almost the biggest treat at Enfield Aquatic Centre came in the form of the photos posted all round the reception area. These showed fantastic shots of the days Enfield was the Centre of Australia's diving world, and I loved the fact that Harry Tickle's memory lives on in the poster half way along the pool, informing swimmers that Australia's former diving champion 'taught scientifically' with the 'latest mechanical aids to diving'.
What a shame Mr Tickle isn't around now to improve my stroke and maybe even start me diving. I even wondered if he was around when little 7 year old me was trying to learn to swim in Sydney (but failed ignominiously at the time)..
Getting there, getting in, getting changed
Hard to get here on public transport. Best option probably to get a train to Burwood and then either walk for a mile or so or hop on a bus that drops you off in Enfield five minutes' walk from the pool. But check the comments below from January 2020 because Debbie has some better ideas for getting there
Shallow steps at the shallow end, but this pool is shallow enough to slide in from the side without too much drama.
Cold showers only but in the warmth of early summer, that felt fine anyway.
Other practical points
1m in the shallow and so shallow that my hands dragged along the bottom for at least one stroke on each lap. But a fabulous 5m in the deep
$6.50 entrance fee
Not open all year. Swimming season in Enfield is October to April inclusive, though the indoor pool is an all year round facility.
Don't miss the original tiling all through the paddling pool.
And look up as you head out of Enfield Aquatic Centre for a peek at the stained glass windows which must have seen a few swimming celebrities pass below them over the years.
History and stories of the pool
When Enfield Olympic Pool opened in November 1933, it was Sydney's first freshwater swimming pool. Press reports in the following days tell that there were 16,000 visitors to the pool in its first week, with 4,000 on the Sunday alone. Numbers have dropped off a bit since then, which is a shame!
Not long after the pool opened, there was a big flu epidemic in Sydney and some reports blamed the crowded waters and close proximity of lots of bodies in Enfield Pool, though the pool managers at the time were quick to refute any such claims in the local press.
There was an annual swimming carnival at Enfield Pool, which was kicked off each year by a swim between all the Mayors of the surrounding suburbs. Again, hard to imagine these days, though I loved the story of one Mayor blaming his defeat in the race one year to his heavy woollen swimming costume. And another story had a woman mayor refusing to take part, not she said because she was a woman, but because she was a poor swimmer and would not have any chance of doing justice to the competition. There also used to be swimming race between all the local Members of Parliament in those heady days of the 1930s; hard to imagine that happening in this day and age.
Harry Tickle's rise to fame coincided with Enfield's emergence as a key venue, especially for diving competitions. I had to track back a long way through the Trove archives to find when he was NOT referred to as the 'former' diving champion. The key date appeared to be 1935, when there was reference in one article to Harry deserting 'to professional ranks', and a picture emerged of this elite competitor trying to work out how he could earn a living out of his talent in the water, when amateur status was regarded as essential to compete.
I noticed a tribunal case where Mr Tickle was refused exclusive rights to teach at one pool, and then in November 1935 he was appointed to train diving at Enfield Pool. That appointment basically seemed to embody his 'desertion' of amateur status, so the posters all around the pool advertising his training techniques only tell part of his story.
That said, Harry Tickle was credited with innovative teaching methods, which included what they called then 'dry' diving, which sounded akin to what we would today call bungee jumping, only he would get people to adapt their techniques in the safety of a harness so that when they took to the diving pool, they were all the better divers.
He seems to have been training divers for many years, and there are press reports of diving still happening in the Enfield Pool as late as 1967, though whether Harry Tickle was still involved then, I don't know. Amazingly there is no Wikipedia page on this gent, and nothing I could find that told me when he passed away even.
I did notice the press reports from 1955, though, which told of local gangs coming over to Enfield Pool on busy days in the water and stealing lots of bikes. The very image of gangs and of pedal bikes conjures up a whole different side to Enfield, which is hard to picture in the 21st century.
People I met in the pool
As I was the only swimmer in the outdoor pool at Enfield, there was no opportunity to talk to anyone on this visit. Someone else joined me for my last few laps but they were doing a leisurely breaststroke in a lane some way from mine and didn't engage. Well, sometimes the history of a pool tells all the stories I need…
What's your story? Any memories of swimming here? Any stories to tell? Or did you just have swimming lessons in days gone by?
Whatever you have to say, however brief, I'd love to hear from you and will add any stories to this section of the site as and when I receive them.  Add your comment or story under 'Leave a Reply' below.
Links to other articles on this pool
Swimming blogger Therese has written about Enfield Aquatic Centre. She too focused on the diving here plus elsewhere in Sydney, and the tiling!
This You Tube clip is mostly about the seating around the pool, which involved a local college, but go forward towards the end of the video for some good shots of the pool itself.
Coffee, tea or milkshake after the swim?
There is nowhere decent for a coffee in Enfield, so I walked the 15 minutes or so to Croydon Park, where I found… Again, check the comment from January 2020 from Debbie for a tip on her favourite place for good coffee near the pool
Caffettiera Kitchen & Espresso, 164 Georges River Road, Croydon Park, NSW 2133
Open Tuesday – Sunday. Closed Mondays
6.30am – 4pm Tues – Friday; 7am – 9pm Saturday; 7am – 2pm Sunday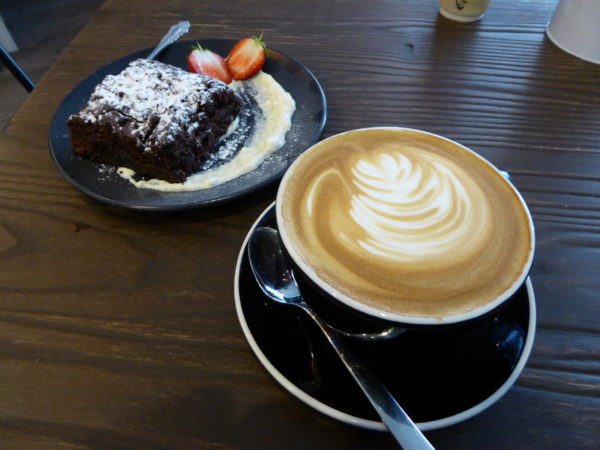 Just because a coffee shop has an Italian name and claims some Italian heritage does not always mean it will provide the best coffee around. I like the fact that Italian is actually spoken at Caffetteria in Croydon Park, though, not only between the baristas who work here and own the place, but also with half the customers who claim Italian connections.
The coffee here is good and the nibbles excellent. For a post swim coffee after Enfield Pool, it is a bit of a hike to get here, but it's the best option I have found and I've had two good experiences here now.