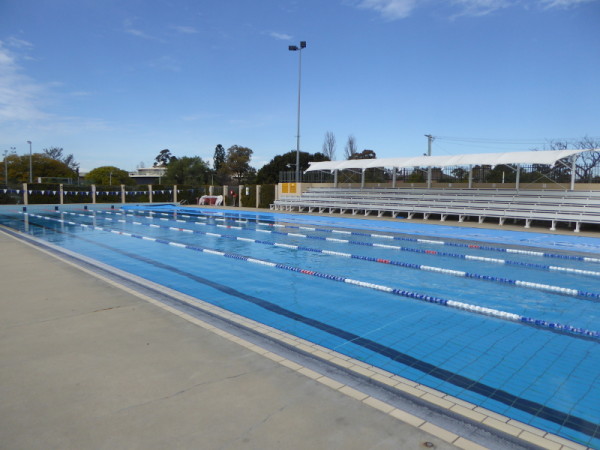 Once known as the 'Wimbledon of diving in Sydney' – even Crocodile Dundee dived here as a teenager
My experience in the pool
The swim is only a small part of the pleasure of Granville Pool. But since this blog is about my swimming experiences, I'd better begin with that…
It was a bright, sunny spring morning. The Olympic pool was quiet so they had kept four lanes covered and just five were being used. I chose the narrowest lane which bordered the edge of the tarpaulin cover – a test for my wayward backstroke to see how many times my swinging arm landed on the rough edge of the cover (actually only twice so that stroke is improving).
I saw this as my coming-of-age day in Australian swimming. The 20 laps routine is now becoming comfortable, with no niggling shoulder. And the 50m Olympic Pool is starting to feel normal. In fact, when I paced the smaller pool next door to check on its length, I was surprised to find it is 25m.
Back in the UK most pools are 25m and I would normally do just 20 laps. So, I've doubled my usual workout distance, and the 25m pool looks so tiny now.
Getting there, getting in, getting changed
Easy to get to Granville Swimming Centre on public transport: the train station on the Parramatta line is just five minutes' walk away.
There are nice wide steps making for easy entrance to the shallow end at 1.3m. Slightly odd feel at the 1.9m deep end, since there is nothing to grab onto if you want a quick breather there, and the water level is some way from the top of the pool edge.
Nothing special about the changing rooms. But warm water in the showers and no tokens needed.
Other practical points
Entry fee $5.70 in 2015.
25m pool at the shallow end of the Olympic pool. A paddling pool is also on the complex.
Open all year round.
History and stories of the pool
The great thing about Granville Pool is the way it heralds its history.
Built in 1936, it was only the fourth Olympic pool to open in the state (after North Sydney, Enfield and Bankstown). There were two Olympic pools at first, and if you pause by the window on your left as you come out of the changing area, you'll see below ground level the old tiling of the original pool, with its Roman numerals for lane numbers.
And in the lobby of the swim centre there is more on the history of the pool.
It was built on a duck pond by the local woollen mills in that period when governments were trying to get unemployed men back to work.
The 1950s were its heyday. There are fantastic quote from former swimmers here: Susan Costin, an Aussie backstroke champion remembers during Saturday morning races, 'parents would go for a beer or a morning tea in the plant room'.
John Devitt, after whom the pool is now named, was a household name at a time when 17 national champions trained here. He speaks of 2000 swimmers being in the pools on hot days, when it would be so full you could 'walk across the pool without touching the water'
And I loved Julian Carroll's memory of Jock, the Glaswegian lifeguard who had tattoos on muscular arms.
In 1973 the pool was heated. In 1988 it was named after John Devitt.
And now, it is a quiet place on an early spring morning, though I enjoyed overhearing the receptionist taking a call from an eager parent:  "I don't have a jellyfish place, but I do have a seahorse class available." – Ah, I wonder what Jock would have made of today's swimming novices?
Oh, and tucked away on the list of young lads who used to like diving here is one Paul Hogan, but no mention of his most famous screen character…
What's your story? Any memories of swimming here? Any stories to tell? Or did you just have swimming lessons in the cold of winters past?
Whatever you have to say, however brief, I'd love to hear from you and will add any stories to this section of the site as and when I receive them.  Add your comment or story under 'Leave a Reply' below.
Links to other articles on this pool
Swimming blogger Therese had an interesting time at Granville Pool during her visit in 2013.
Pool Lady posted her thoughts on Tumblr a few years ago too
Coffee, tea or milkshake after the swim?
Just five minute walk to my tip for a post-swim coffee in Granville's main shopping street, but I'm not 100% sure it is still open – if anybody knows either way, please let me know…
Espresso on South – South Street, Granville
Open Daily from 6am – 11pm
Espresso on South reviewed by Fancy a Cuppa website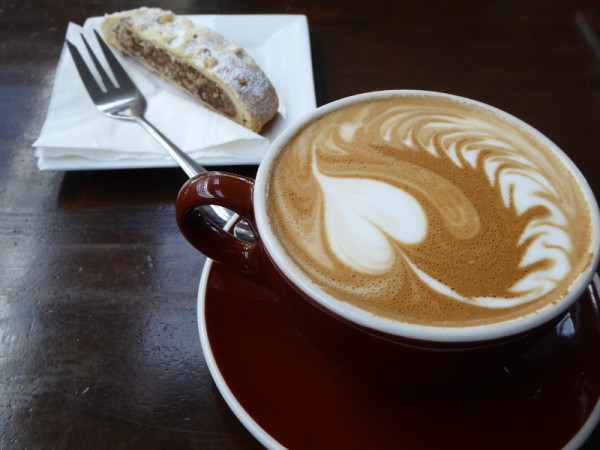 A lovely smooth flat white from Campos Coffee. They make it well. And some delicious Italian pastries to go with your coffee. I like this place. It's big, though. They are open evenings for dinner too so maybe it gets busier then. Nice for a quiet cuppa post swim though.