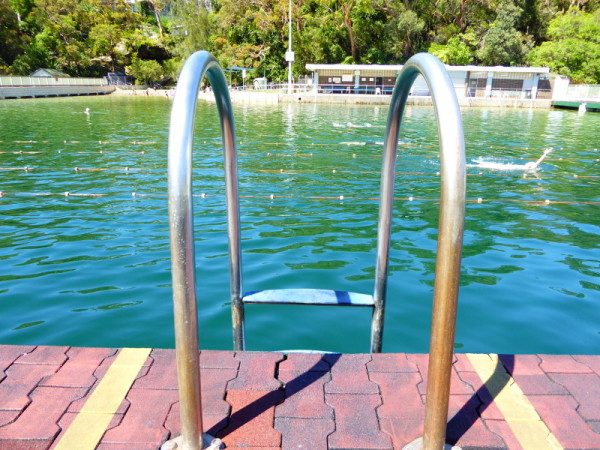 Northbridge is named for the stone bridge that takes you back towards the Sydney CBD.
My experience in the pool
Northbridge Baths tick all my boxes. 50m laned swimming in beautiful salty water, with pretty big fish swimming just below you, kookaburras cackling in the trees by the water and if you go in spring, magnificent jacaranda blossoming on the water's edge. Time the visit really well and you'll be here at high tide, when the laned section must be around 4m deep.
There's a sandy beach section, too, where toddlers can play safely in the shallows, though I did spot one little one misjudge his step and disappear under the water, much to the alarm – temporarily – of the Mum sitting in the shade by the beach.
My top practical tip for a hot day, though, is to take your flip-flops (thongs, as they call them over here) or wear your shoes to walk round the edge of the baths to reach the deeper, laned area. Whatever surface they have put on that walkway – and it is great to see they have actually maintained the pool facilities – it quickly heats up in the sun. By 10am on a November morning, when I arrived, I was teasing along that walkway like the proverbial cat on a hot tin roof, and had to rest my feet on my rucksack to get my some relief while I put my goggles on for the swim.
The water was delicious, at 21C minimum, with hundreds of fish darting about, and no jellyfish this week!
Backstroke was a delight in either direction, with that purple shock of the jacaranda to look at in one direction and the enormous yachts anchored just beyond the shark net in the other.
My main problem actually came in doing freestyle laps, where I found myself getting tangled up in the thin string lane markers several times, and remembered how I got my shoulder bursitis at Newcastle Baths just over a year ago now. All was well at Northbridge, though, and my main reason for stopping before I'd done my 20 laps was the scorching sun, which felt like it was burning my Pommy skin even with sunscreen.
The guy I chatted with before taking the plunge told me I'd picked the right time to come – on high tide – and that the pool can be a bit murky for a couple of days after rain, but he agreed he was pretty lucky to have Northbridge Baths as his 'local'. He also said the Council had done some good work maintaining the Baths recently, but a few years ago had proposed closing them down completely. Thankfully the IMBY community of Northbridge had campaigned to keep their local swim spot and the Baths are now open all year, with warm showers; just no lifeguards now and no turnstile entry anymore.
Getting there, getting in, getting changed
Bus No 202 from Sydney CBD gets you to a few minutes walk from Northbridge Baths. The pool is very well signposted from Bonds Corner, though if I were coming again by bus, I would get off at Northbridge Library and make my way down to the water via the narrow pedestrian lanes. (That's also the fastest way back on foot to my suggestion for post swim coffee).
Wade in via the small sandy beach or walk round the edge of the baths (not forgetting the footwear for the heat) and clamber down the metal steps into the deep. There are signs saying no jumping or diving, but at high tide with 4m of water, I don't see why that rule should apply.
Good changing rooms with warm showers if you need them.
Other practical points
No charge to get in to Northbridge Baths. Open all year now.
50m lanes divided by thin rope lane markers.
Daily water temperature is posted (well, it was 6 days old for my visit, but the thought is there).
History and stories of the pool
One of the best stories of Northbridge Baths is surely that of Ernie Wright, who is commemorated with his own plaque and photo on the wall of the changing sheds. Ernie was a local postman who would come to Northbridge Baths every morning before he delivered the mail – he'd feed the fish in the pool and was known as the unofficial caretaker of the Baths.
The guy I spoke to before my swim referred to the local community campaign to keep the baths open when the local authority was talking of abandoning them to nature. And you can see how that community lives on and still puts in the work to maintain the Baths today. I loved the sign asking for someone to water the grass round the beach, and as I left the baths area, some gent was sweeping away the leaves from the path. I guess it's all just a case of mucking in to keep the place tidy now that there is nobody around who formally manages the site.
People I met in the pool
I didn't get any names this time but had two or three good chats to locals who come to Northbridge Baths regularly. Two of the older guys I talked to had fond memories of meeting Ernie Wright themselves, and talk of him as something of an institution around here.
What's your story? Any memories of swimming here? Any stories to tell? Or did you just have swimming lessons in days gone by?
Whatever you have to say, however brief, I'd love to hear from you and will add any stories to this section of the site as and when I receive them.  Add your comment or story under 'Leave a Reply' below.
Links to other articles on this pool
I have to give top billing here to fellow swimming blogger Therese of Swimming Pool Stories, since this was her local swimming place when she was growing up. She shares some memories in this blog post from 2014.
Therese also wrote about Northbridge Baths on another visit in 2010.
Most recent visitor among the blogging community was this Mums blog website. She came in October 2016. Interesting to see the pool at low tide!
Another Mums blog, the North Shore Mums, also clearly love Northbridge Baths
Seana, of the Hello Sydney Kids website, reviewed Northbridge Baths in 2011.
Beware of some of the info in the Lazy Swimmer's blog post from 2010 – this was a time when you still had to pay to go into Northbridge Baths
Coffee, tea or milkshake after the swim?
It took me about 15 minutes to walk directly up the hill from Northbridge Baths, along narrow walkways, to reach the main road back to the main shopping area in Northbridge for my post swim coffee.
Ritual Coffee Traders – 160 Sailors Bay Road, Northbridge, NSW 2063
Open Daily 6am – 3.00pm (slightly shorter hours on Sunday)
Ritual Coffee Traders reviewed on the Fancy a Cuppa website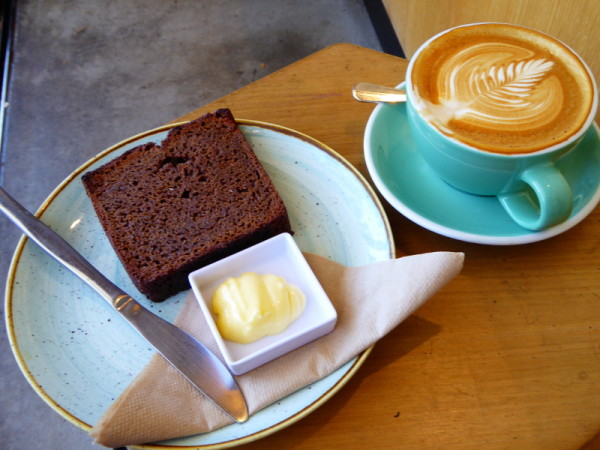 The best coffee I've had for a while and so good I stayed for a second. They use the Gabriel Coffee Roasters and have lots of options for how your coffee is prepared and whether you want the house blend or one of their single origins. I like a coffee shop that shows pride in the coffee they serve and Ritual certainly do that.
Also interesting place for food. Two of the three cake options were good for those on a paleo diet, which is not something you see everywhere. And a really friendly vibe, with no arrogant pretensions you sometimes get in top Sydney coffee shops. Well worth the hike for the best coffee in Northbridge.