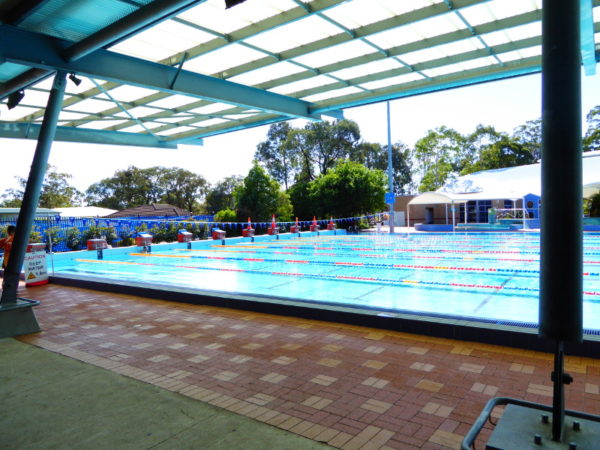 Named after the former Australian Prime Minister who was MP for a nearby area.
My experience in the pool
I first dropped by the Gough Whitlam Leisure Centre pools in Liverpool on a sunny morning in winter when I was desperately trying to find an outdoor pool open and was quickly discovering that in the winter months, you really have to shop around to get an outdoor swim in Sydney, even though the sun may shine and the air temperature may be up in the high teens. Don't waste your time trying to come to this pool in winter; it's closed then even if it sits looking beautiful in the winter sun.
No problem with closure in the warm days of late November, though. I timed my visit perfectly to miss the departing squad swimmers and before the school carnival was due to begin. 8.30am felt like a good time to get to Gough Whitlam pools.
I also clearly just missed a whole bevy of Chinamen. The only language being spoken in the men's changing rooms was Mandarin, so there's either a massive Chinese community in Liverpool or Friday morning is their swim time…or both. I'm a chatty type and would normally join in, but my very limited Mandarin would barely even have managed to ask them where they were from, so I kept my silence and just got ready for my swim instead.
There are great facilities at Gough Whitlam Leisure Centre. The main Olympic Pool is a 50m affair with those nice pool sides where the water gently laps over the pool side to reduce back flow and waves when everyone is racing up and down. There are also shallow pools for youngsters with one jelly bean shaped at 1m and an even smaller one at just 20cm depth. Both are in the shade. And there are more pools indoors too (open all year I assume).
It's not a great pool for views on backstroke. Facing south there is really nothing to keep you entertained. Facing north, there is one gum tree to look at off to the left, so that was my choice for the swim at 8.30am, but once the sun moves round to the north, I reckon that would be too bright for comfort.
I had planned to ask about the Gough Whitlam connection when I went back through reception after my swim, but by then the queue to get in was growing and the guys at the desk looked busy. The plaque commemorating the pool being (re?)opened in 1994 made no reference to Whitlam, so it fell to my Twitter feed to help me out.
My fellow swim blogger Therese informed me that Whitlam was a local MP for the area, before I heard from another Tweeter who filled me in on Gough's wife's swimming past. Margaret Dovey, as she then was before marrying Gough, swam at the 1938 Empire Games (lucky lass, at the North Sydney Olympic Pool presumably), and later in life presented swimming awards at school carnivals where my Twitter correspondent competed (and met the famous lady). It's a shame they didn't name this pool after Margaret, or maybe somebody knows of some other pool somewhere else in the state that bears her name instead?
Oh and almost my favourite moment at the Gough Whitlam Leisure Centre: as I walked away from the pool complex, an old red Routemaster bus from London turned into the car park full of school kids getting ready for their swim carnival. I wondered if any of them had any idea of the history of those buses or knew anything about the old route 19 to Finsbury Park. If I went to that school, I'd be heading to London one day to try out the old bus route of my swim carnival coach…
Getting there, getting in, getting changed
Just for once, I drove to Gough Whitlam Leisure Centre, so I'm not too sure of the public transport options. Liverpool is on one of the fast train lines from Sydney CBD, though, and the pool is just 15 minutes walk from Liverpool Station.
Nothing special about the ways in to the water.
Large changing rooms with good showers by the indoor pools and you then walk round or between the indoor pools to get to the outdoor pools.
Other practical points
Entrance fee $6.60 (but down to $5 with my student concession)
1.1m depth at the shallow end, 1.8m in the deep.
Outdoor pools open from October to April inclusive.
I liked the overhanging roof to the spectator stand, which must actually provide a bit of shade for swimmers in those first two lanes when the sun is overhead, and probably more lanes as the sun goes down behind the stand.
Look out also for the lane numbers which form the seating for people waiting outside the Gough Whitlam Leisure Centre.
History and stories of the pool
When a swimming centre takes on a name like Gough Whitlam, it actually becomes really hard to do a search for stories and information on the aquatic centre as distinct from the named person (in this case a rather well-known Australian politician).
So, other than seeing the plaque marking the opening of the centre in 1994, I have found no stories or other links to articles on the aquatic centre in Liverpool NSW.
People I met in the pool
With all those Mandarin speakers in the changing rooms, there wasn't much opportunity to swap stories with anyone before or after the swim.
What's your story? Any memories of swimming here? Any stories to tell? Or did you just have swimming lessons in days gone by?
Whatever you have to say, however brief, I'd love to hear from you and will add any stories to this section of the site as and when I receive them.  Add your comment or story under 'Leave a Reply' below.
Links to other articles on this pool
No links found. Anybody seen any other articles?
Coffee, tea or milkshake after the swim?
It's a 15 minute walk back into Liverpool, where my favourite coffee shop has to be…
Ristretto & Co, 156 Northumberland Street, Liverpool, NSW 2170
Open Daily: 6am – 4pm Mon – Friday; 7am – 3pm Saturday; 8am – 1pm Sunday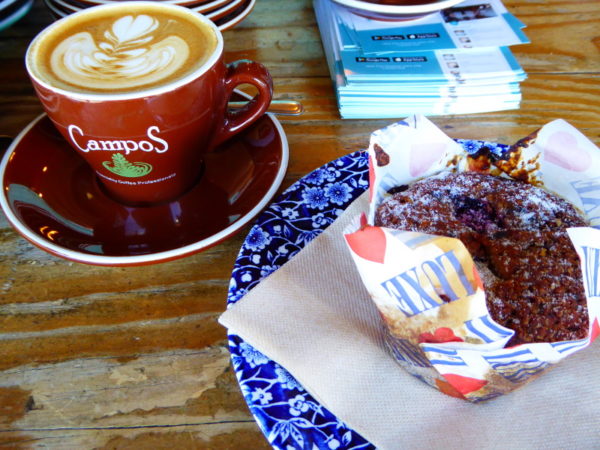 Best coffee in Liverpool NSW must surely be at Ristretto & Co. They use Campos, which is a coffee you can find all over Sydney these days, but either I was desperate for a good coffee after my early start and tiring swim, or the baristas at Ristretto really know what they're doing: whichever it was, this coffee was delicious: smooth, but with a kick to send me off skipping down the street afterwards.
I chose one of the two stools out the front and chatted a bit with the staff. Out the back in the larger seating area, it felt a bit like a serious 'breakfast' café, and I am so not into that 'going out for breakfast' thing that Australians seem to love. My aim is a quick post swim coffee and a cake to put some calories back in me after the pool exertions. And Ristretto did that perfectly.