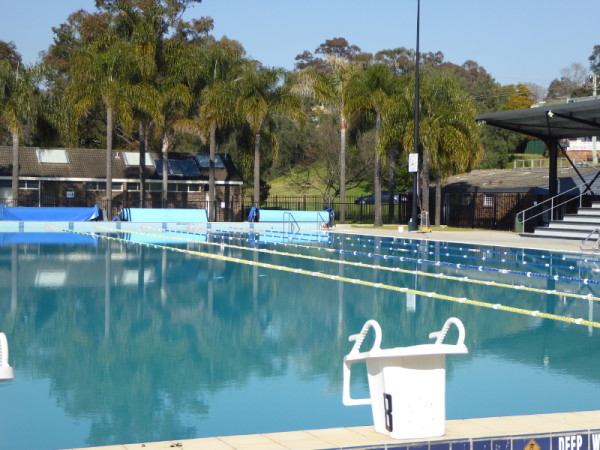 "Australia's First Green City"
My experience in the pool
My first visit to Campbelltown Aquatic Centre was in September on a bright, sunny day with the pool looking immaculate. Sadly, it was still closed to the public although the water looked perfect. So I had to make the most of a return visit to Campbelltown in November to actually get in the water.
I arrived on a cool, cloudy morning to find the pool deserted apart from a few water polo players having a throw around at the deep end. It was a Saturday morning, but it was also the day after Sydney's Big Heat of 42C, when I'm sure the pool was packed.
By the time I got into the water, I had the pool to myself, so made the most of it.
There were four lanes of this Olympic Pool marked off and the other half of the pool free for leisure swimmers. With a lane to myself I was able to get back into proper lap swimming after my latest neck and shoulder strain, so managed 20 laps at a nice, slow pace without any pain.
Sometimes, I do enjoy the stillness of an outdoor freshwater pool, so I can focus on my stroke and my breathing instead of looking at the wildlife or worrying about waves and mouthfuls of salt.
And there's something wonderful about the typical Australian outdoor swimming pool, with its palm trees at one end and gum trees at the other, that is an experience I will always associate with my swims in this country. Campbelltown swimming pool had exactly that background at either end.
It also has a beautiful 2m deep end and for some reason the experience is always enhanced when I can't reach the bottom – God knows why, though!
By the time I was getting out of the water, others were getting in. There had been some sort of event in the neighbouring indoor pool, from which big families were emerging, some setting up poolside picnic tables for what looked like a lively afternoon at the pool.
I liked the sense of ethnic mix at Campbelltown Aquatic Centre. Everyone greeted me with a cheery hello and it was great to see all of Australia's cultural melting pot converging on the pool for the afternoon. I liked this place.
Getting there, getting in, getting changed
Easy drive with a good size car park. Campbelltown train station is probably a 15 minute walk away.
Gentle and wide steps at the shallow end. Traditional metal stairs half way and at the deep end.
Changing rooms with lots of space. All showers are in cubicles, which I am not used to. Warm water if you need it, though, which is nice on a cold day (but since the pool only opens for 6 months of the year, there aren't many of those)
Other practical points
Entry fee $5.40 in 2015.
Pool depth goes from 1.2m in the shallow to a lovely 2.0m in the deep.
Open October to March only
History and stories of the pool
This pool first opened in the 1960s, but had a name change some five years ago to recognise a former Mayor of Campbelltown.
See the video below for the best potted history of this pool, including interview with Paralympic Gold Medallist Patrick Donachie, who regularly trains (or maybe now trained) here.
What's your story? Any memories of swimming here? Any stories to tell? Or did you just have swimming lessons in days gone by?
Whatever you have to say, however brief, I'd love to hear from you and will add any stories to this section of the site as and when I receive them.  Add your comment or story under 'Leave a Reply' below.
Links to other articles on this pool
What a great video produced presumably by the Council to mark the pool's reopening after major refurbishment in 2011. Why can't all local councils produce something like this?
I found no other articles specifically on the Gordon Fetterplace Aquatic Centre, but Campbelltown Library's blog posted this rather interesting piece on 1920s efforts to find good outdoor swimming spots in Campbelltown… The cattle tank and reservoir seemed to be going until shortly before this swimming pool was built in the 1960s.
Coffee, tea or milkshake after the swim?
It's a five minute walk across the main roads to get to the best spot for coffee or tea in Campbelltown. But it only opens at 10am. See below for earlier options for coffee
Arts Centre Café – Campbelltown Arts Centre
Open daily 10am – 4pm (Weekends open at 8.30am)
Arts Centre Café reviewed by Fancy a Cuppa website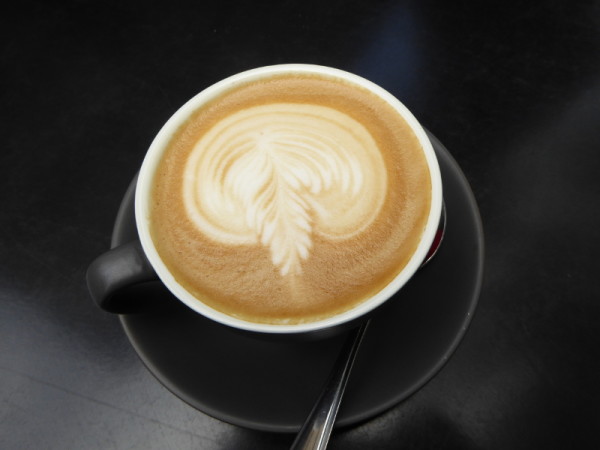 Best coffee in Campbelltown, with an excellent flat white using coffees from The Coffee Roaster. Best tea too I think, with good loose leaf teas selection from Teacraft. Really good cakes too. And a beautiful courtyard to sit in and take in the sculptures around you or just breathe in the air. A little oasis among Campbelltown's dreadful road chaos.
If you need a cuppa before 10am…
Crave Espresso – The Parkway
Open daily at 7am
They use the Melbourne-based roaster Rosso. But the coffee I had was rather uninspiring – and no attempt at any latte art! But a nice spot opposite the gum trees and only a ten minute walk from the swimming pool if you need a coffee after an early morning swim.