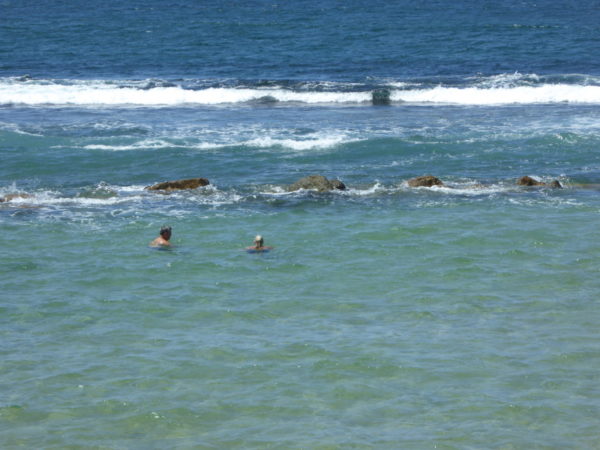 Norah Head lighthouse was the last staffed lighthouse along the NSW coast.
My experience in the pool
Norah Head rock pool has to be my favourite of the many ring of stones rock pools along the NSW Central Coast. Catch it on the right tide in sunny weather, as I did in mid December 2016 and it is a great spot to play safely in the waves.
Norah Head is probably best at high tide, when you can easily manage a few strokes of freestyle in between the waves and unlike the other ring of rocks pools, you won't find yourself getting caught up in those rocks or smashing your feet against stones as the water gets shallow.
The nice thing about the pool at Norah Head is that you have a soft sandy cushion under your feet (a big improvement on the stones at Avoca Beach) and a clear defined boundary of the rock pool (unlike the confusion at Copacabana), and although it doesn't lend itself to lap swimming (unlike its neighbour at The Entrance), at least you can find some water deep enough to manage a few strokes on your back or front.
On this first day of the school summer holidays, there were a few families down on the sand, and some screaming kids enjoying the safe surf in the rock pool, but that just added to the sense of fun around Norah Head rock pool and it was nowhere near as crowded on the beach as other places must be along the coast at this time of year.
Best of all, the water was crystal clear and a great temperature. One of those days where I just feel lucky to have such a coastline on my doorstep.
Getting there, getting in, getting changed
There are regular buses from the train station at Wyong to Norah Head and they drop you off not far from the rock pool.  Bus takes about an hour. By car, you can get to the car park right by the rock pool, and even sit and enjoy the surf as I did before heading to the water myself.
There's only one way into the water at the Norah Head rock pool and that's via the beach. I wouldn't fancy negotiating the ring of stones from the ocean side!
There's a little toilet and changing area just above the beach at Norah Head.
Tidal differences
Norah Head is another of the NSW Central Coast rock pools formed by a ring of stones and again it is best at high tide. With the tide in, it is a lovely spot to swim a bit or just relax and float. I haven't yet been at low tide, so I'm not sure how good it is for anything more than a shallow bathe when the tide is out.
History and stories of the pool
I haven't found any history of the Norah Head rock pool. One of the links below under other articles has a brief history of the area, from which I see that the rock pool was constructed in the 1970s, so it is one of the newest rock pools on the NSW coast. (I note, though, that a new comment has its age going back further since she swam in it in the 60s, so you can't believe everything you read on the web…)
People I met here
I was at Norah Head early in the summer holidays when it's a great spot for families, but parents are usually too busy keeping an eye on their little ones to talk to an old fogey like me, so I gleaned no stories from locals this time, either
What's your story? Any memories of swimming here? Any stories to tell? Or did you just have swimming lessons in days gone by?
Whatever you have to say, however brief, I'd love to hear from you and will add any stories to this section of the site as and when I receive them.  Add your comment or story under 'Leave a Reply' below.
Links to other articles on this pool
Norah Head rock pool got a mention in this piece by two Central Coast sisters, as the NSW Central Coast's secret swim spot.
This Central Coast blogger has Norah Head rock pool down as a great place for kids.
And of course, don't miss the potted history of the area around Norah Head in the All Into Ocean Pools entry for this rock pool.
 Coffee, tea or milkshake after the swim?
It's a bit of a hike up about 50 steps directly up the cliff from the rock pool to get your post swim coffee at Norah Head.
The Ark Café – 8 Bush Street, Norah Head, NSW 2263
Open Daily 8am – 5pm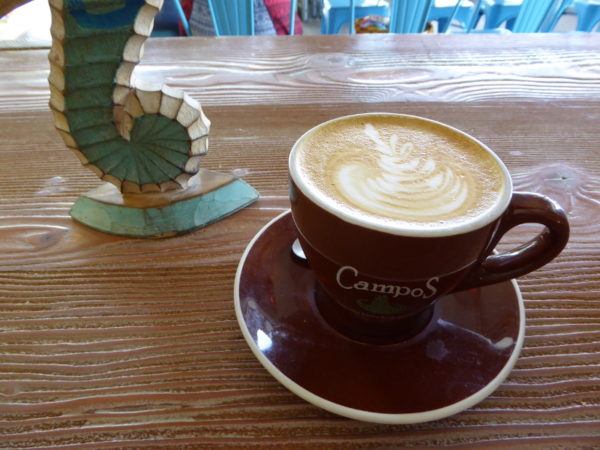 They do a decent Campos Coffee at The Ark Café in Norah Head and the cake selection will certainly fill any gap left after your efforts in the surf. It's a big space with lots of seating and it's right opposite a park with play area, in case you have dogs or you have kids that still need to let off more steam.