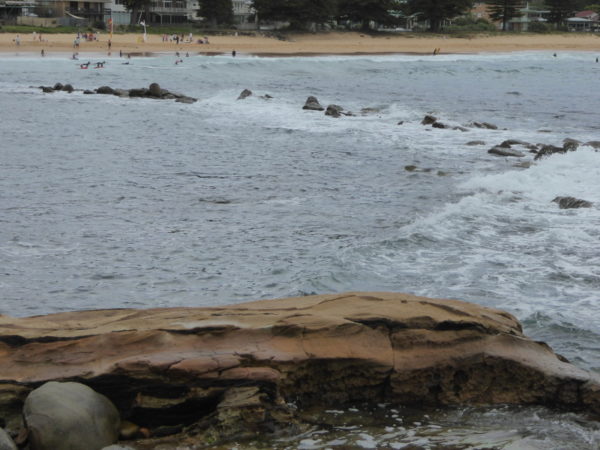 Avoca is an Irish name meaning 'great estuary'.
My experience in the pool
Avoca Beach rock pool is really more of a wading pool than a swimming pool, to be honest. Even at high tide, the water barely gets above my thigh level even on a big wave, with the depth most of the time hovering around my knees.
On a previous visit – in winter and to visit the fabulous cinema right by the beach here – a lifeguard told me the rock pool here is really more for kids to play safely in the water and they don't get any swimmers in there because it is just too shallow.
The lifeguard by the pool on the December morning I finally got into the water at Avoca Beach told me I could probably swim as the tide was nearing high, but to be careful nearer the ocean end as there were some sharp rocks under the water there.
I plunged in – wearing my rock pool shoes as precaution against those sharp rocks – and joined the cormorant, who had previously had the pool to itself.
Avoca Beach rock pool is a funny place. It really is too shallow to attempt freestyle with my orangutan arms, and the rocks on the floor of the pool make it an unsteady experience to try to wade up and down (though those shoes did help), but once I'd discovered that backstroke worked OK, I did manage a bit of a swim. Mostly, though, it was a question of simply floating around on my back enjoying the cool of the water and feeling the waves gently rocking me up and down as the tide moved in further.
It is so shallow, though, that there were moments when my kicking feet in backstroke struck those stones on the floor of the pool, and once again, I was glad I had my shoes on!
You can see why it isn't overly used, though. Being so shallow makes it pretty useless for serious swimmers, but the stony floor would make it hard for small children to enjoy themselves. Maybe it is best for them at low tide when they can probably fossick around in shallow water and see what they find down there.
It did make me wonder how it was used in earlier years, though, and whether it was ever filled with screaming kids and wading adults. This is a big rock pool, by any standard, but does anyone actually go in there regularly?
If you do, let me know – and how do you make the most of it?
Getting there, getting in, getting changed
There are buses to Avoca Beach from Gosford and other towns on the NSW Central Coast, but it is much easier to get here with your own transport. Lots of parking at the rock pool end of the beach, though I imagine at the height of the summer holidays, it may not be so easy to find a space.
Avoca Beach rock pool is best accessed via the beach itself. There are rocks around the perimeter of the pool, but the water is simply not deep enough to jump in from there. let alone dive in.
Showers right by the pool in front of Avoca Beach SLSC building. But for changing rooms and toilets, you need to head 50m back behind the SLSC to the individual unisex toilets, where there is little space to change and no shower in each cubicle.
Tidal differences
Avoca Beach rock pool is shallow on all tides. The main difference is that on high tide, you will have the gentle flow of waves washing past you and splashing over the rocks that mark the perimeter of the pool. At low tide the pool is totally calm. In a storm, though, I imagine the pool at Avoca Beach is as dangerous as any other along the NSW coast.
History and stories of the pool
It's hard to find much history of the Avoca Beach Rock Pool. One correspondent on my Twitter feed said he had lived in the area for 40 years and rarely seen anyone in the water in the rock pool. Its main purpose, he said, was to create a break for the surfers locally, who benefited greatly from its presence. Thanks for that one @essron.
I did delve back into the Trove press archives and found a clipping from The Gosford Times & Wyong District Advocate of 11 December 1951, which spoke of the need to extend the water and power supply to the Avoca region, so life must have been pretty basic round here in those days. The same article speaks of Avoca Beach Progress Association voting £20 towards the cost of putting a concrete floor into the Avoca Beach Rock Pool and of a Mr N Hunter donating a ton of cement for the work to be done.
To be honest, having experienced the rocky floor of the rock pool in 2016, there must either have been a lot of storms breaking up whatever concrete floor was put in, or they never got around to it in the first place.
If anyone knows, as usual, please get in touch and put me right…
And thanks to Lyn who swam here as a child, for posting her comment below with the excellent link from the Friends of Avoca website, which has the best history of Avoca Beach Rock Pool I have seen.
People I met here
Nobody to swap stories with at Avoca Beach as I was the only human being anywhere near the water in the rock pool. I spent a good deal longer talking to the folk who run the wonderful Avoca Beach cinema – now that is a wonderful place worth visiting in its own right, but that's a story for another website…
What's your story? Any memories of swimming here? Any stories to tell? Or did you just have swimming lessons in days gone by?
Whatever you have to say, however brief, I'd love to hear from you and will add any stories to this section of the site as and when I receive them.  Add your comment or story under 'Leave a Reply' below.
Links to other articles on this pool
I found no other articles or blog posts on the rock pool at Avoca Beach. If anybody sees one and thinks it's worth adding a link here, just get in touch as usual and I'll happily add it in.
 Coffee, tea or milkshake after the swim?
The coffee at the kiosk near to Avoca Beach rock pool is decent enough, as is the coffee at the Avoca Beach cinema. It's nothing to write home about in either case, though.
So my plan is to try next the coffee shop among the shops at the other end of the Avoca Beach road, and add that here if it seems worth going the extra mile for (because it probably is about a 20 minute walk from the rock pool itself, so a long hike for a post swim coffee).