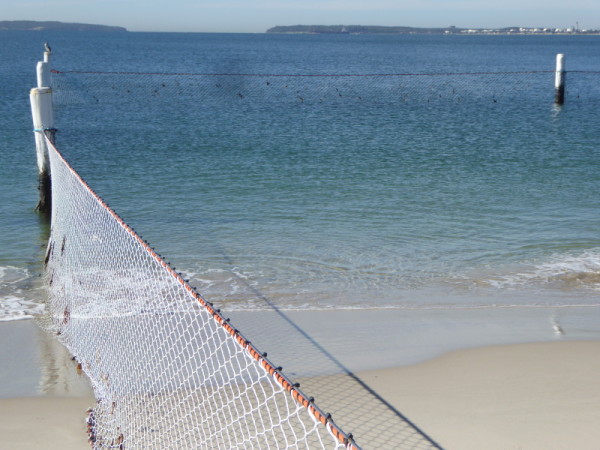 Named after the Californian town, but only in the 1970s officially
My experience in the pool
Monterey Baths came as a bit of a surprise. I didn't even know they were there. Though better studying of another pool blogger who came here a few years ago should have been enough to make me keep an eye open for them (see the links below for their take on the baths).
I had set out on a bright, warm morning in May to swim in the baths closest to the runway at Sydney Airport. But to swim in Kyeemagh Baths, I soon discovered, you really need to be on the right tide and the morning I pitched up, the tide was low and the water only ankle deep for the first 20m or 30m out from the sands.
To add to my problems, there were signs up warning of stingrays, giving me visions of nasty stings on the soles of my feet as I paddled out to the deeper waters nearer the shark net. Now those signs might be permanent and nothing to worry about, but this writer is a typically prudent Pom who has an aversion to any dangerous water creatures, especially when there is nobody else around in sight, let alone in the water.
So I did a reccie of the local coffee shops for a future visit to Kyeemagh, and then hopped on a bus heading down Botany Bay towards Ramsgate, which was, according to my old Sydney street directory, the next swimming enclosure down Botany Bay (after Brighton-le-Sands).
Just a few hundred metres south of Brighton, I spotted the swimming enclosure I now know makes up Monterey Baths. I have no idea why it is not even marked on my street directory, which has (virtually) every other swimming spot in Sydney signposted with a little diagram of someone doing freestyle.
I hopped off the bus and dashed down to the sand, pleased to see someone just emerging from the water. A quick check with him on water temperature and absence of water nasties, and in I plunged.
Monterey Baths is only a small enclosure in comparison with its neighbours Brighton or Ramsgate. It certainly isn't 150m long, but I did a few laps parallel to the beach between the two sides of the shark net, and I reckoned it must be over 50m, so a decent spot for a nice workout.
It's a pretty no-frills sort of pool, mind you. There's no infrastructure except for the shark net. There is a shower point on the promenade, but no building in which to change afterwards. There is not even a signpost confirming that this swimming area is indeed known as Monterey Baths (so do correct me if I'm wrong). And worst of all, there is nowhere nearby for a good post swim coffee either (it's back to Brighton or Ramsgate for anything decent).
The water was a good depth, though, and pretty clear on my visit, with lots of fish swimming around me as I did my lengths along the beach.
It is another Botany Bay pool that has views out to the headlands through which those early settlers must have brought their ships. It's a lovely view, though I imagine this beach would therefore have been on the sharp end of some pretty severe surf during the deep east coast low we experienced in June (2016).
There was barely a ripple in the water for my calm swim, but this can probably be a wild place on a stormy day.
Getting there, getting in, getting changed
It's about a 15 minute walk from Brighton-le-Sands to Monterey Baths. I caught the pretty infrequent bus that heads towards Sans Souci from the CBD along Botany Bay and that drops you off right by the baths.
There's only one way into the water at Monterey Baths. It's a short walk over the sands into the water, which starts shallow but is deep enough to do freestyle fairly soon.
There's a shower on the promenade just to the south of the baths, but no other building to change in. There are toilets but these have no changing room bench or space for clothes so it's a bit of a tight squeeze and can be a little dirty, too.
Tidal differences
I don't think tides make a big difference to the swim at Monterey Baths. The water is a good depth all the time, unlike some of the other swimming enclosures on Botany Bay.
History and stories of the pool
I found no references to Monterey Baths and their history anywhere on the net. If anybody has stories to tell, do leave a comment or email me.
Part of the problem with doing my usual searches (via the excellent Trove press clippings website) is that the are was not officially called Monterey until the 1970s and so this swimming enclosure may well have had another name before that.
It's also hard to do an effective search when the keyword you want to use is a very popular town in California, but also the name of a steam ship in the 1930s and the name for a popular local café for an extended period before and after the war.
People I met here included…
I only crossed paths with one other swimmer, who was just coming out of the water and rushing off to get changed when I arrived. Other than that, this was a totally solitary swim…
What's your story? Any memories of swimming here? Any stories to tell? Or did you just have swimming lessons in days gone by?
Whatever you have to say, however brief, I'd love to hear from you and will add any stories to this section of the site as and when I receive them.  Add your comment or story under 'Leave a Reply' below.
Links to other articles on this pool
The Lazy Swimmer blogger came here in 2009, but didn't write about it – scroll down this link to find his photo to mark the spot, though.
Coffee, tea or milkshake after the swim?
There are no decent coffee options near Monterey Baths. Nearest good coffee is in Brighton-le-Sands or Ramsgate.