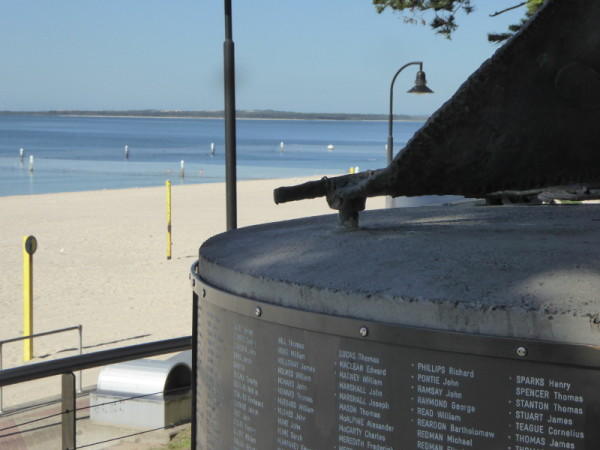 Named after the UK Brighton beach maybe, but why le Sands? Anyone know?
My experience in the pool
They call Brighton-Le-Sands 'Little Greece'. I didn't know this when I arrived for my swim at Brighton Baths but virtually all the old guys lounging around the beach seemed to be speaking a language that sounded a lot like Greek (not that I'm a Greek speaker myself), but since I'd passed Greek restaurants, Greek lawyers, Greek travel places, I kind of guessed.
The Brighton Baths Athletic Club also appears to be a retired Greek stronghold, at least judging by the cluster of guys sitting outside the clubhouse by the beach giving me directions to the nearest public toilets and changing rooms.
I'd driven past the swimming enclosure at Brighton-le-Sands countless times on my way to or from the airport, and actually never seen anyone in the water here. But when I arrived on a warm April morning around 9am, there were half a dozen people wading or slowly free styling along the length of this shark-proofed swimming enclosure in Botany Bay.
I'm kind of glad there were others there. I'm naturally suspicious of pools I don't know when nobody is in the water. But the nets here look pretty solid and the water looked beautifully clear.
There was the first hint of slightly cooler water temperature after a few cooler nights, but once in the water, it actually felt perfect for a good swim.
Someone had written that the swimming enclosure is about 200m long. Judging by how many strokes it took me to swim from one end of the shark net to the other, I'd guess more like 150m or maybe even a bit less. Maybe the 200m enclosure dates back to before the 1960s when the 'permanent' boardwalk and pontoons were swept away in a massive storm (see photos in one of the links below).
You enter the water via a soft sandy beach and the water gets deeper fairly gradually. There were lots of fish swimming around the net at the northern end of the enclosure, but none down at the south.
I love the way you can watch the planes coming in to land at Sydney Airport, just across the bay, and if you pause for breath and look out to sea beyond the shark net, you look straight out to the ocean beyond the two headlands that protect Botany Bay. Lots of history here, and if you are interested in all things Captain Cook and First Fleet, there is an interesting sculpture of ship's sails along with info on the names of the people on board those first ships and their route over here from Portsmouth in England.
The way the waters open out via those headlands to the ocean beyond also shows how exposed Brighton Baths must be when there's a strong swell off the east, and how the whole infrastructure could have been demolished if there was a freak storm back in 1966.
It's kind of a shame there's no 50 year commemoration of the passing of those real baths at Brighton, but what I can say is that on a day of light breezes, today's shark-netted Brighton Le Sands Baths have barely any waves and it's hard to imagine how rough it must have been on that day the place fell apart in the storm.
Anyone out there remember Brighton Baths before 1966?
Getting there, getting in, getting changed
I caught a bus from Rockdale train station, which dropped me off on Bay Street, right across the road from Botany Bay and Brighton Baths. There is a direct bus from Sydney CBD, but it's pretty infrequent. Lots of parking right by the main road along Botany Bay to and from Sydney Airport.
There's only one way into the water at Brighton Baths. It's a short walk over the sands into the water, which starts shallow and only slowly gets deeper.
Don't try to use the Brighton Baths Athletic Club building – that's members only and they'll only redirect you to the toilets at the other (northern) end of the building. There are, though, public showers outside by the Athletics Club entrance – you'll just need to go and change at the other end of the building!
Tidal differences
I don't think tides make a big difference to the swim at Brighton Baths. The water is a good depth all the time, unlike some of the other swimming enclosures on Botany Bay.
History and stories of the pool
Brighton Baths used to be a lot bigger than they are now and had more of a formal structure, with a boardwalk all around the enclosure, but this was washed away in a big storm in 1966 and never rebuilt.
I don't have any stories of the baths, though I read that when the Brighton Races took place nearby (possibly the shortest lived racecourse in horse racing history – opened in 1895 and closed down by 1911), punters – and jockeys – would come for a cooling dip after a day at the races by swimming in Brighton Baths. So, although the structure that was destroyed in a storm in the 1960s was only put up some 30 years earlier, there has been swimming in this spot for well over 100 years now.
There's a bit of history of the area on this website about Sydney.
People I met here included…
I didn't really get into conversation with anybody here, even though there was a handful of older Greek-sounding and -looking guys in and around the water. None of them seemed interested in striking up a conversation with an obvious outsider, so I didn't get beyond my first attempt and let it be for this pool…
What's your story? Any memories of swimming here? Any stories to tell? Or did you just have swimming lessons in days gone by?
Whatever you have to say, however brief, I'd love to hear from you and will add any stories to this section of the site as and when I receive them.  Add your comment or story under 'Leave a Reply' below.
Links to other articles on this pool
Some lovely old photos on swimming blogger Sally's post about Brighton-le-Sands
I enjoyed this post on a writing blog from 2015. If the link to this doesn't work, try a search for Ian Wells, Brighton-le-Sands – it's a lovely piece with memories going back several decades.
The Lazy Swimmer blogger came here in 2009 as part of his tour of Sydney rock pools and baths.
And there's a bit of background on the Brighton Baths Athletic Club on their own website – just don't try to enter their premises if you aren't a member…
Coffee, tea or milkshake after the swim?
There are several options for your post swim coffee on Bay Street, which is the main street in Brighton-le-Sands Beach area, heading back towards Rockdale. I found two serving up decent coffee
Bay Espresso – 295 Bay Street, Brighton-le-Sands, NSW 2216
Open Daily: 5.30am – 5pm Monday – Friday; 6am – 3pm Saturday;     7am -1pm Sunday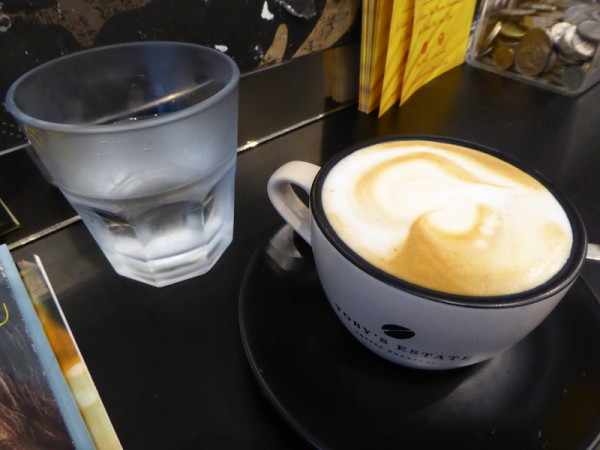 Probably the best coffee in Brighton-le-Sands, this little coffee shop is tight for space, but they have a nice range or roasts, blends and a single origin from Toby's Estate.
If you like sitting out on a terrace with views of the sea beyond, then go to:
Mootch & Me – 313 Bay Street, Brighton-le-Sands, NSW 2216
Open Daily 6am – 6pm