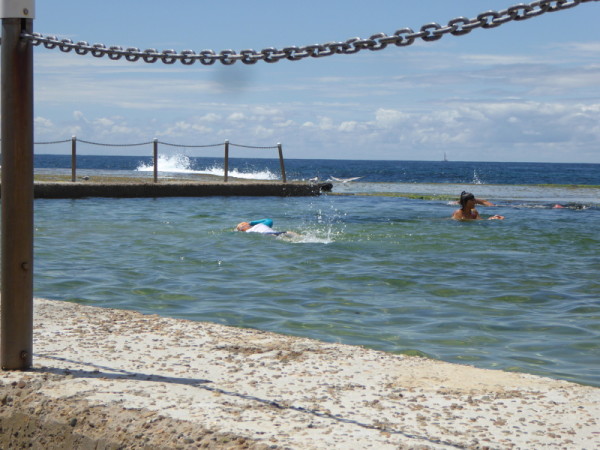 Some say Mona Vale is named after a place in Scotland, but where is Mona Vale in Scotland?
My experience in the pool
There were half a dozen lap swimmers already in the water when I turned up at Mona Vale at about 11am on a sunny February morning. And lots of grandparents were in the toddlers' paddling pool next door – with their toddlers, I should add…
It was a warm morning without the searing heat of some days recently and no sign of thunderstorms for the first time in a while. The rock pool at Mona Vale is out on the rock platform beyond a sandy promontory that separates Mona Vale beach from the beautiful, calm Bongin Bongin Bay. According to one of the photographers I link to below, low tide is the boring time to visit as there is little wave drama, but for swimming, it's the right time to focus on the laps rather than the waves.
Half an hour after low tide there is easy access to Mona Vale rock pool, though I did wonder where people leave their things when it's high tide (especially as I think the waves come racing right round the pool).
I left my bag on the warm sand and took my place among the lap swimmers. This is no Olympic squad training spot, though. The pool is only 30m long and it is so shallow in places that my arms scraped the bottom on a few strokes (surely grounds for immediate disqualification in an Olympic race – though I imagine Olympic pools also have to be a certain depth…)
One gent kindly suggested I go for the 'lane' along the wall on the ocean side as the depth is better, and indeed it stopped my hand-scraping, but this pool is never so deep that the water gets above my chest when standing.
A couple of regulars were talking of the seaweed and algae that had built up, but it was a minor issue, and really only an incentive not to swallow gallons of water in a mistimed breath. The pool was due for its weekly next day, though, so I can imagine it's a pretty clear pool most of the time.
This is a lovely spot for a swim, though the strong sun put me off spending too long in the water, which was also even a bit too warm for my liking. I did a dozen or so laps, had a couple of chats and headed off in search of coffee…
Getting there, getting in, getting changed
If on public transport, take one of the buses going further up the coast (L88 or L90). I made the mistake of catching the L85 to Mona Vale and spent the last half hour of the trip wandering around the back streets of Mona Vale. Lots of parking near the beach and pool, but it is by ticket.
Walk over the sand to get to the rock pool at Mona Vale (I need to return at high tide to see how easy access is then). Once at the pool, nice wide and shallow steps down to the water, which is only waist high on me in that corner.
Changing rooms available back on the headland, with a freshwater shower to rinse off just at the top of the steps back up from the beach. It's about 100m from the headland to the rock pool.
Tidal differences
The pool is accessible at high and low tide. I think at high tide the waves come rolling in all round the pool, though, so I'm not sure where regulars leave their things. Up on the headland steps there is a sign lying on its side saying 'No Access, Pool Closed', so I guess in some bad sea conditions, the local authorities formally close the pool.
Other practical points
30m pool and relatively shallow, with better depth towards the southern side.
There is also a popular toddlers' pool next to the main rock pool.
History and stories of the pool
I haven't really found any historical notes or stories about the rock pool in Mona Vale. It was here already in 1930, though, because the National Advocate newspaper reported in December of that year that a young woman went missing off Mona Vale beach while her Mum swam safely in the rock pool!
If anyone has stories or links to any history of Mona Vale Rock Pool, do get in touch.
They don't swim in the pool itself (unless it's really rough or the ocean is full of bluebottles, they say on their website), but the Bongin Bongin Dawn Busters have a dawn swim every morning of the year at around 6.30am, apparently.
People I met here included
One lady doing laps who lives over in Turramurra but comes down here to swim because this is her favourite pool. They're a friendly lot here, she said. And she was right!
Bill, a Scottish gent, who came out to Australia with his parents in the 1960s and is now a regular swimmer at Mona Vale rock pool. Lucky man lives nearby.
What's your story? Any memories of swimming here? Any stories to tell? Or did you just have swimming lessons in days gone by?
Whatever you have to say, however brief, I'd love to hear from you and will add any stories to this section of the site as and when I receive them.  Add your comment or story under 'Leave a Reply' below.
Links to other articles on this pool
Blogger Ellie Boo came to Mona Vale Rock Pool in 2014
Seana of Sydney Kids website came in 2013, though her visit is more to do with Mona Vale Beach than the rock pool itself.
Swimming blogger Sally came in 2013 and took some lovely shots of the rock pool.
This website looks at the pool from a photographer's perspective, with some interesting observations on tides, from their 2008 visit.
Swimming blogger Therese came to Mona Vale in the winter of 2012, but didn't swim.
Coffee, tea or milkshake after the swim?
Just 50m from the changing rooms at Mona Vale and in part of the SLSC building is a rather good place for coffee within sight of the rock pool.
Bronze Kiosk – 1 Surfview Road (in part of the SLSC building), Mona Vale Beach
Open: Daily 7am – 3pm
Bronze Kiosk reviewed by Fancy a Cuppa website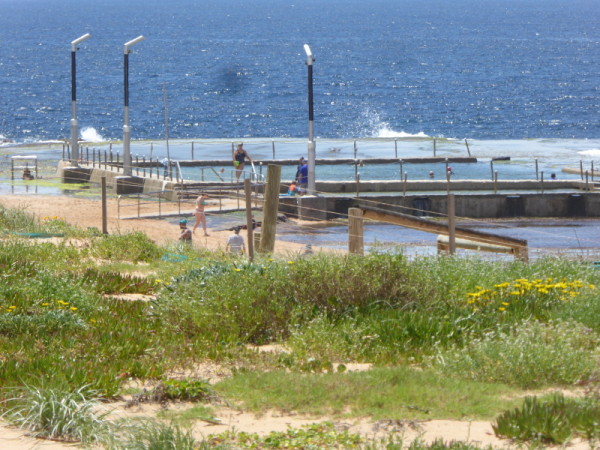 Bronze Kiosk is lovely. They serve up the rather good Golden Cobra coffee (roasted by an in-law of the kiosk owner) or the excellent Teacraft loose leaf teas if tea is your tipple. The White choc and berry muffins were fresh out of the oven having been baked on-site that morning. Delicious. And best of all here, you can sit and look over to the rock pool so it's the perfect spot for that post swim coffee.
Worth going the extra half mile
It's a 10 minute walk from Mona Vale beach and rock pool to one of the coffee highlights of Sydney's northern beaches.
Coffee Brothers – 54 Darley Street West, Mona Vale
Open: Daily (5am – 3pm weekdays; later opening & earlier closing at weekends)
Coffee Brothers reviewed by Fancy a Cuppa website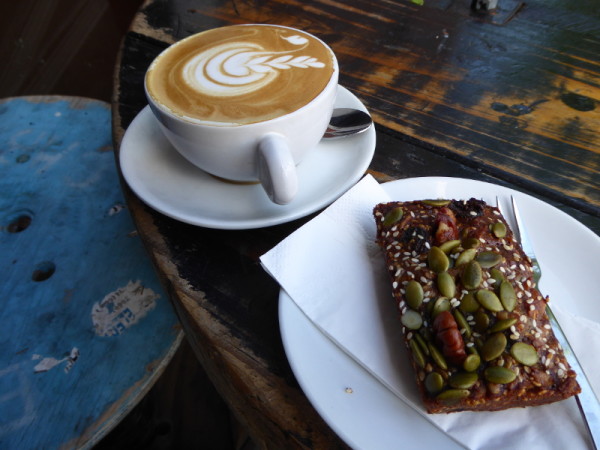 Coffee Brothers is the kind of place all coffee lovers should visit before they die. These guys are super friendly, but also really know their stuff when it comes to coffee. They'll be delighted to discuss with you how you like your coffee to taste and what kind of notes you look for, before you choose your brew. No surprise that they've got a list of awards and placings in various coffee competitions over the years. Great ethos, too, looking to create something special for coffee lovers on Sydney northern beaches. Kind of place that makes me want to move house…