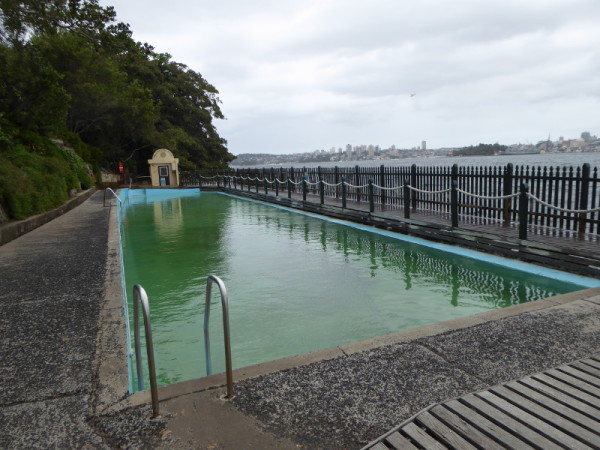 Named after Hugh MacCallum whose local work helped establish the pool in its current form in the 1930s
My experience in the pool
It was a damp, grey morning in February when I turned up at MacCallum Pool. At first there was nobody else there so I had the pool to myself, though I had taken the precaution of checking what time the coffee shop back at the wharf closed so I knew I only had half an hour or so in the water, if I was to get that cherished post swim coffee.
This is a little gem of a pool right on Sydney Harbour. There are wonderful views across to the Opera House and the Harbour Bridge, and you will see the odd ocean liner trundle past, with ferries plying back and forth as you do your laps. There is a small gap between the edge of the pool and the boardwalk, so I spent much of my time trying to see if I could actually spot the Opera House as I swam. But my breath intakes are just too quick and I never could quite work it out, but I THINK there are Opera House views as you swim here…
Apparently it's a 33m pool, though it felt a bit shorter to me; it's also quite narrow. There are no formal lanes but I'd guess if you had more than three swimmers doing laps, you'd be feeling a bit cramped in here. It's a lovely spot for a swim on a cloudy day like this, but I can imagine it would feel busy quickly on a fine day in summer.
I loved the rather tired, old feel of the place, though: the cracks in the concrete MacCallum Pool sign at one end; the flaking paintwork on the green wooden fence around it; the boardwalk that doesn't quite protect the pool from the Harbour (who cares, since it's Harbour water you're swimming in anyway?); even the single shower in one corner by the Harbour fence.
It felt like a faded hotel pool or a private residents' pool, which in a sense it once was, since it was built for the residents of the area.
There's a slightly odd seat-like level at both ends of the pool which makes it a bit odd to push off for your laps (and actually might explain why it felt slightly shorter than 33m long).
I loved MacCallum Pool, though, and so envy the people who are lucky enough to live nearby. Anyone got a couple of million dollars to spare?
Getting there, getting in, getting changed
There is a bus from Neutral Bay and Military Road (No 225), but it's much easier to catch the ferry from Circular Quay – just a one-stop 10 minute ride past the Opera House and Harbour Bridge.
There are steps down into the pool or those vertical metallic ladders half way up and at the deep end.
No changing facilities, so it's towel techniques only and you can wave at the ferry passengers going by with their cameras clicking. There is a shower at the shallow end on the harbour side of the MacCallum Pool sign, but again you'll be smiling at those gawping ferry passengers if you are feeling friendly. Nearest toilets are back on the higher level of Cremorne Reserve just above the ferry wharf at Cremorne Point. going by with their cameras clicking. There is a shower at the shallow
Other practical points
Free entry. Don't be put off by the closed gate with a bolt on it. The closing mechanism has been changed to one of those modern child-proof ones where you have to lift a rubber locking device and you're in.
Open all year round, but closed for cleaning once a week – the schedule is on the North Sydney Council website, but it is subject to weather and if it's inaccurate the only option is to look at the chalked blackboard on the pool gate!
Beware of the occasional wave breaking over the wooden boardwalk on the harbour side of the pool – ie don't leave your possessions there while you're in the water…
History and stories of the pool
This was originally a rock pool built into the side of Sydney Harbour in the 1920s by local lad Fred Lane, who had competed in the 1900 Paris Olympics. Beat that for historical Olympic connections!
It was made into the pool it is today by local resident Hugh MacCallum, after whom the pool was renamed in 1933. He raised money locally to get the pool built, but there was initially a 5 shilling entrance fee to help pay for the pool upkeep afterwards. I'm not sure when that fee was taken away, but it's certainly free now.
People I met in the pool
I was alone in the pool until Pauline arrived, and I graciously gave way to her so she could have the water to herself while I went off for my coffee! She's a regular here and a great enthusiast for the place, having swum here for many years. She loves the fact that the health & safety obsessives have not taken over here, so you can swim here whenever you like, including through the night and through the year. Too cold for her in winter, she says, but she has been known to come down for a night-time dip with friends. "Enjoy Cremorne & Mosman," were her friendly last words.
What's your story? Any memories of swimming here? Any stories to tell? Or did you just have swimming lessons in days gone by?
Whatever you have to say, however brief, I'd love to hear from you and will add any stories to this section of the site as and when I receive them.  Add your comment or story under 'Leave a Reply' below.
Links to other articles on this pool
This is clearly a favourite pool for other bloggers. I don't think I've had so many links for one pool before, as I found for MacCallum Pool.
Hello Sydney Kids blogger Seana was here and judging by her photos found the pool a shade bluer than I did!
The Mrs G Spot swimming blogger came too, but only got in the water on her third attempt…
The I'd Swim That blogger came in 2013 and called it a hidden gem.
It's a few years since swimming blogger Sally came back in 2007.
This blog focuses on the art & design of MacCallum Pool.
This travel & leisure blog included MacCallum Pool as one its top ten in Sydney.
And don't miss this historical blog with a press clipping from the day MacCallum reopened in 1933.
Coffee, tea or milkshake after the swim?
There's nothing by the poolside so walk back to Cremorne Point Wharf, where you'll find
Sophie's Place – Cremorne Point Wharf, NSW 2090
Open Daily 6.30am – 11.30am (so closed in the afternoons)
Sophie's Place reviewed by the Fancy a Cuppa website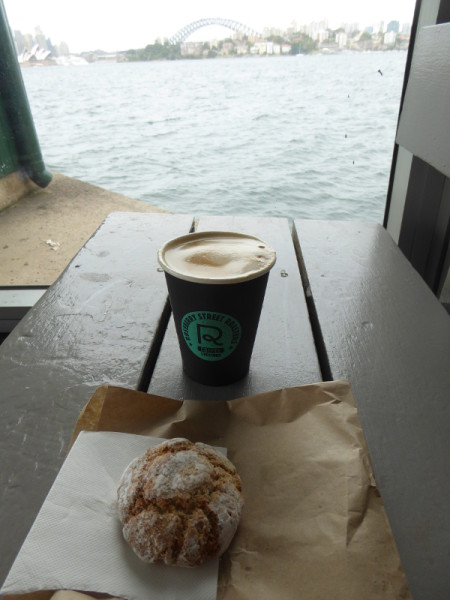 Barista Bernie has been serving up coffee to commuters and others at Cremorne Point Ferry Wharf for over nine years now. This place is understandably popular with locals and it's that support which has helped the coffee shop stay open in spite of development pressures around the venue. The coffee is a good quality (Roseberry Street Roasters – new to me, but I enjoyed my flat white); it's all take away cups, but sit on a bench and take in the Sydney Harbour views, with a home-baked nibble and I defy you not to feel happy at your situation, especially after a good swim in MacCallum Pool.