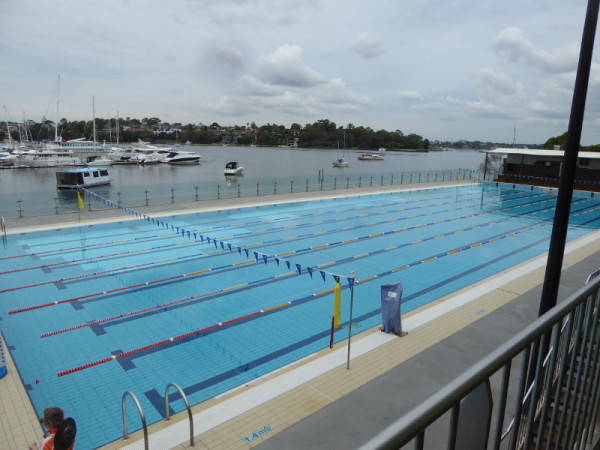 Cabarita is an Aboriginal word meaning by the water
My experience in the pool
What a great spot for a swim. This is a saltwater pool right by the harbour, though the salt levels didn't seem high to me, so they've achieved the best of both worlds with easier buoyancy but avoiding the nasty taste when a mouthful (or noseful) gets in as it does far too often in a real ocean pool. I also love those pools where the water laps over the sides – it does make for a much easier swim with far fewer waves created.
Pop your head up at the end of your lap and you can almost imagine you are swimming in a marina, with expensive-looking yachts moored just beyond the pool walls in the wonderfully named Hen & Chicken Bay (though the pool itself is run by the local Canada Bay Council).
It was a warm, humid morning for my swim, but I picked my day well because the kids had just gone back to school so it was relatively quiet. There were four lanes in operation and the other half of the pool was free for leisure swimming, but with each of the lanes being used when I arrived at the end of the morning, I had to break up the party and join one of the swimmers in their lane. I got lucky, though, and before long my lane-sharer had finished and I could put in a few laps of backstroke to vary it a bit.
When the sun came out it was pretty blinding, though, and with lunchtime approaching I didn't want to be caught in the classic position of the Pom and the midday sun, so I completed my 20 laps pretty quickly and made my escape. Actually the hardest thing about Cabarita Pool at midday in mid-summer is the walk up the stairs from the pool to the changing rooms:- the wooden staircase was burningly hot; as bad as the concrete by one of the ocean pools recently or the sand after the sun has been on it for a day.
I do like Cabarita, though. There's a small stand at one end, where some swimmers were sitting reading or staring out at the boats on the water. And the park just by the pool marks the spot where on 1 January 1901 the Commonwealth of Australia was formed. In the week that the country had just 'celebrated' Australia Day, it felt rather appropriate that I should pass this spot and be reminded of the date some of the Aboriginal community would prefer us to be celebrating.
Hats off to Canada Bay Council for keeping Cabarita Swimming Centre so wonderful but they might want to send someone to clean up the commemorative plaque for that Commonwealth moment in Centennial Park. The local birds seem to like sitting there rather too much…
Getting there, getting in, getting changed
Best way to get to Cabarita is by ferry – the line from Parramatta to Circular Quay runs half hourly. It's then a five minute walk through the car park and parkland to reach the pool. I walked through the soulless Breakfast Point development towards Mortlake for my post swim coffee and then picked up a bus back to the CBD, though it was a long, slow route taking about an hour.
Vertical steps only into the Olympic Pool though there is a mobility chair by the side of the pool which offers easy access for swimmers with disability.
Changing rooms are quite small for such a large Olympic swimming complex and there are only four showers in the men's side. But they are at least nice, warm showers.
Other practical points
$6.20 entry in 2016
50m Olympic Pool plus a sizeable wading pool at 0.5m deep next to it.
Main pool is 1.4m at both ends with a deeper section in the middle where it goes to 1.8m.
Closed for winter, but open longer than most seasonal pools so reopens earlier in September each year. Not sure of date of closure for winter (if someone knows, please let me know)
History and stories of the pool
The pools here were originally known as the Concord-Cabarita Coronation Baths. I think there were baths on the site before the current structure was put in place but my search for archive material only found references to 'updating' the baths in 1937. Certainly when the pool that is in place now was first opened in November of that year, there were reports of 3000 people turning up for the opening day.
By the 1950s State swimming championships were being held at Cabarita Baths and local girl Lorraine Crapp broke records here. My favourite story, though, is a press clipping from 1954 which spoke of locals in the Sydney western suburbs digging deep to help Lorraine Crapp compete in the 'Empire Games' in Townsville…Thank goodness the Games were not somewhere further afield like London or Edmonton that year. What great community spirit, though.
People I met in the pool
I had a long chat with an expat Hungarian who sounded more Okker Aussie than European, but we shared stories of our visits to the fantastic open air swimming pools in Budapest, though he obviously knows far more of them than me.
What's your story? Any memories of swimming here? Any stories to tell? Or did you just have swimming lessons in days gone by?
Whatever you have to say, however brief, I'd love to hear from you and will add any stories to this section of the site as and when I receive them.  Add your comment or story under 'Leave a Reply' below.
Links to other articles on this pool
This Flickr page has a great archive picture of swimmers at the pool  the year it reopened in 1937 – 3,000 of them!
This Canada Bay blog also has references going back some decades to the 1950s.
Swimming blogger Sally came here back in 2009, though she didn't actually get in the water…
This blog has a brief intro to several inner west pools, including Cabarita.
And The Lazy Swimmer blogger included Cabarita Pool in his 2009 swimathon.
Coffee, tea or milkshake after the swim?
There is nowhere for coffee near Cabarita Pool, but 15 minutes walk through the rather soulless Breakfast Point development gets you to the excellent…
Wolfpack Coffee Roasters – Bertram Street, Mortlake, NSW 2137
Open Monday – Friday 6.30am – 2pm
Saturday – Sunday 8am – 12noon
Wolfpack Coffee Roasters reviewed by the Fancy a Cuppa website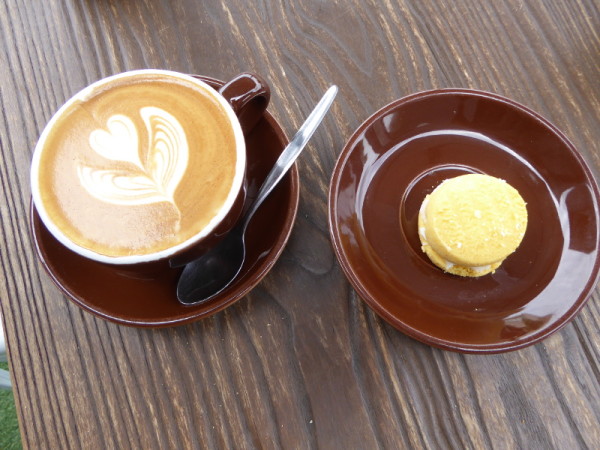 What a treat to find this place for my post swim coffee at Cabarita. They roast their own coffee on-site and it's small batch roaster, with a couple of roasting sessions a week, so you're likely to be offered something different every time you go in. I sampled an excellent fruity single origin from Burundi and then followed up with a deliciously smooth 'Alpha' blend. They do the consistently good Chamellia loose leaf teas too so tea lovers don't miss out either. By the time I got there at 1.30pm, the stock of sweet things to nibble had dropped a bit; it felt too hot for a big muffin so I went for the more appropriate Melting Moment to accompany my coffee. Wow, wiste Melting Moment to aweet things to nibble had dropped a bit; it felt too hot for a big muffin so Ih I lived near here…