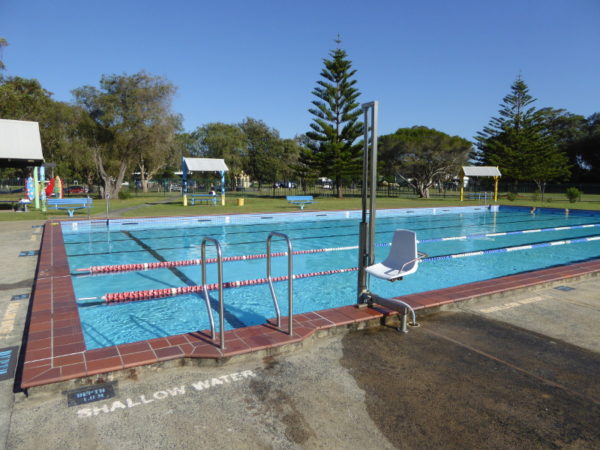 My experience in the pool
Shoalhaven Heads Village Pool is probably the nearest outdoor swimming pool to where I live (if you don't include ocean pools in that definition). I'm amazed that I didn't know it existed until someone who lives in nearby Nowra suggested I have a swim there.
It's a lovely spot, within earshot of the surf at Shoalhaven Heads, with beautiful gum trees and a tall pine tree in the grounds just to the side of the pool, and a rather nice set of murals and other artwork around the buildings and other structures on the premises. Oh, and I should also mention the Bum Tree, since that is a bit of a tourist attraction round these parts, but more on that later…
I got to Shoalhaven Heads on a bright sunny morning in late February, and it was perfect. There were two ladies wading up and down this 25m pool, and one other person doing laps in one of the two marked off lanes. By the time I left, it was getting a bit busier, and the next morning was a school carnival, so basically I got lucky, and had a beautiful relaxing lap session in my own lane for 20 minutes or so.
Shoalhaven Heads Pool is seasonal and its opening hours are something you need to get used to, because it closes for lunch (so clearly not targeting the  – pretty non-existent here – office worker market, then). It also closes for 'inclement' weather. And I remember the day I first drove past the pool, it was slightly overcast, but not what I would call 'inclement' (but then I am a Pom after all), and it was closed.
The lifeguard told me that by 10am, if nobody is in the pool and the weather isn't looking great, they will tend to close up shop early, so I may have been on one of those days.
No risk of that on this glorious day, and the pool was a delight to be in. The water was colder than the Georges River at Como, where I swam the previous day, though. And the gent who arrived just as I finished, informed me that that was because the whole place is built on sand, and for some reason, that chills the water in the pool itself (it also meant, he told me, that if they want to build a bunker on the local golf course, all they have to do is dig a hole).
This place must be heaving in summer holidays, but for the rest of the year it returns to being just a village pool. And what a great resource it is. There are a few villages in England with pools like this, but they can be counted on two hands for sure. This is almost typical of an Australian village pool.
But Shoalhaven Heads Pool also has the Bum Tree, standing by the entrance gate.
This is the stump of an enormous gum tree that used to stand on the road heading up towards Gerroa, but was chopped down when the road was widened. The locals loved the tree and so its remains were brought to Shoalhaven Heads. And why is it known as the Bum Tree? Well, you'll just have to come to the pool to take a look for yourself and you'll soon work it out…
Getting there, getting in, getting changed
There is a couple of buses a day from Nowra to Shoalhaven Heads and back, but this is not the easiest pool to get to on public transport. It's much easier to get here by car and the Village Pool is right at the end of the village, close enough to the beach to hear the waves crashing.
There is disabled access to Shoalhaven Heads Pool via the chair that sits by the pool.
Nice changing rooms with warm showers and plenty of space.
Other practicalities
Water was a bit cooler than the ocean when I was there in February. Whether it's due to the sandy base, as the local gent reckons, I'm not sure. But after much swimming in ocean water this summer, it did feel a bit of a shock.
2017 price to have a swim is $3.80
25m pool with a couple of lanes marked off for laps.
1m to 1.4m depth but felt quite a bit deeper actually and no problem with arms scraping the bottom of the pool.
Check the opening times. The season finishes at the end of March and the pool only reopens in the first week of November. Also don't bother going at lunchtime because the pool closes for a few hours in the middle of the day.
Oh, and don't go in 'inclement' weather – so worth a call to check if you aren't sure what 'inclement' might mean…
History and stories of the pool
I found no stories or history of Shoalhaven Heads Pool. If anyone can steer me in the right direction, please let me know in the comments below.
What's your story? Any memories of swimming here? Any stories to tell? Or did you just have swimming lessons in days gone by?
Whatever you have to say, however brief, I'd love to hear from you and will add any stories to this section of the site as and when I receive them.  Add your comment or story under 'Leave a Reply' below.
Links to other articles on this pool
I am surely not the first swimming blogger to visit Shoalhaven Heads Pool and write about it. But so far I have not found a single other article online about this lovely little village pool. Help me out if you have seen something else online?
All I can provide is a link to the pool website for contact details and exact opening hours etc.
Coffee, tea or milkshake after the swim?
There is a bit of a sad story to trying to get good coffee in Shoalhaven Heads.
When I did my reccie on the day the pool was closed due to 'inclement' weather, I tried the café up the road from the pool, which was listed in a search in Google for 'coffee in Shoalhaven Heads'. It was so underwhelming that I wouldn't even bother mentioning it here.
I was starting to drive out of town back towards Nowra (where I know I can get good coffee) when I spotted a coffee shop by the side of the road. I had a pretty good coffee and got chatting with another customer about the village and life round here, only to find out that this coffee (not in any Google search for 'coffee in Shoalhaven Heads') would be closing in the first week of March. So now, as i post this review, it is no longer open, and I have no recommendation for a post swim coffee in Shoalhaven Heads. Sad!