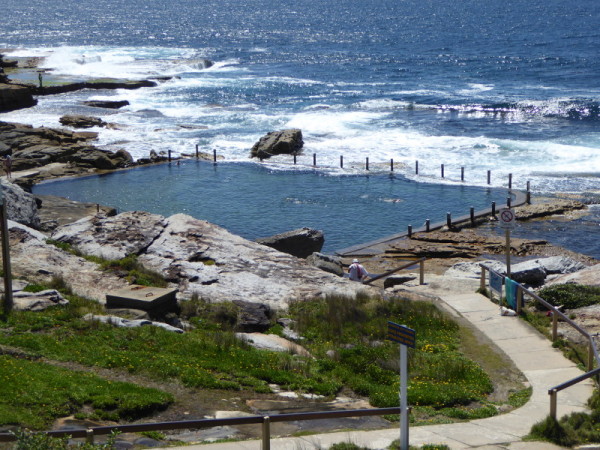 Aboriginal word meaning place of thunder
My experience in the pool
When I first came to Maroubra Beach a few years ago to kill some time before a flight out of Sydney, I had no idea there was this gem of a rock pool just around the headland to the north of the beach. What a miss. This is surely one of the most delightful ocean pools in NSW.
You see it first as you approach past the big Mahon Pool sign on the grassy expanse above the ocean. Down a snaking path to the rock platform and there is the pool. If you're going for the first time, try it on a day with bright sun and clear blue skies for the best effect, with the deep blue of the water and the glittering sparkle of the sun, it almost made me sprint down the path to get into the water.
I thought I'd check out the changing rooms first, though, and that meant running the gauntlet of the Maroubra Seals, sitting on the benches taking in the rays after their morning dip. Don't worry, though, they're a friendly bunch and I was actually a bit disappointed that they'd already gone when I returned hoping for a chat after my own swim.
There are photos on some pages of Mahon Pool in a storm and it looks quite dramatic, as it is open to the south-westerly swell, which can make swimming here quite a challenge.
But for my swim on a warm spring morning in mid-November, conditions were perfect.
The water must have been 20C or so, the incoming tide was washing waves gently over the side making for that frothy, bubbly water that can be a little unnerving at first, and the pool is a nice length for doing laps or lounging around.
I was wearing my pool shoes, partly following the advice of those Maroubra Seals, who told me to watch out for the black spiky sea urchins and not to put my feet on the floor of the pool in case. The sign saying 'hazardous marine creatures have been found in this area' kind of emphasised that…
I didn't see anything hazardous, though, as I swam around. It's a bit mossy on the pool walls and there are a few shells there, so I didn't want a repeat of my gash from Pearl Beach the other day, but other than that, Mahon Pool is my idea of heaven.
Getting there, getting in, getting changed
Lots of buses from Central Station, Circular Quay and Bondi Junction pass right by the pool. It is a ten minute walk back to the centre of Maroubra Beach itself.
There are steps into the pool on the cliff side. They're old stone steps and they get a bit slippery and green once they get below water level, so beware.
There's one shower on the rock platform by the pool and a set of showers in the changing rooms up at the top of the cliff path.
Tidal differences
I was there on an incoming tide but still a couple of hours off high water and the waves were already gently lapping over the pool wall. I imagine at high tide this pool is virtually submerged and in a storm I have seen photos of it looking more like a soapy washing machine, so beware then!
Other practical points
Pool must be about 25m – 30m, but it is an irregular shape, so no lane markings or anything as formal as that. Mahon Pool has the real feel of a rock pool, especially with its sandy and rocky floor and its very uneven pool walls.
History and stories of the pool
When the pool was built in the 1930s, the wreckage of the Hereward was still there off the beach at Maroubra from the 1898 shipwreck. The last bits of ship were removed in the 1960s as it was becoming a hazard to surfers.
The Maroubra Seals Swimming Club has been going since 1958 (members seem to wear speedos with SEALS printed on their bum even today!) It joined forces with the local Surf Life Savers in the 1960s to create the big social and community club that now has the enormous premises down at Maroubra Beach itself.
Apparently in the 1990s, a Peter Doyle novel featured a dead body floating in this pool.
I'd love to hear more stories of the 'hazardous marine creatures' the sign warns about. If anybody has any memories or personal experience, I'd love to hear…
People I met here included
The group of Maroubra Seals I bumped into on the bench by the changing rooms are there most mornings, but sadly they'd gone by the time I came back from my own swim so didn't get a chance to chat, except to find out about those sea urchins. Seemed a friendly bunch, with lots of stories to tell, I'm sure, so I may have to come back here just to fill in this section…
What's your story? Any memories of swimming here? Any stories to tell? Or did you just have swimming lessons in days gone by?
Whatever you have to say, however brief, I'd love to hear from you and will add any stories to this section of the site as and when I receive them.  Add your comment or story under 'Leave a Reply' below.
Links to other articles on this pool
Swimming blogger Therese came in 2013 and again during a storm
Swimming blogger Sally came in 2009
This visitor came in April 2015
Bloggers Frank & Donnis came on a rough day in August 2015 and saw Mahon Pool waters looking like a washing machine
And there's this rather nice post on The Guardian website from 2014.
Coffee, tea or milkshake after the swim?
There's a good spot just above the pool itself…
Pool Café, 94 Marine Parade, Maroubra, NSW
Open 7am – 3pm Daily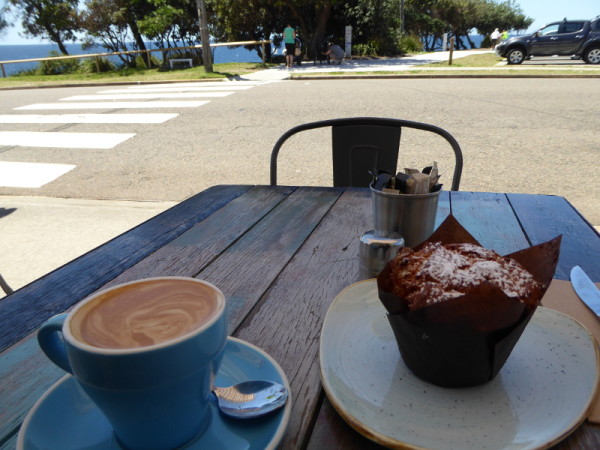 You want a decent coffee or tea after your swim in Mahon Pool, you're well served here at Pool Café (yes, it was once called Poolside Café, but that was under previous management, so ignore any reviews of that one). Coffee is from Campos so a reliable brew and made on a beautiful Marzocco machine that sits on the bar facing you as you enter. Fabulous views out to the ocean (but no pool views, it's too far down under the cliff) so you can watch sailing boats drift by and dream as you sip your coffee. Tea from T2. And they do a tasty muffin, though by the time I got here, lunch was on its way and the fish smelled pretty good, too.