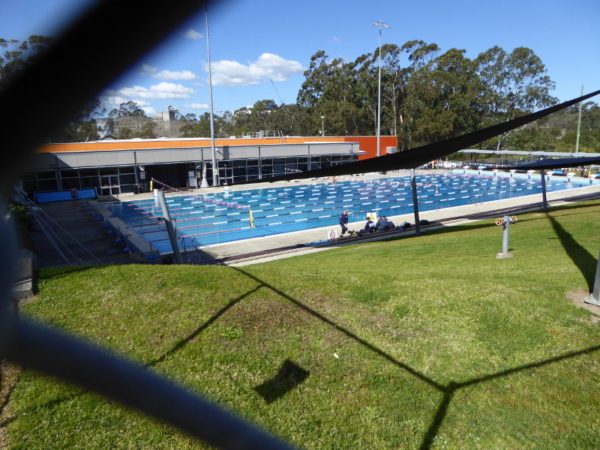 My experience in the pool
Swimming at Macquarie University Aquatic Centre was a bit like coming home from one of those holidays when you haven't had a decent coffee for two weeks (more on the coffee at Macquarie University later, by the way). My first chance in about six weeks to stretch out and do laps in a 50m outdoor pool so it was bound to feel good.
The Olympic pool at Macquarie Uni is a classic Australian outdoor pool, with gum trees down at one end and on the slope just beside the pool, so a fabulous view for my backstroke lengths. I'm pretty sure from my occasional mouthfuls of the water that it also has the modern mix of salt and chlorine making it just a bit briney and so easier to swim in.
It's another university Aquatic Centre open to the public, with concessions for students even if you aren't doing a course at Macquarie. I love these places and this pool was in good use with most lanes busy by the time I arrived just before 10 on a bright August morning.
I had to select a 'Fast Lane' to start off even though my freestyle even at its best is barely worthy of an Aussie 'Medium Lane', but was glad to switch to the next door lane once it freed up, as a genuine 'fastie' glided past me as soon as I moved over. But by that time in the morning there were none of the splash-forming squads so all in all, with warming sun welcome and covering about 40m of the lap, this made for a great stretch out of muscles that have just not worked enough in these last few winter weeks.
Getting there, getting in, getting changed
You can catch the train to Macquarie University on one of the northern suburbs lines. But I drove this time and was surprised how easy it was to find a parking spot in the University car park (go for the North car park just off Culloden Street) and even better it was free parking for the first two hours (but make sure you get a ticket from the – rather hard to fathom – machines)
Nothing remarkable about the pool entrance. I clambered down vertical steps into the side of the pool at the shallow end. I didn't spot a disabled ramp, but there definitely good disabled access to the indoor pool.
Lovely showers with warm and cold water right by the side of the pool so you can enjoy those gum trees and the pool views for just a tad longer before returning inside.
Other practicalities
Pool open all year round.
1.3m shallow end, this pool quickly goes to 1.8m and is a lovely 2m at the deep end, with a ledge to stand on if you need to rest.
$5.70 for a one-off swim, with student discounts even if you are not studying at Macquarie.
History and stories about this pool
I have not found any stories or history of Macquarie University pool. Surely it was used during the Sydney Olympics for some national team to train? Surely some famous Olympian has swum here in the past?
What's your story? Any memories of swimming here? Any stories to tell? Or did you just have swimming lessons in days gone by?
Whatever you have to say, however brief, I'd love to hear from you and will add any stories to this section of the site as and when I receive them.  Add your comment or story under 'Leave a Reply' below.
Links to other articles on this pool
I also found no other articles on Macquarie University Aquatic Centre.
Coffee, tea or milkshake after the swim?
For once the Aquatic Centre had decent coffee. In fact more than decent: Pablo & Rusty's is the kind of coffee I actually seek out when I'm in an unfamiliar shopping centre so it was a great find to see it on the shelves of the Macquarie University Aquatic Centre café.
They also cook and bake on the premises (and had just burnt some roast tomatoes in the oven as I arrived). But the muffins, presumably baked earlier, were delicious and went down nicely after my work out and with my very smooth coffee.