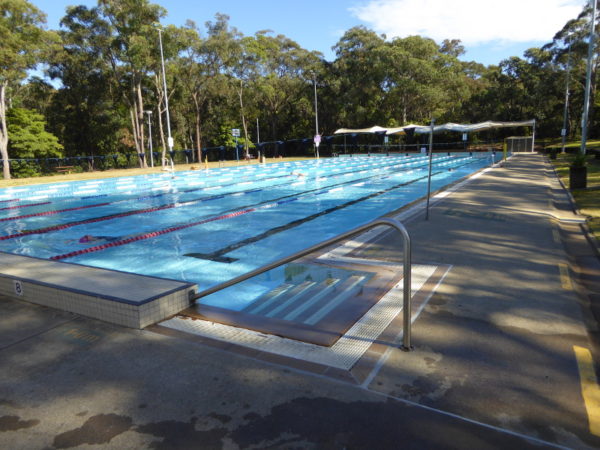 My experience in the pool
Glenbrook Swim Centre has one of the nicest Olympic pools I've swum in since beginning this outdoor swim quest. I always love the way so many outdoor pools in Australia have gum trees lining the edge of the pool or grounds, and with Glenbrook being in the foothills of the Blue Mountains, there are eucalypts all along one side and down at one end.
As you walk through the car park towards the pool entrance, you get that wonderful wafting of eucalyptus in the air, so you just know this swim is going to do you some good.
It looks as though the locals here in Glenbrook ran a campaign to have the pool open all year, and Blue Mountains Council listened, with signs in the toilets showing that it used to close in July and August, but is now open all year, with sensible opening hours of 6am to 11am through the winter. If only other pools round the state and the country could follow Glenbrook's example.
It was busy in the 50m pool, too, with no lane empty when I turned up on a bright but chilly Monday morning in August with air temperatures about 12C, but the water a lovely temperature, cool at first but soon that perfect feel where you can actually forget about temperature completely.
The trees gave nice shade over the shallow end in the morning, though at this time of year, it's actually more pleasant to feel the sun's warmth on your back once you get clear of the shadows at about 10m in. Trouble is, with the pool going north-south, it means the morning sun is so bright if you come up for breath in one direction that I had to adjust my stroke count to avoid being blinded.
Backstroke, once I managed to find an opportunity to avoid my fellow lane swimmer, was a delight with those gum trees in view in both directions, and cockatoos screeching overhead.
Not that I would ever be in the running (or swimming) to make the club records, but I liked the sheet showing best lap times by gender and age group last year. Being the age I am, though, I couldn't help wondering why there was no 50-59 year old men listed. Surely they have swimmers in my age category? Or maybe they just have other priorities than trying to make annual club records? I'm sure someone can let me know, or I'd better join up and create a 2017-18 record for that age group, hadn't I?
Getting there, getting in, getting changed
There are several options for getting to Glenbrook. It is one of the first turn offs from the highway as you start to climb into the Blue Mountains heading west out of Sydney. Once in the village, it is a short hop to the swim centre in a car. If you come by train, though, it is about a 15 minute walk from Glenbrook train station to the swim centre.
Nothing remarkable about the pool entrance.  I didn't spot a disabled ramp.
Lovely warm showers in the very spacious changing rooms.
Other practicalities
Pool open all year round, though with restricted hours through winter. I managed to get in for the 6-11am slot in August.
$6.40 entry
1m shallow is shallow enough for me to need an arm bend as I pull through my freestyle at the end of the lap; deep end a nice 1.8m with ledge to rest up on.
History and stories about this pool
I have not found any stories or history of Glenbrook pool. My search of the Trove website threw up references to the pool in housing ads as early as 1910, but it's not clear if this was even on the same site. There seemed to be swim carnivals at Glenbrook with reports in the local papers from the 1930s onwards.
As usual, if anyone has more local knowledge, do get in touch.
What's your story? Any memories of swimming here? Any stories to tell? Or did you just have swimming lessons in days gone by?
Whatever you have to say, however brief, I'd love to hear from you and will add any stories to this section of the site as and when I receive them.  Add your comment or story under 'Leave a Reply' below.
Links to other articles on this pool
I also found no other articles on Glenbrook Swim Centre.
Coffee, tea or milkshake after the swim?
There are lots of good places for coffee in Glenbrook.
A new one (opened in 2017) is quite the coffee specialist:
Kickaboom Coffee – 6 Ross Street, Glenbrook, NSW 2773
Open: 7am-4pm Mon-Fri; 8am-4pm Sat-Sun
Kickaboom Coffee reviewed on the FancyaCuppa website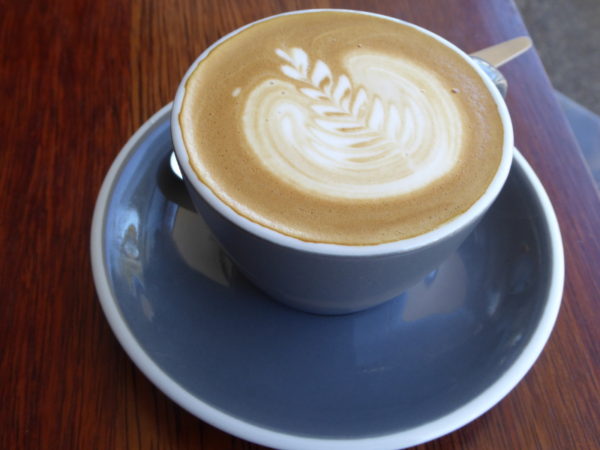 This cool, hipsterish place is friendly and knowledgeable about the coffee it serves up. Lots of options for the coffee connoisseur, with a very smooth coffee for milk-based espresso drinks like my usual flat white, and then coffees roasted as far away as Melbourne if you go for black, filter etc. The Mork chocolate looked fantastic, as did the turmeric and honey for the chai latte. Great spot.
2773 Coffee – 19 Ross Street, Glenbrook, NSW 2773
Opens 7am (half hour later on Sunday). Closes at 5pm or stays open into the evening to become a restaurant too.
Right across the road is another good Glenbrook coffee joint. More of a café style, with indoor and outdoor seating, plus some nice decor touches, like the old Golden Fleece bowser. The coffee here is also really good, and they roast it themselves on-site. Maybe Glenbrook aspires to be the coffee capital of the Blue Mountains?