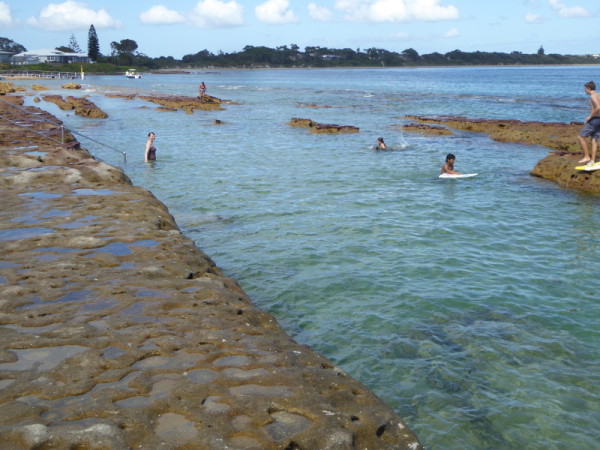 The remains of the shipwreck 'Merimbula' (1928) can apparently be seen at low tide
My experience in the pool
This is a real rock pool. Basically it's a sandy channel, deep enough to swim in, in between two sets of rocks along the edge of the bay. I got there about an hour after high tide, and it was perfect.
The pool is about 30m wide (ie running parallel to the coastline rocks) but only three or four metres long. So it is strictly speaking possible to do laps, and I did do a few, but on the whole it's a great spot for a dip and to feel the waves washing in from the bay.
The pool has a sandy base and on the tide we were there for it never got deeper than about 1.6m, but we were told by locals that the depth varies a lot depending on the tides – by the steps it was barely above my waist.
As the tide was drifting out, you could find yourself being slowly drawn out of the pool if you just lay on your back and let the currents do their work, but there was no strong current while we were in the water and a couple of strokes soon gets you back to where you want to be.
On a sunny Sunday in February, there were quite a few people there: kids jumping in off the rocky platform by the pool; one couple alternating wading, swimming and handstands in the water; one family suddenly appeared on a paddle dinghy after a little fishing trip.
What an idyllic spot, though. Currarong feels like a real hidden gem: lots of holiday rentals facing the bay, but with an olde worlde feel, and none of the two-three-four storey units that are being built elsewhere up the coast.
Get lucky and you might see dolphins swimming past – sadly, we didn't!
Getting there, getting in, getting changed
It's tricky to get here by public transport. There are two buses a day from Nowra to Currarong, but you'll be staying the night I think as I couldn't find any bus back to Nowra except for an early morning commud a couple of strokes soon gets you back to where you want to be.,ter bus. It's a half hour drive from Nowra, and once in the village of Currarong, you don't want the central parking area where the café and shop are;  better to park along Beecroft Parade and find the little pathway down to the water.
This is a totally natural rock pool except for the stone steps down from the rock platform and the metal handrail to help you. Or jump in from the rocks as some of the kids were doing.
There are no changing facilities, no shower and no toilets until you get back to the car park near the café about 500m away.
Tidal differences
According to locals the tidal differences can be significant, but one couple also told us they swim in all tides, so the water never gets so shallow that you can't at least have a dip. It's probably better at high tide, though judging by the wet sand beyond the top of those steps, it does come in quite far at high tide.
History and stories of the pool
I have seen no stories or history of Currarong Rock Pool – if anyone can contribute anything, do get in touch…
People I met here included
We talked briefly with a couple who come over to Currarong from nearby Culburra.
What's your story? Any memories of swimming here? Any stories to tell? Or did you just have swimming lessons in days gone by?
Whatever you have to say, however brief, I'd love to hear from you and will add any stories to this section of the site as and when I receive them.  Add your comment or story under 'Leave a Reply' below.
Links to other articles on this pool
I found no other articles or blogs on this rockpool.
Coffee, tea or milkshake after the swim?
Zac's Place is 500m from the pool back near the Post Office. It's really a fish & chips and burger restaurant and takeaway. They don't do cakes; they don't do milkshakes. We tried their coffee and it was OK but personally I'd prefer to drive back to Nowra for a quality cuppa…(Hyper Hyper is the place to go in Nowra, by the way). They also close their kitchen between 11am and 12noon so if you fancy a nibble with your coffee or tea, no luck at those times.