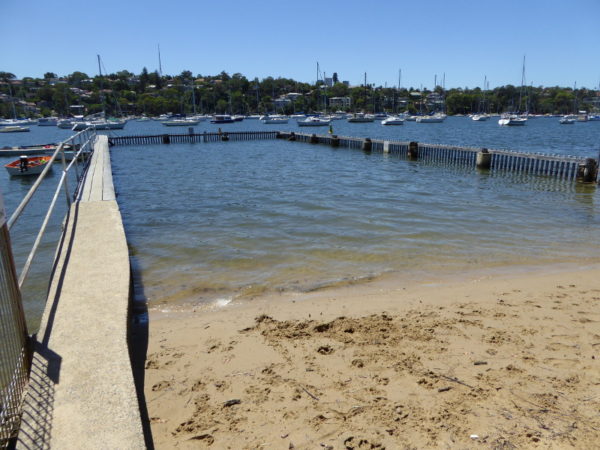 Lucretia is just the name of the nearby street in Longueville. No Roman connections here.
My experience in the pool
Lucretia Baths! Even the name somehow conjures up 1920s glamour (although the original Lucretia was apparently a woman in Roman times who had water sprinkled on her belly by one Sextus!), and given the pool's heritage status, there may well be tales to be told of daring costumes showing a bit more than an ankle or collar bone in the early days of the baths.
There was nobody in the water when I turned up at around midday on a warm February day, though I think the family of four had just got out and were egging me on to get in the 'lovely water'.
By the time I was stripping off to take the plunge, there was a guy sitting in the shade just outside the Lucretia Baths fence shouting out advice over the phone on what size boat to buy, and how much a new engine would cost. He is apparently a bit of a fixture here; he claims this is his office, he 'does boats' round here; and he was quick to acknowledge he must have the best office views in the world.
I actually didn't catch his name, but he was full of stories about the boathouse next door to the swimming enclosure being over 100 years old and once being the property of famous aviator Kingsford Smith (yes, he of Sydney Airport fame). Apparently, one of my childhood sporting heroes John Newcombe was brought up near here and probably spent many hours swimming in Lucretia Baths. And Boat Man and his friend reeled off a few more Sydney artists who call Longueville or Woodford Bay their home.
So how was the swim in Lucretia Baths?
Well, coming after so many hot days (this was the first sub-30C day for ages), the water was the warmest I've swum in for ages (maybe since a summer visit to Florida 5 years ago, when the Gulf of Mexico was unpleasantly warm).
I was there a few hours after high tide but the depth marker by the shark fence (yes, no net here, but wooden slats to form a fence – something I've only ever seen so far in Little Manly Pool, and something that apparently makes Lucretia Baths rather special) showed it was still 1m60, so perfectly deep enough to do a few laps.
It's hard to call a swim at Lucretia Baths 'laps', though. To manage 25m, you actually need to swim from the shore to the shark fence, because the width of the baths is only about 10m. But with no waves to speak of, and with the slope of the beach meaning the water quickly became at least knee deep, it was possible to do those 25m lengths and feel a good work out was being had.
I did manage to cut myself a few times swinging onto the metal stairs at the deep end, and although any shark would have had to be pretty hungry and pretty slim to get through the gap left by the one missing plank of wood in the fence, it did make me cut short my swim, as it was stinging even in the water.
The boardwalk alongside the baths is worth taking. It's quite narrow so if balance isn't your thing, maybe don't go there fully dressed or carrying valuables, but from the boardwalk you have just a glimpse of the Harbour Bridge peering up over the skyline. That and the knowledge that you are in such a secluded, secret almost, waterside suburb, makes Lucretia Baths a very special place.
Getting there, getting in, getting changed
There are buses to and from the CBD (number 261 I believe), with a stop less than 5 minutes' walk from the baths. There is parking very close to the baths, but I chose to leave my car in shade one or two blocks away, and walked down.
The metal steps at the deep 'end' of Lucretia Baths are actually a great way into the water. They are not the vertical ones I sometimes find hard to keep my grip on; they enter slowly and allow a nice jumping in stage right by the shark fence. Alternatively, enter via the beach.
No showers here. No toilets, either. There are a couple of plastic chairs inside the Lucretia Baths enclosure, but other than that, it is a case of leaving your things on the sand and developing your towelling technique, or just going off soggy, because after all everything dries so fast in this summer weather.
Tidal differences
High tide is certainly best, but I was there some 3 hours after high and the water was still plenty deep enough; I don't know how low it gets, though (if anyone has advice on this, please comment below – and sure enough, one local described it as a 'big puddle' at low tide, so  best avoid those times!).
Other practicalities
There is a rusty old board announcing Pool Open. I'm not sure what would cause the pool to be closed, but turn that board upside down and there is indeed a Pool Closed sign.
Approximate size is 25m length (beach to fence) and 10m (boardwalk to fence).
History and stories of the pool
This page from the Environment Department of NSW Government gives basic information on the reason for Lucretia Baths getting heritage status. It is almost 100 years old now and that wooden shark protection fairly unique.
But you're almost going to be better off sitting in the shade chatting to the boat guy by the pool and listen to his stories of John Newcombe, Kingsford Smith and others whose stories have come into contact with Lucretia Baths.
People I met here
Just the boat man who uses the shade by the baths as his 'office', and the lady who was sipping a cold drink with him, who says she lives in one of the houses just above Lucretia Baths. Lucky people, both of them!
What's your story? Any memories of swimming here? Any stories to tell? Or did you just have swimming lessons in days gone by?
Whatever you have to say, however brief, I'd love to hear from you and will add any stories to this section of the site as and when I receive them.  Add your comment or story under 'Leave a Reply' below.
Links to other articles on this pool
I only found one other blog post about a visit to Lucretia Baths. That was from the Lazy Swimmer blogger, who has swum in all of Sydney's harbour baths and ocean pools. He was here in 2011.
Coffee, tea or milkshake after the swim?
The area around Lucretia Baths is all residential and there are no cafés nearby. Even the nearest places in Longueville itself are not really worth the effort, so I'd recommend getting yourself up to Lane Cove for a post swim coffee. There, quite by chance, I found a wonderful spot…
Story Espresso –  Birdwood Lane, Lane Cove, NSW 2066
Open Monday – Saturday: M-F 6.30am – 3pm; Saturday-Sunday 7am – 2pm
Story Espresso reviewed by the Fancy a Cuppa website.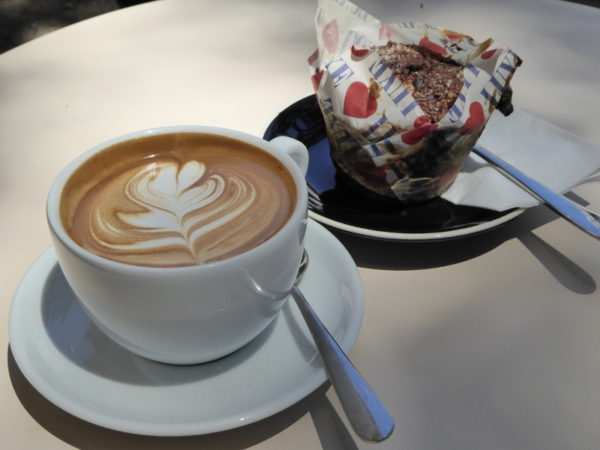 Story Espresso didn't turn up in a Google search for 'coffee in Lane Cove', but locals clearly know about it, because some of the reviews it has speak of not being put off by the queues outside for getting served.
They served up the best coffee I had had in weeks. So I was all the more pleased to discover that Story Espresso is a stone's throw away from Lane Cove Aquatic Centre, which I shall be visiting before too long, so will certainly be back for more coffee. I'll do a fuller review then, but for now let's just say: after a swim at Lucretia Baths, it is definitely worth going the extra mile (and a bit more) to have coffee in Lane Cove at this delightful coffee shop.