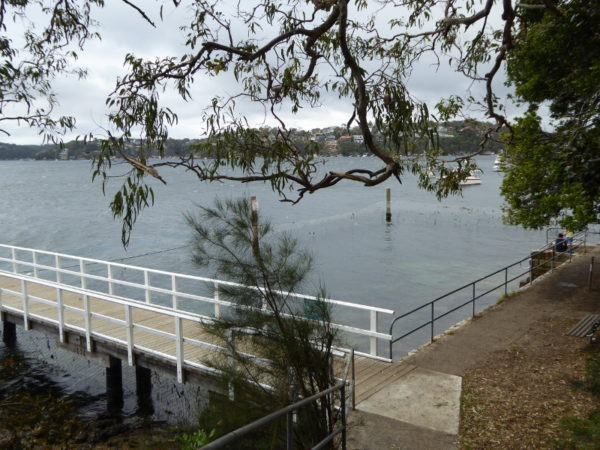 Lilli Pilli was named for the native tree that grew here on the point.
My experience in the pool
Our visit to Lilli Pilli Baths on Port Hacking didn't quite go to plan, but when we did finally get into the water here, we loved it, and will surely return before too long.
We had underestimated the traffic levels heading towards Cronulla on this hot Sunday morning in February, and by the time we got near to Lilli Pilli, we realised we wouldn't have time for swim followed by post swim coffee, before heading off for an appointment ourselves in Cronulla.
So we switched our day around, grabbing a take away coffee and drinking it looking out over the baths, then went to our meet in Cronulla before returning for a dip later in the day. By then the tide had gone out, the wind had picked up and the clouds had rolled in, so the Lilli Pilli Baths were not at their best, but STILL it was a good experience.
One of the nicest things about the area is that there is so much going on all the time: there are countless boats zig-zagging across the water on Port Hacking, from speedboats to fishing boats with various dinghies in tow and the occasional person diving off the back into the turquoise exotic looking waters; there are people in full wet suits and diving gear, practising some manoeuvre or other; and there are lots of people fishing, from the rocks, off the boardwalk, direct from boats.
And the baths themselves had a steady flow of people getting in and out.
By the end of the afternoon, when we got back to the baths at Lilli Pilli, there was at least space for parking right by the baths, so we wasted no time getting stripped off and into the water.
Even at low tide, these baths have a reasonable depth, and it's quite possible to swim the good 30m or so length of the baths on any tide.
You may be able to jump in off the pier type boardwalk at high tide, but at low tide your only real option is to enter via the four or five stone steps that lead you to a shallow rocky area, and then it was my usual back flop into the waters till I felt they were deep enough to do freestyle.
The base of the pool is mostly seaweed, but it's that picturesque seaweed that flows with the tide, rooted in the pool base and growing to about 5cm high, and that always encourages fish to dart about among it, so there's lots to look at as you swim in Lilli Pilli Baths.
The water temperature on this late summer afternoon was a delicious mix: warm enough from lots of summer heat to feel comfortable from the first step into the water, but also cooling enough to feel beneficial on a hot day. And really clear water made a swim in Lilli Pilli Baths a sheer joy.
There was also a nice mix of people in the water. There was a friendly Arab guy enjoying the water with his body board, but I couldn't help wondering if his two women friends in their Burkinis might also have ventured in if there hadn't been so many men around the pool that afternoon. Shame for them!
Getting there, getting in, getting changed
There are buses to Lilli Pilli from Caringbah and Cronulla. If you go in your own car, parking right by the baths can be tricky on a busy day, but we found a spot in one of the side roads a short walk up the hill from Lilli Pilli Point.
The steps down into the water at Lilli Pilli Baths are halfway along the length of the enclosed area. At high tide it may be possible to jump in off the boardwalk, but it was well off high by the time we got in the water so I can't be sure.
There are changing rooms and toilets just above the baths. The only shower I could find, though, seemed to be on the outside wall of the ladies' changing shed, so gents make your way over that side of the area if you want to wash off the salt after your swim.
Tidal differences
Best at high tide but possible to swim in reasonable depth of water on all tides, at least close to the shark net at low tide. At high tide, judging by the sea weed hanging on the shark net almost to the top, the water must come almost up to there on a big tide.
History and stories of the pool
I haven't found any archive articles about the history of Lilli Pilli Baths, but on the wonderful Trove website I did find reference to the baths in letters to the press from as early as 1935. That letter was more to do with fishing than swimming, though, and it sounds as if the water round Lilli Pilli Point on Port Hacking have always been popular with people looking for fish rather than a dip in the waters themselves.
People I met here
Just a brief exchange with the Middle Eastern chap, who clearly loves the place and says he swims here regularly. I hope the rest of his family get to enjoy the water too on quieter days!
What's your story? Any memories of swimming here? Any stories to tell? Or did you just have swimming lessons in days gone by?
Whatever you have to say, however brief, I'd love to hear from you and will add any stories to this section of the site as and when I receive them.  Add your comment or story under 'Leave a Reply' below.
Links to other articles on this pool
The usual swimming bloggers don't seem to have written about Lilli Pilli Baths. But I found this blog post from 2008, where a visitor from Switzerland got very excited at finding lots of sea horses around the shark net at Lilli Pilli Baths.
This post is by a local swimmer who got a tape measure out and was trying to get an exact figure for the length of Lilli Pilli Baths. I'm not sure they are really as big as 40m, though…
Coffee, tea or milkshake after the swim?
It's about a 15 minute walk back up Lilli Pilli Point Road to get to a decent coffee in the area.
Vitalo –  621 Port Hacking Road, Lilli Pilli, NSW 2229
Open Daily: 7am – 4pm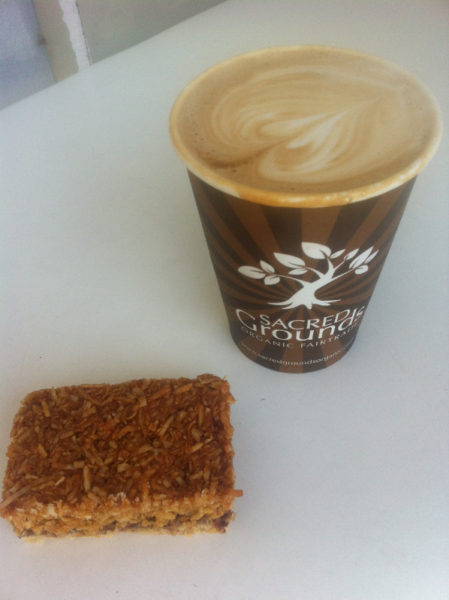 Vitalo are new in the area and have really upped the standard for coffee in Lilli Pilli. They use the excellent Sacred Grounds coffee, roasted in Marrickville, and it was a shame we only had time to grab a takeaway rather than sitting in to take in the atmosphere.
Vitalo felt like a café that focuses more on its food than its coffee, though, so quite a foodie place, and maybe not really our fit if we lived locally. But for a post swim coffee, it is the best in Lilli Pilli, at least from what we have seen so far…