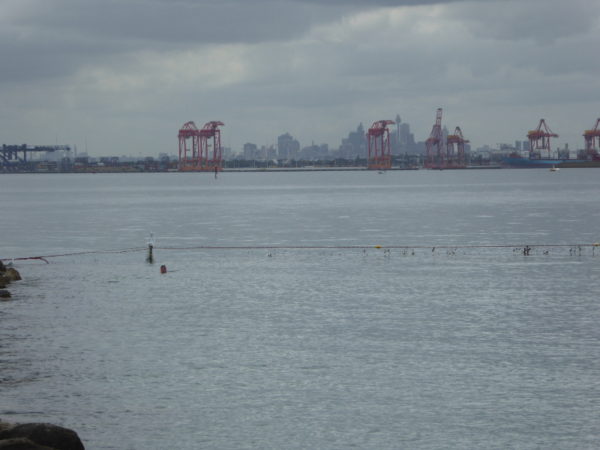 Kurnell is very close to the spot where Captain Cook first landed. No agreement on where the name Kurnell comes from, though.
My experience in the pool
Kurnell Baths at Silver Beach in Kurnell is just a stone's throw from where another Yorkshireman first landed his boat on Botany Bay back in 1770. I don't suppose Captain Cook's crew were too bothered about sharks back then, but Botany Bay has been the scene of quite a few attacks over the years, so I was glad to have the netted enclosure to relax in on this warm February morning.
The swimming enclosure at Kurnell is pretty big, and if laps are your thing, be prepared for about 200m between the two stone walls. One guy was steadily plodding along by the shark net before I arrived and still going after I'd packed up, but a handful of 'laps' was enough for me.
Conditions must have been a bit different when a tornado tore through Kurnell in December 2015, but today the water was crystal clear, and calm enough to feel like I was actually just in a massive 4 times Olympic pool (in fact, with only about 4 of us sharing that space, there was actually a fair bit less backwash than there would be in a busy 50m pool.
It's interesting, when swimming through 200m of sea water, how much the water temperature varies from stroke to stroke. There were sections where it almost felt like swimming through bath water, and then suddenly it would freshen up and be almost chilly.
Kurnell is right across Botany Bay from Sydney Airport, so you can watch the planes taking off if you do back stroke, or keep an eye open for flocks of cockatoos screeching past as they head for their favourite Norfolk Pine near Silver Beach. The airport and oil refinery give it a heavy industrial feel, but the call of the cockatoos must have been something Captain Cook's men marvelled at all those years ago.
I enjoyed my swim at Silver Beach and Kurnell felt like the kind of place I should revisit, if only for its historic significance (as well as its swimming enclosure, of course).
Getting there, getting in, getting changed
There are buses to Kurnell from Cronulla. This time I drove and parked up on the grassy verge right by the baths at Silver Beach, though I imagine that gets pretty busy on holidays, so you may have to park up at the end of the beach by the boat slipways about half a mile away.
There is potentially disabled access to the water at Kurnell Baths. I am no expert in these matters but there is a very good ramp down from the path by the beach and that heads straight to the firm sand which leads to the water. The only way into the water is via that beach.
There is a shower at the National Park end of the beach, but no toilets nearby, nor really a secluded spot to change. So it's either towelling technique or walk five minutes to the public toilets in Marton Park (named for the home village of Captain Cook, a place I know well…)
Tidal differences
Best at high tide, but the local lady I spoke to reckoned the pool is big enough for a good swim on all tides.
Other practicalities
Shark net removed in winter, but I'm not sure when that happens. If anyone knows, please leave a comment below.
History and stories of the pool
I found no other blog pieces or writers publishing anything about Kurnell Baths. Nor did the key words bring up anything in my usual source, the Australian National Library's Trove website.
Has the swimming enclosure changed names over the years?
People I met here
The swimming enclosure is so massive that a handful of swimmers in the water can remain completely out of earshot of each other, let alone have to worry about getting in each other's way.
I did manage a brief chat with a lady just getting out of the water as I arrived. She enjoys her swim at Kurnell Baths so much that she comes all the way round Botany Bay from where she lives (near the Ramsgate side of the Bay), because the finds the water cleaner here and the whole experience more enjoyable.
What's your story? Any memories of swimming here? Any stories to tell? Or did you just have swimming lessons in days gone by?
Whatever you have to say, however brief, I'd love to hear from you and will add any stories to this section of the site as and when I receive them.  Add your comment or story under 'Leave a Reply' below.
Links to other articles on this pool
There was a gent in the water up to his thighs fishing just beyond the stone wall at the end of Kurnell Baths. I was reminded of him when I found this piece about someone supposedly catching jewfish with their bare hands inside the swimming enclosure. There's a great photo of the fish caught, too. But do we believe a fisherman's tale?
Coffee, tea or milkshake after the swim?
A Google search for Coffee in Kurnell did not show me the coffee shop I eventually found for my post swim coffee here at Kurnell. I was desperately seeking toilets in the area when I stopped off here and realised I was actually in a coffee shop and it looked good. So my tip for best coffee in Kurnell has to be…
Milkhouse –  Torres Street, Kurnell, NSW 2231
Open Daily 7.30am – 3pm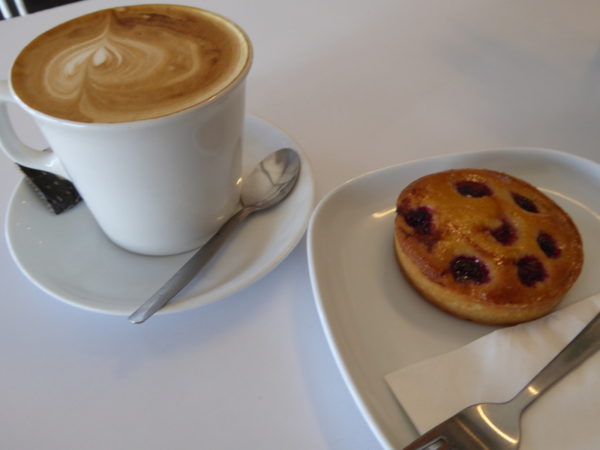 Milkhouse sells itself as a milk bar, which is possibly why it does not come up in a google search for coffee in Kurnell. But it has the most modern feel of Kurnell's cafés, with a nice selection of nibbles to have with your post swim coffee, and a pretty good coffee on offer too. They serve up the rather good Allpress coffee and make it on a beautiful white Marzocco machine.  Hopefully this little mention might help Milkhouse get onto the local coffee map online.