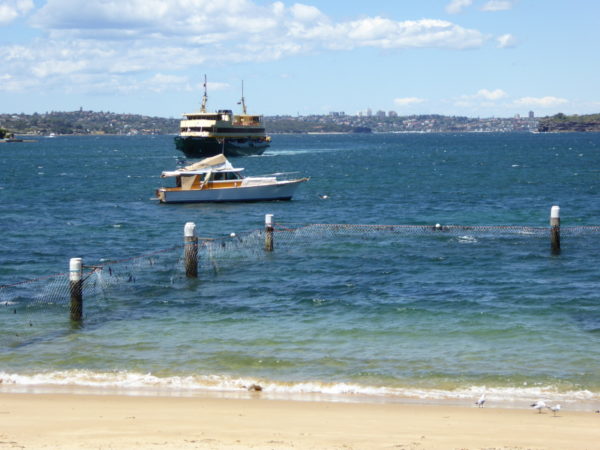 My experience in the pool
I'd never seen the swimming enclosure at Manly Cove so busy as on the hot morning I visited in mid-December 2016. With overnight temperatures barely falling below 28C and a daytime high of 38C forecast, the waters by the Manly Ferry wharf suddenly became popular.
I've walked past this shark-netted enclosure hundreds of times over the years and hardly ever seen anyone in the water. I was here myself just a week earlier and had stared at the choppy waters for a good 20 minutes before deciding it just didn't appeal that day.
High tide is best here at Manly Cove. You can swim on any tide, actually, but at low tide you'll quickly be running into seaweed, whereas when the tide is in, you have a good depth for some way before the seaweed clumps appear beneath you.
Swim the full length of the shark net and you're probably doing a good 80m. One gent was doing just that on the day I finally got into the water, but I was enjoying myself just lounging and putting in the occasional flurry of strokes to justify counting this as another swim done on my quest.
There's a fair bit of stuff on the surface at Manly Cove swimming enclosure. This can be anything from leaves, long stringy bits of other plant material which gave me a few nervous moments as I was picking up handfuls of jelly fish every now and then, and there is a bit of rubbish too, which is less pleasant.
It's nice to watch the Manly Ferry coming and going as you swim here, and the cormorants and other fishing birds are often holding the fort on the wooden posts that keep the shark net floating.
I'm not sure why you'd choose to swim here at Manly Cove rather than the many other options around Manly: the rock pools at Fairy Bower or Queenscliff, the Aquatic Centre or the pool I discovered last week at Little Manly. But I guess if you fancy a quick dip while waiting for a bus or before catching the Manly Ferry, it could be useful.
It is also much quicker to get to an excellent post swim coffee than any of the other Manly swimming areas…
Getting there, getting in, getting changed
This swimming enclosure in Manly Cove is so close to the ferry terminal, you could almost jump off the ferry straight into the baths. Manly Ferry passengers will certainly have a good view of you in the water if you swim here!
Unless you manage that jump from the ferry – in which case you have to then get through the shark net, there is only one way into the water at Manly Cove, and that is via the sand here on the wharf side of Manly.
No showers right by the swimming enclosure at Manly Cove. But the toilets and showers for swimmers here at just at the far end of the beach away from the ferry wharf, and are housed in a rather beautiful old building that may once have been part of the Museum. Or did the ornate M on the wall mean Manly rather than Museum?
Tidal differences
High tide is best here at Manly Cove. You can swim on any tide, actually, but at low tide you'll quickly be running into seaweed, whereas when the tide is in, you have a good depth for some way before the seaweed clumps appear beneath you
History and stories of the pool
I found no other bloggers or old press articles referring to the swimming enclosure at Manly Cove. The information board at the Little Manly Baths seemed to refer to swimming at Manly Cove as being where the ladies swam in earlier days, whereas the gents were supposed to swim at Little Manly.
If anyone can correct me on this or has any links to articles about Manly Cove, do let me know, as usual.
People I met here
I didn't really meet anybody at Manly Cove. I exchanged brief comments with one lady about the water temperature, which was surprisingly cool after the warm weather we had been having. But the gent swimming right along the far end of the enclosure right along the shark net seemed to be in for the duration and I was heading off for coffee as he turned for another lap…
What's your story? Any memories of swimming here? Any stories to tell? Or did you just have swimming lessons in days gone by?
Whatever you have to say, however brief, I'd love to hear from you and will add any stories to this section of the site as and when I receive them.  Add your comment or story under 'Leave a Reply' below.
Coffee, tea or milkshake after the swim?
Best thing about a swim at Manly Cove swimming enclosure is that you are nearer than any other Manly swimming place for the best post swim coffee in Manly.
Barefoot Coffee Traders – 18 Whistler Street, Manly, NSW 2095
Open Daily 6.30am – 5.30pm (open one hour later at weekends)
Barefoot Coffee Traders reviewed by Fancy a Cuppa website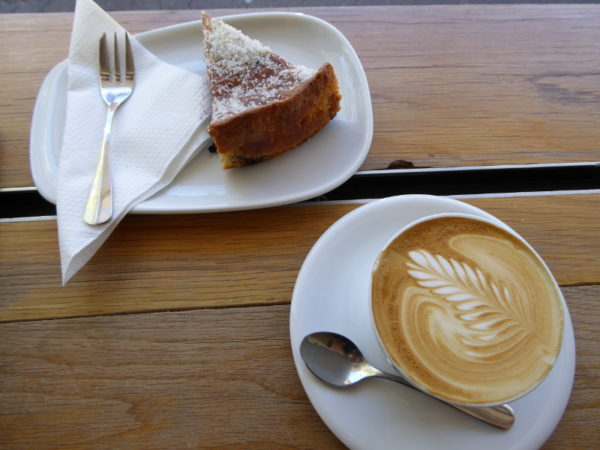 The best coffee in Manly by a long shot. And the cakes are pretty good too, if you are wanting a post swim nibble.
They serve up excellent coffee from the Marvell Street coffee roasters up in Byron Bay. It's the smoothest flat white I had drunk in many a week. Really good coffee.
I tried the blueberry & coconut tart, which was so good that when I returned to Barefoot Coffee a week or so later, I was relieved to see it there again and tasted just as good on second trial.