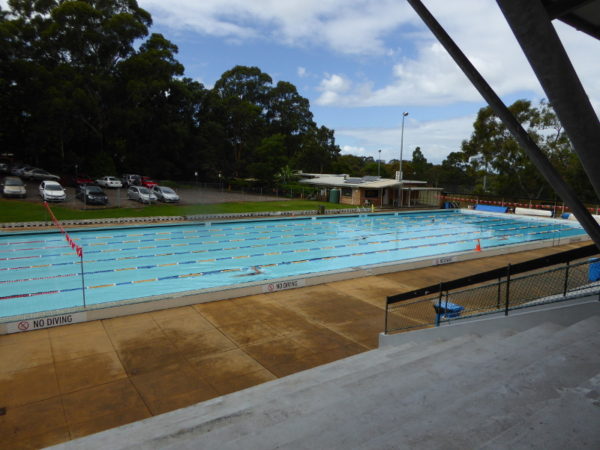 Named after either a cartographer in Cook's time or the son of a London Lord Mayor.
My experience in the pool
Lane Cove Olympic Pool has lots of the attributes I love in Australian outdoor pools. There are the tall gum trees towering over one end, the magpies warbling like only Aussie magpies do, it has a lovely 3m deep end, where once there must have been a diving board presumably, but there is still a set of viewing windows, which you hardly ever see except in competition pools. Lane Cove has the feel of being in country Australia but you can still get glimpses of the high rise buildings of North Sydney.
Lane Cove Pool also featured a lot in my Dad's three-lines-a-day diary from our stay in Australia when I was 7-8. It's the 50th anniversary of our arrival very soon, and Lane Cove Pool then was actually only a few years old. I have no memories of coming here, and I couldn't even swim in those days, but my sister was a competition swimmer and may well have bumped into the junior champs of those days.
And that was another thing I liked about Lane Cove Aquatic Centre. It may be all modernised, and have the right sort of appropriate toddler-safe facilities inside, along with gym next door etc etc, but they still keep a display of recent and older medals and trophies. One big old trophy – for the junior 110 yard freestyle winner each year had tarnished old name shields going back to its first year of operation in 1962, and I was intrigued to know if my sister knew Philip Daly (1967) or Ross Clarke (1968) champions – and what became of them, I wonder?
I picked a good day for a quiet swim with a lane to myself. The rain pelted down on this early April morning as I drove to Lane Cove, and the air temperature was struggling to reach 20C. That's still a summer's day where I come from, but a bit of a disincentive to sun-loving Aussies, so I had a lane to myself and could work out the best directions for freestyle/crawl and back stroke (northbound for the backstroke for those gum tree views, and southbound for front crawl to avoid the – non-existent today – sun, and to spot those viewing windows deep underwater at the deep end).
I was keen to find someone who may have swum here 50 years ago, but the two older gents I engaged with had only been in the area about 10 years, so I stopped asking, for fear of being seen as one of those slightly odd eccentrics who go around asking random questions of strangers…
There's a really relaxed feel to Lane Cove overall, and its swimming pool reflects that, too.
Squads are still busy here, judging by the mathematical looking equations and formulae on the whiteboard by the entrance, buy by mid-morning, this was a great place to do my 20 laps – only the second time I've managed that in a difficult month for weather.
Getting there, getting in, getting changed
There are buses to Lane Cove but I drove this time and parked up in the (busy) car park near the shops, about a five minute walk from the pool. There seemed to be more public parking in between the aquatic centre and the council offices.
Nice shallow steps at the shallow end but just the usual vertical metal steps at the deep. No diving board sadly, even though the pool was clearly built for one.
Changing rooms either by the indoor pool upstairs or down by the outdoor pool. Men, don't be misled by the taps: H is for cold water; and if you want a warm shower, go for the tap with no lettering on it… Done to keep us on our toes, I guess.
Other practicalities
2017 price to have a swim is $8.20
50m Olympic pool outside – usually open through the year. There are also indoor pool facilities, 25m pool and toddlers play area.
History and stories of the pool
Thanks to the Trove website, I found a wonderful article from Women's Weekly from February 1962 which referred to the 'new' Lane Cove Olympic Pool where a local heart throb 'Roland Storm' was said to have a regular lunch hour swim. And this gent is still going in 2017, an 'Australian Ambassador of Rock 'n' Roll'
The Lane Cove Swim Club also has a fantastic 20-page history of the pool, by a guy called Ryan Sparks. From that I gleaned the following wonderful quote from Lane Cove's Mayor in September 1961:
"It transcends anything ever before attempted by Lane Cove Council as an amenity for the people of a swimming centre in the heart of Lane Cove, and will be a source of pleasure and usefulness to both the present and future generations of Lane Cove" proclaimed the Mayor of Lane Cove – Ald. A. E. L. Griffith – I couldn't help thinking the people deciding to break up Parramatta Pool in 2017 might reflect on that as the bulldozers go in…
Lane Cove Pool opened in the summer of 1961-62. Its first swimming carnival was held in 1962, and you can see the old trophy in the cabinet still dating from that era.
It was extraordinary to read the suggestions for icing the pool water in winter to create an ice rink. Whoever proposed that didn't know much about the impact of ice on surrounding surfaces clearly – it was rejected in 1963!
And on a personal level, I was rather pleased to see reference to a debate of early 1968 – exactly the time my family, especially my sister – would have been swimming regularly at Lane Cove Pool. This referred to the need for cover over spectator areas – was this an early recognition of the dangers of strong sunshine or did it just rain a lot in Lane Cove then? Sadly my father's diaries of the period don't go into such details…
Thanks to Lane Cove Swim Club for linking to this history on their website.
What's your story? Any memories of swimming here? Any stories to tell? Or did you just have swimming lessons in days gone by?
Whatever you have to say, however brief, I'd love to hear from you and will add any stories to this section of the site as and when I receive them.  Add your comment or story under 'Leave a Reply' below.
Links to other articles on this pool
Lane Cove Pool is clearly popular with Mums and toddlers, so my first two links come from exactly that demographic. First up, someone I've been following around Sydney, it seems, the Hello Sydney Kids blog.
Then the North Shore Mums blog also came to Lane Cove Aquatic Centre, and featured it as one of nine swimming spots to visit.
Lane Cove Pool is one of eleven swimming centres featured on the Sitchu website.
And the Ellas List swimming blog has also been to Lane Cove and written about it.
Since she apparently learnt to swim at Lane Cove Pool at the age of 4, I was rather hoping Therese of the Swimming Pool Stories website might have written about this place but I couldn't find anything on her website…
Coffee, tea or milkshake after the swim?
Lane Cove is full of decent coffee shops, but my favourite, found by chance as I walked from my car to the pool, has to be…
Story Espresso – Birdwood Lane, Lane Cove, NSW 2066
Open: Mon-Fri 6am – 3pm; Sat-Sun 7am-2pm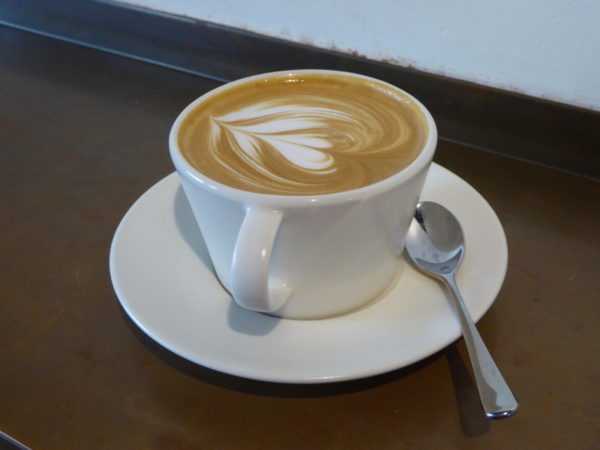 Story Espresso reviewed on the FancyaCuppa website.
I love this coffee shop in Lane Cove. I discovered it by chance when coming in search of a post swim coffee after visiting Lucretia Baths, down the road in Longueville. So I was keen to come back. They have lots of coffee options, with their espresso blend roasted in Adelaide, their single origin from the wonderful Seven Seeds roaster in Melbourne. And they're friendly as well as knowledgeable about their coffee. Nice white tiling, and just a simple set-up that works for me. Makes me wish I lived a bit nearer Lane Cove.