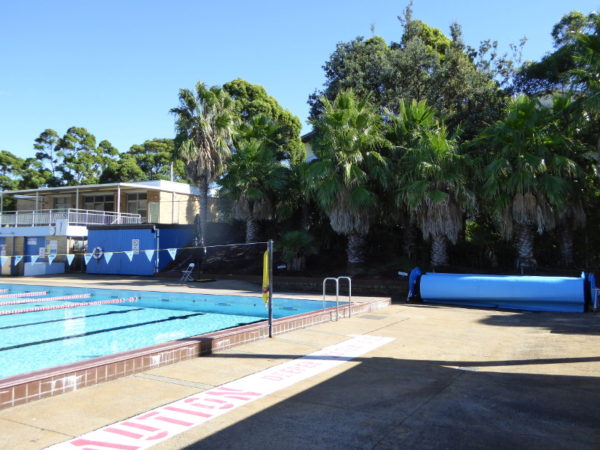 Botany was named for Captain Cook's botanists!
My experience in the pool
I had the Olympic Pool at Botany Aquatic Centre to myself for nearly all of my 20 laps on a cool Monday morning just a few days before the outdoor pool closes for the winter break.
I really liked this pool, and not just because I was there by myself.
It's set in beautiful grounds, with lots of grassy areas to loll around on after your swim in summer, as well as an intriguing set of slides right on the far side of the complex, which got me wondering if they'd think it weird if some bloke in his 50s joined in the fun there if I come back next season…
I loved the viewing windows like port holes along the side of an ocean liner. You sometimes see these in those pools which were originally built for high diving, but it's rare to have them every few metres along the side of the pool. Must be great to watch the swim carnivals at Botany from that angle.
If you're doing backstroke, you can choose between the gum trees beyond the shallow end or the palm trees beside the deep end. The advantage of the palm tree view is that you might also get lucky with a low-flying plane taking off from the nearby Sydney Airport, though the downside is that the sun felt a good deal brighter swimming that way.
There was nobody else to talk to in terms of swimmers, though one guy did begin laps just as I finished, but the staff at Botany are super friendly and there is a very relaxed vibe to the place. And to cap it all, they're also pretty proud of their environmental credentials at Botany, with signs everywhere about how they use rain water for all the fountains, cleaning etc.
Talking of signs, I know they are there for a reason and probably because of some nasty incident in the past, but there's always something funny about how they used to word public safety signposts in decades past: No dressing or undressing in the toilet area! I mean, really? Who would, given that there is a vast changing area? But I guess in the past…
Even better, though, is No sitting or standing in the wash basins. Now that had me wondering at the antics of masses of school boys up to mischief in there maybe 50 years ago, when Botany Olympic Pool was built…
Getting there, getting in, getting changed
Botany Aquatic Centre is so close to Sydney Airport that if you have more than an hour connection for a flight and felt like a swim, you'd pretty easily make it to the pool and back in time, though the taxi drivers probably wouldn't thank you for such a small fare! Parking ample by the pool itself if you drive. And there are buses to Botany as well.
Nothing remarkable about getting into the water at Botany Olympic Pool.
Ample changing rooms set in enormous grounds.
Other practicalities
$6 entrance fee
1m shallow end to 1.7m deep end
Slides in a separate part of Botany Aquatic Centre. And a toddler paddling pool too, though not open for my visit in the Easter holidays in April.
Pool closed from last week of April till spring.
History and stories about this pool
It's been hard to search for stories or even a history of Botany Aquatic Centre, partly because the search terms in Google or even my trusty source Trove from the Australian National Library throw up too many options given that the individual words are used in other contexts.
I'm hoping Graeme, who regularly comments on this and other swim blogs, and swims at Botany, might have some stories for us…
What's your story? Any memories of swimming here? Any stories to tell? Or did you just have swimming lessons in days gone by?
Whatever you have to say, however brief, I'd love to hear from you and will add any stories to this section of the site as and when I receive them.  Add your comment or story under 'Leave a Reply' below.
Links to other articles on this pool
Another Pommy blogger called Tim came here in March 2017, just before me.
The Itchee Feet blog puts Botany Aquatic Centre in the top five Sydney swimming spots for kids.
Botany Aquatic Centre also makes this list of top ten swimming spots in Sydney's Eastern Suburbs. I had no idea how popular this place was.
Rhonda is a local lady who began a blog on local facilities in Botany. She came to the Aquatic Centre in 2015.
Swim blogger Sally came to Botany Aquatic Centre as long ago as 2006.
Coffee, tea or milkshake after the swim?
There is a nice looking coffee shop right across the road from Botany Aquatic Centre, but it's closed on Mondays. And guess which day I have been to the pool so far…So I'll be back to have a coffee soon and let you know my thoughts.
There is a kiosk at the Aquatic Centre so if you're thirsty and it's  Monday, you can have your post swim cuppa there.
Botany Buzz – 32 Jasmine Street, Botany, NSW 2019
Closed Mondays
Open Tues-Fri 6.45am – 6pm; Sat 7am-5pm; Sun 7am-3pm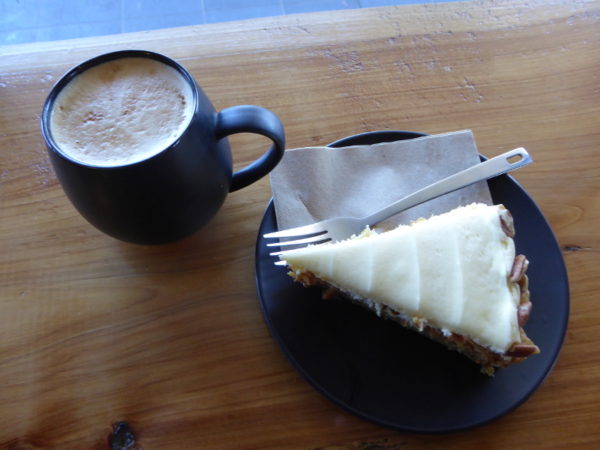 When I finally found myself in Botany on a day other than Monday, the pool was closed for winter still, but Botany Buzz was open and I was so glad to try it. As well as the excellent coffee from Double Roasters and a pretty amazing piece of carrot cake, the atmosphere was really relaxed and the welcome super friendly. If you want a post swim coffee in Botany, don't swim on Mondays. Otherwise you have a great spot right opposite the pool. Very good coffee shop in Botany.