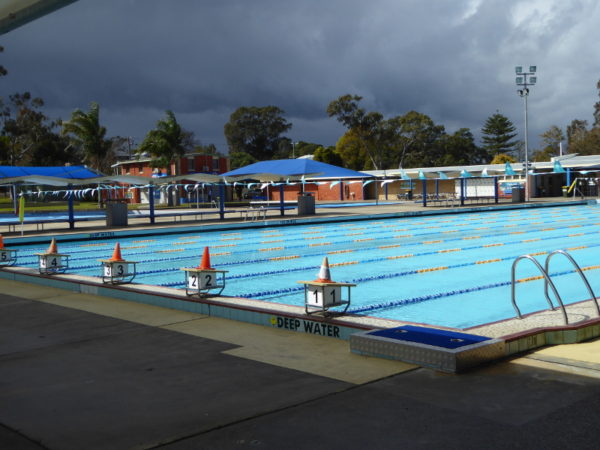 My experience in the pool
Lambton Swimming Centre only reopened four days before my visit in late August and I don't think word had got around the locals yet because I had the whole 9-lane 50m pool to myself for the whole 22 laps I did.
Ideally all outdoor pools would stay open all year round, but if you do need to close for winter, do it the Lambton way, with only a couple of months shut before the doors reopen in the last 10 days of August. As with any outdoor pool that reopens after a break, the water takes a few days to heat up, and it was a bit of a shock to the system when my bare skin first felt the touch of the water here, but once I'd done an express lap of freestyle, I was warmed up and quite comfortable for the duration of my swim.
It's a wonderful swimming centre at Lambton, with an old diving board still in place, a kiddies play area with fun buckets of water and slides, and some excellent flumes (I think that's what they call those long winding tubes people slide down).
The lifeguard told me the diving board is no longer open to the general public, but it is still used by club members, and competitions are held every year, with the deep pool by the boards used for water polo.
This place must be a hive of activity some days (or nights), but not on the morning I pitched up. I'd driven through a heavy shower to get to the pool, so you can see why locals might decide to give it a miss on a day like this, but by the time I was changed and ready, the sun was making a half-hearted effort to come out.
Actually by the time I switched to backstroke, the sun came blindingly down and directly into the eyes as you swim back towards the pool entrance, so you might want to choose your direction on sunny days.
Lambton Park, which hosts the pool as well as bowling greens, tennis courts and lots of other facilities, has those lovely gum trees which make outdoor swimming such a pleasure in Australia.
The facilities are a bit old – pool opened in 1963 and I wonder how many renovations have been done since – but as I was swimming along my laps, I was thinking it's all very well having state of the art facilities, but actually I'm happy as Larry if I can just do my laps in a beautiful setting, and the ageing tiles didn't bother me at all.
Getting there, getting in, getting changed
There's lots of parking by the pool on the edge of Lambton Park, which we got to along the main A15 road into Newcastle from the west. On public transport, there are lots of buses passing through Lambton and New Lambton, which would drop you off not far from the pool. It is about a 3km walk from the nearest train station: Waratah on the line to Hamilton (Newcastle) from Sydney.
I didn't spot a disabled ramp. The pool is about 1.3m in the shallow end and must be nearly 2m in the deep as I had to duck under to reach the bottom. Sadly, no diving off the high dive board, which has a deep pool of its own. Need to be a member of the diving club to do that.
Big cavernous changing rooms, which must ring out with kids on school carnival day. When I was there, I was met with the screeeching of two different birds, which had obviously got themselves confused and a bit stuck in the men's shed, and weren't too happy. but by the time I'd had my (warm) shower, there were safely out in the park…
Other practicalities
Pool closed for a couple of months in winter, but the first of the seasonal pools to reopen its doors: in the last week of August.
$5.40 entry
There is a water fun area for the kids, flumes to slide down, a paddling pool and the diving pool, as well as the 50m pool. Some of these facilities appear to be open only in peak season.
History and stories about this pool
I have not found any stories or history of Lambton Pool. A plaque on the way out suggested it was built in 1963 and some of the newer bits like the play area clearly came later, but quite a lot of the complex may not have changed that much in 54 years!
As usual, if anyone has more local knowledge, do get in touch.
What's your story? Any memories of swimming here? Any stories to tell? Or did you just have swimming lessons in days gone by?
Whatever you have to say, however brief, I'd love to hear from you and will add any stories to this section of the site as and when I receive them.  Add your comment or story under 'Leave a Reply' below.
Links to other articles on this pool
I also found no other articles on Lambton Swimming Centre.
Coffee, tea or milkshake after the swim?
There are great places for coffee and tea in both Lambton and New Lambton.
Corner Lane Espresso – 15 Alma Road, New Lambton, NSW 2299
Open Daily: 6.30am-3pm Mon-Fri; 7am-12noon Sat-Sun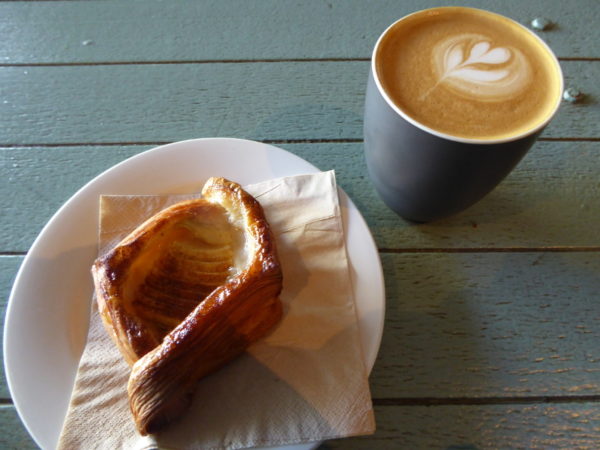 The friendliest coffee shop I've been in in a long time. Nice relaxed decor and the kind of place locals come to chill after a bit of shopping or to catch up with friends. Baristas super cheerful. Great coffee roasted locally in Newcastle. My choice for a post swim coffee after a visit to Lambton Swim Centre.
Corner Lane Espresso reviewed by the FancyaCuppa website.
Lambton Park Tea Rooms – 75 Elder Street, Lambton, NSW 2299
Opens 8am-3pm (Just not totally sure which days)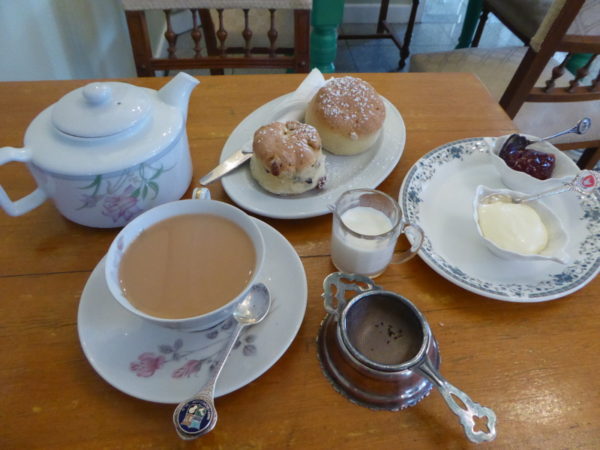 What a treat to have a good old-fashioned tea room just across the park from the pool. If you like loose leaf tea and fancy a few scones with jam and cream to fill you up after your swim workout, this is the place to come. Devonshire Tea they call it in Australia – Cream Tea to any Brits reading this…
Lambton Park Tea Rooms reviewed by the FancyaCuppa website.