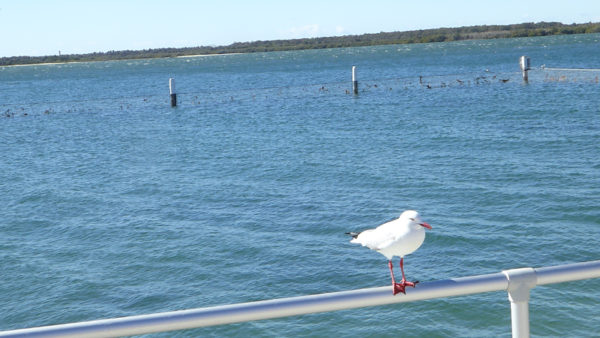 My experience in the pool
It was great to be back in the ocean water for my first swim of the new season at Sandringham Baths, which also seem to be called Vanston Baths, judging by the signposts near the pool.
This is yet another of those netted enclosures on Botany Bay, but Sandringham is the most southerly (unless you count Kurnell) of that series of bathing areas that starts with Kyeemagh in the north and includes Brighton, Monterey and Ramsgate, with just the Dolls Point enclosure now silted up and the nets taken away.
Sandringham Baths are best at high tide, when the steps down to the water are below the surface for the last three steps or so. At low tide there is beach here, and locals were goading this gullible Pom with stories of the stingrays that might be lurking in the sands (just below the surface of the sand apparently, so you need to do a stingray shuffle to give them fair warning your feet are about to trample over them). No need to put your feet down at high tide, though, and even only ten metres out from the wall, there is enough depth to swim a decent lap the 50m+ between the two shark nets.
I'd been here to take a look last week when the tide was also high but a bitterly cold wind put me off getting in. I have to say the water was clearer that day, though, whereas on this warmer and calmer morning the water was a bit murky, at least in the shallows where I was swimming.
Still, just to get back in the water was enough to have me whooping with joy after what has felt like a long cold winter this year (I did manage one brief swim a few weeks ago in one of my local rock pools, but only with a half wet suit and I didn't stay in long). I wasn't in Sandringham Baths for long either, mind. It is still pretty chilly in the water, to the extent that front crawl gets harder to do because the cold makes me need to breathe more frequently.
My only companion in the water was a duck, which was literally ducking and diving around the baths as I got in. I have to thank the couple I chatted with by the pool side for ten minutes for helping me get the courage up to actually break my own swimming duck for the 2017-18 season.
And it was also encouraging to speak to the local couple who assured me that the pool gets busy with swimmers in summer (more on them below under People I Met).
Getting there, getting in, getting changed
There are buses to Sandringham but this place is famous for being on the line of the old Sans Souci tram, which of course no longer exists, though there are old tram (bus) shelters from the tram days of 100 years or so ago. I drove up to Sandringham and there are quite a few parking spots right by the baths, some even in shade at the right time of day.
There are shallow, metal steps down to the water at Sandringham. At low tide the steps take you down to the beach and you'd then need to wade in to a depth where you can swim.
There is a single shower on the path by the Baths, though it took a local couple to point it out. So in case you are as blind as me, it is just to the north side of the Baths. About 50m south of the enclosure are toilets where you can change after the swim, though they are not specifically for changing so there is no bench or clothes hook in there.
Tidal differences
It's possible to swim on all tides at Sandringham Baths, but the nearer you are to low tide, the more of the beach is exposed. These baths are best at high tide when it is deep enough to swim once you get a few metres out..
History and stories about the pool
On the Trove website, I found a news clip from as early as 1908 on the tram service to Sandringham for the 'sea baths', which were  advertised in the local paper. These baths were, I think, in a different place and they were demolished in between the two world wars, sadly.
From 1944, I read letters of complaint about the state of the baths, meaning swimmers put themselves at risk (presumably in the mouth of sharks if the net was torn…) – but it isn't clear if this was the original Sandringham Baths or the current enclosure. Does anyone know?
There was an extraordinary 1951 story of the local Rockdale Council exploding gelignite in the Sandringham Baths to kill a large fish. Some thought it was a shark, others reckoned a numb fish or electric ray. The Town Clerk said: "Shark or numb fish, we don't want it in the baths," and I guess gelignite was the best idea they had…
People I met here
I enjoyed meeting the couple who said they moved to Sandringham 60 years ago, and there had always been the Baths here, though they have changed a lot, they said. In the old days, apparently, there were no steps down to the sand and water, but the sand was much higher with a proper beach they would spend a lot of time on ( looks as if the sand might have moved down the bay to Dolls Point judging by what happened to that old enclosure). They swim at Sandringham still but mainly in summer so it's good to know the baths are still used. There used to be a boat shed and café here by the baths, too, they said.
What's your story? Any memories of swimming here? Any stories to tell? Or did you just have swimming lessons in days gone by?
Whatever you have to say, however brief, I'd love to hear from you and will add any stories to this section of the site as and when I receive them.  Add your comment or story under 'Leave a Reply' below.
Links to other articles on this pool
This blog from 2011 gives Sandringham Baths a write up.wspaper.
The local newspaper covered the state of the baths after one of the big storms of 2015. People were definitely swimming in them then!
Coffee, tea or milkshake after the swim?
It's a five or ten minute walk to a strip of shops where there are two good coffee shops in Sandringham. I tried them both and overall – though the coffee was excellent in both – I preferred the vibe of…
Rise and Grinde Café – 31 Clareville Avenue,  Dolls Point, NSW 2219
Open Daily 7am; Closes 4pm, with evening opening on Friday.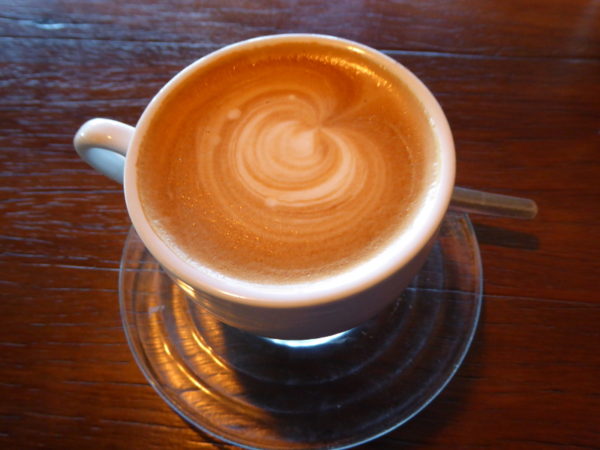 Of all the cafés around this part of Sandringham and Dolls Point, I like this one the best for its smaller family feel. The coffee is really good – smooth brew and a roaster whose O logo I recognise but can't for the life of me remember the name of! Good nibbles without trying to be too foodie (which is never a plus for this swim-then-coffee-blogger.