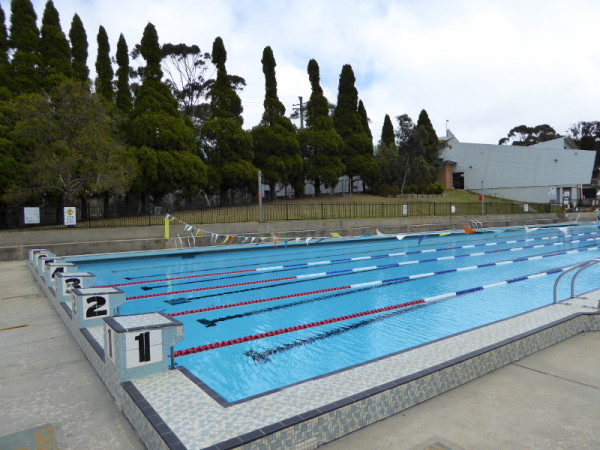 Katoomba takes its name from a nearby waterfall in the Blue Mountains.
My experience in the pool
It started drizzling and the temperature gauge dropped to 9C as we parked up at Katoomba Sports & Aquatic Centre on Saturday morning. This was 1 October and the first day of opening for the 'summer' season for Katoomba outdoor pool. Minor things such as inclement weather weren't about to stop the pool opening on schedule or me getting in there for a dip. I did have a moment's hesitation as I walked into the complex, but that was gone as soon as I wandered out from the steamy indoor pool to the steps looking down on the 50m outdoor pool.
After all, the staff assured me that the water was already up around 25C since they put the heating on earlier this week, so I knew once I immersed myself, it'd all be fine. Hey, and there was even somebody else in the water when we got there, so I had no excuse.
There are two options for changing at Katoomba Pool: one is inside by the indoor pool, after which you need to walk along the length of that pool and head out to the outdoor area; the other is down beyond the outdoor pool, where there are the original changing sheds from the days when the local outdoor swimming pool was the lake in Catalina Park. You can tell these were the changing rooms for that older swimming area, because they face out onto the lake rather than the 'new' aquatic centre.
It's cold water only there, though, and those hardy souls who swam in Catalina Park had no heated pool to bathe in of course.
I changed pre-swim down in those sheds, but opted for the warmth of the indoor changing rooms after I'd had my swim.
You see, when the air temperature is only 9C it is pretty nippy to be out in just a pair of speedos, even after half an hour getting relatively warm in the water.
Mind you, even while submerged here at Katoomba, I could feel that icy wind on my back as I swam freestyle. I'm sure in mid-summer that people are wary of staying too long in direct sunlight, but on this chilly spring morning I could feel all my back and chest muscles relaxing when the sun did make a few brief appearances through the course of my swim.
Katoomba Olympic Pool is set in beautiful grounds, with that lake just down below and the gum trees all around. You don't see much of all that from the water itself, though. Even turning onto my back for a few laps, there were no stunning landmarks to look at, and the pine trees that lined up like sentinels on one side of the pool just looked a bit odd having swum in so many pools down near the coast with palm trees and eucalypts all around.
I last swam outdoors in temperatures like this when I was back in Scotland at our local outdoor pool in Gourock, so it made an interesting comparison to the many other pools I've swum in for this site so far. I wonder how many other ocean pools and outdoor swimming centres across NSW will remind me of Scotland in the same way?
Getting there, getting in, getting changed
It's possible to get to Katoomba outdoor pool by public transport. The train station at Katoomba is about 15 minutes walk away. Ample parking near the pool, though, if you come by car.
Do try those changing sheds just to take yourself back to the 1950s and beyond when the local swimming pool was in the Catalina Park lake. But otherwise there are perfectly acceptable changing facilities by the indoor pool with good supply of warm water in the showers.
Nice easy steps down to the water at the shallow end.
Other practical points
$6.40 entrance fee in 2016-7
Pool depth 1m in the shallow; 2m in the deep end.
Pool open from 1 October to end of March
History and stories of the pool
One gent began chatting to me when he saw looking at the historical photos of swimming pools in the area. He pointed out that there used to be a diving board in the Catalina Park lake, even though the water didn't look deep enough to dive safely. He also remembers there being an old World War 2 war plane placed in the middle of the lake so that kids could play on it and get the feel of how it would be to be on a plane in the water!! Ah, the things kids used to be able to get up to.
Don't miss the gallery of photos from Katoomba and other Blue Mountains outdoor swimming spots along the wall as you walk from the reception area to the indoor pool.
People I met in the pool
Thanks to the guy who shared stories of the pool in the Catalina Park lake as we looked at the photos on the wall on our way out of Katoomba Aquatic Centre. Other than that, it was simply too cold in the outdoor pool to talk to anyone, so not a day for chit-chatting in between laps…
What's your story? Any memories of swimming here? Any stories to tell? Or did you just have swimming lessons in days gone by?
Whatever you have to say, however brief, I'd love to hear from you and will add any stories to this section of the site as and when I receive them.  Add your comment or story under 'Leave a Reply' below.
Links to other articles on this pool
The Blue Mountains local studies group wrote this blog piece on the Catalina Park lake where the locals used to swim till 1972 when this Olympic Pool was built in Katoomba.
Coffee, tea or milkshake after the swim?
It's about a 15 minute walk from the Katoomba outdoor pool to my favourite spot for coffee in Katoomba
The Elephant Bean Café – 159 Katoomba Street, Katoomba, NSW 2780
Open Monday – Saturday 7am – 4pm; Sundays 7am – 3pm
The Elephant Bean Café reviewed by the Fancy a Cuppa website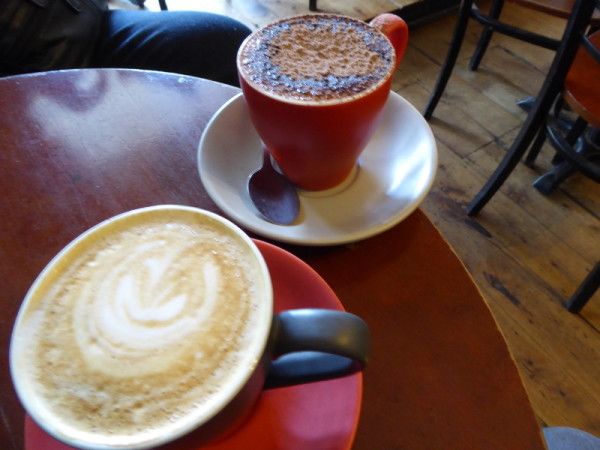 One of three or four coffee shops in Katoomba that roast their own coffee beans. We liked the coffee at Elephant Bean so much we bought a bag of beans to try at home too.
Really relaxed coffee shop with a great vibe. Not only serves up good coffee, but also just our kind of place, with an edgy feel, music posters and other what's-on publicity all over the windows and local art on the walls. Décor is all distressed paintwork and slightly chipped surfaces, but I like that it was not picture perfect. It ticked all of my boxes for when I'm looking for a good post swim coffee.